Cobra Kai To End After 6 Seasons
The upcoming, sixth season of Netflix's Cobra Kai will be its last. In a statement from the showrunners, they promised that the series will end on a high note with its biggest season yet, but revealed that the stories of Daniel and Johnny will once again come to a close. Given that the series is a spinoff from the 1980s Karate Kid film franchise, this is the second time these characters have said their ostensible final goodbye to the audience, and so it will be a tall order for the showrunners to make it feel like a real conclusion, and not just a setup for later.
The success of Cobra Kai, which first aired on YouTube Red, has revitalized the property, and there are rumors now that a new Karate Kid movie is in development. That means that while Cobra Kai will wrap up, the world of the series will live on.
Though the announcement doesn't give a date for the season 6 premiere, it does tease that executive producers Josh Heald, Jon Hurwitz, and Hayden Schlossberg coudl return.
"We hope to be telling more Karate Kid stories with you down the road," the statement says in part. You can read the full letter below.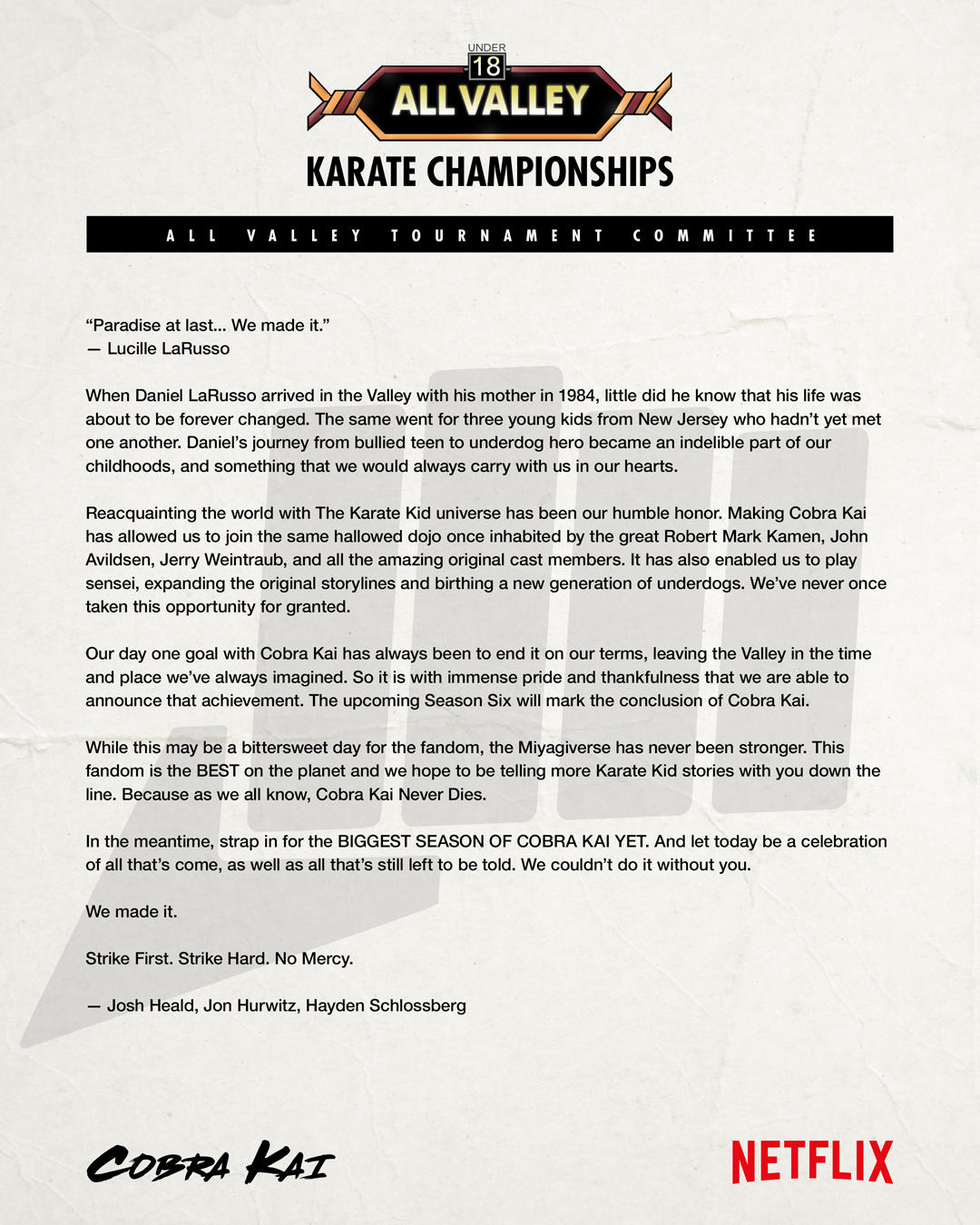 "Reacquanting the world with The Karate Kid universe has been our humble honor," the producers said in a statement. Making Cobra Kai has allowed us to join the same hallowed dojo once inhabited by the great Robert Mark Kamen, John Avildsen, Jerry Weintraub, and all the amazing original cast memebrs. It has also enabled us to play sensei, expanding the original storylines and birthing new generations of underdogs. We've never once taken this opportunity for granted."
"Our day one goal with Cobra Kai has always been to end it on our terms, leaving the Valley in the time and place we've always imagined. So it is with immense pride and thankfulness that were are able to announce that achievement," the statement says.
It's hard to argue that Cobra Kai has not left the "Miyagiverse" and the characters better off than when they found them. The actors, too, have been enjoying a career resurgence, while the young cast members who play their kids and the students at the dojos are finding success outside the Karate Kid universe, with Xolo Maridueña an obvious example, as he is set to headline the Blue Beetle movie later this year.
2
comments