Top 10 Comic Books Rising in Value in the Last Week Includes Jack White Taking Over
Move aside, Eminem. Jack White is the superstar of this week's top 10 list (again)! Fret not. Eminem and Spidey are still holding strong. Meanwhile, the force is strong in the high republic, as the debut of new characters sends it flying to the top ten. The alien symbiote isn't far behind in a savage silhouette cover. Another planetary adventure lands on our list as the series waits for more news from Amazon. The debut of a new team of turtles is also seeing a tremendous amount of interest, along with a beautifully illustrated Power Girl cover by Warren Louw. The Marvel speculation market brings back some repeats in the form of Red Hulk, Adam Warlock, and the Phoenix. Read on below to find out why these books soared in sales this past week!
Want to know what comic books are trending each week and why? COVRPRICE.COM uses live sales analytics to identify and compile the most robust market price guide, highlighting the weekly top trending comics. No opinions. Just data. Each week, they present a newly updated list of the TOP 10 COMICS trending in the aftermarket. These trends are due to rumors, fan-favorite covers, story-driven content, and content-related news.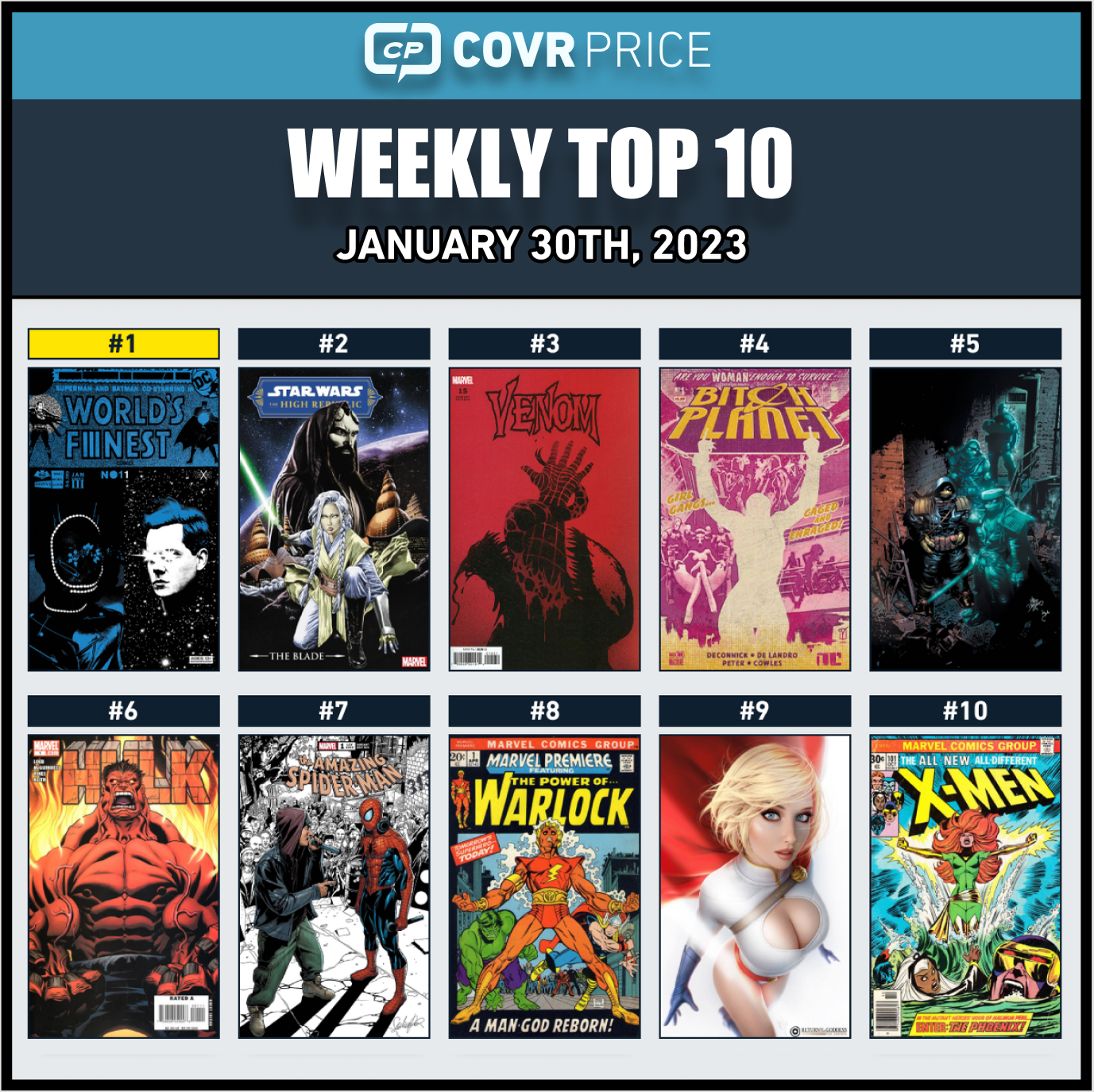 #10: X-MEN #101 | MARVEL | 1976 | The Phoenix Force has seen its fair share of screentime across two generations of X-Men movies. Will we see it enter the MCU? Probably not anytime soon. However, the Phoenix Force is back on the front page due to recent story developments in the comic book world. On Jan. 18, we saw the events of Avengers Forever 13 unfold. -SPOILERS AHEAD- A variant of Mystique killed an injured Logan (aka Old Man Phoenix) to take the Phoenix force for herself! This story is set to continue in a future issue of Avengers #65, releasing this Wednesday. In the meantime, follow the recent trend and pick up a copy of Phoenix's first appearance! We tracked it at a high sale of $1,895 for a CGC 9.6 copy and a HUGE new all-time high NM+ raw of $1,825. The typical FMV is $469 for an FN copy.
#9: ACTION COMICS #1051 – WARREN LOUW – WEBSTORE – FOIL (LIMITED 1000) | DC | 2023 | Warren Louw's first cover art was on issue #27 of the POWER GIRL (2011) series. Since then, his covers have amassed a large following. Perhaps his most notable and valuable covers can be seen on WONDER WOMAN: BLACK AND GOLD #1 and GUN HONEY #1. This cover is no exception! This retailer exclusive is moving quickly and picking up value too. Originally $40.00 from Louw's webstore, we recently tracked a high sale of $150 for a raw copy and a current NM FMV of $135.
#8: MARVEL PREMIERE #1 | MARVEL | 1972 | Movie trailers help increase interest and value in key books. We know this. If you haven't seen the Guardians of the Galaxy 3 trailer, it is well worth the watch! However, this trailer has been out for a month. What else can reignite interest in this book? Well, we just got our first full look at Adam Warlock, thanks to Empire! Not only that, The GoTG 3 Funko Pops were officially revealed at Funko Fair, giving us another great look at the live-action version of Adam Warlock. Who wouldn't be excited to pick up his first appearance?! We tracked it at a high sale of $2,125 for a CGC 9.6 copy and a raw VG FMV of $94.
#7: THE AMAZING SPIDER-MAN #1 – SALVADOR LARROCA – HUSTL. – EMINEM – SPOTLIGHT (LIMITED 1000) | MARVEL | 2022 | Guess who's back? Back again. This book's back. Tell a friend. Let's be honest. Your friend and their friend's friend have already heard of this book. But only your luckiest friend was able to buy a copy. This variant is relentless. Since its release in November, this book has consistently fluctuated between TOP TEN and RUNNER-UPS. With only 1000 copies of the spotlight cover, these books must sell at breakneck speeds to keep up with the demand! We tracked it at a high sale of $3,300 for a CGC 9.9 copy and an NM FMV of $450.
#6: HULK #1 | MARVEL | 2008 | Let's jump down the rabbit hole of rumors together. Ever since the casting of Harrison Ford as Thunderbolt Ross, Red Hulk has been a popular speculation book among collectors. There have been rumors that the former Secretary of State is now the US President. Likewise, a recent rumor began to spread last week on Reddit. A known leaker has stated that "trusted sources" informed them of concept art that shows Red Hulk in a suit, perhaps his presidential attire. Take this leak with a grain of salt… but remember, rumors can be just as powerful of an influence on the market as confirmed news! We tracked it at a high sale of $300 for a CGC 9.8 and a raw NM FMV of $77.
#5: TEENAGE MUTANT NINJA TURTLES: THE LAST RONIN – THE LOST YEARS #1 – MIKE DEODATO JR. – COVER F – VIRGIN (1:100) | IDW | 2023 | Behold, a new generation of turtles have emerged! The Last Ronin revealed four new turtles in incubation: ODYN, UNO, MOJA, and YI. This book begins to explore the lives of those four turtles as they strive to live up to the TMNT name! Fan reception of this new generation has been very positive, and this 1:100 retailer incentive could hold some significant value in the future. The other factor supporting this cover is the HUGE number of variants available for this issue. Being a 1:100, this will be a little harder to find. Fun fact: each of the new turtle's names translate to "one" in various languages. We tracked it at a high sale of $160 for a raw copy and an NM FMV of $127.
#4: BITCH PLANET #1 | IMAGE | 2014 | This is an inexpensive book to collect. Even with the recent reports that Amazon will adapt this into a series, it is still a very affordable book. If the show's a hit, this could be a great flip for the speculator market. We tracked it at a high sale of $20 for a raw copy and an NM FMV of $10.
#3: VENOM #15 – BENJAMIN SU – COVER D (1:25) | MARVEL | 2023 | What a striking cover. This cover gets straight to the point and delivers a thrilling contrast of color. You can almost see the desperation in Spider-Man's hand as he attempts to escape Venom's grasp. There is no key issue here. It's just a cover that harkens back to what made comic books great through phenomenal artwork and storytelling. We tracked it at a high sale of $50 for a raw copy and an NM FMV of $45.
#2: STAR WARS: HIGH REPUBLIC – THE BLADE #2 – MICO SUAYAN (1:25) | MARVEL | 2023 | Star Wars books are notorious for introducing tons of new characters in a single surprise issue, and this is precisely what this book does. At least five new characters, along with a cameo, appear in this issue: 1st appearances of Envoy Seleen, Sevens, Price Colden, and Field Marshal Tozen. 1st cameo appearance of General Viess. This cover is the only official retailer incentive cover, and collectors are grabbing their copies at any cost. This book is the definition of FIRE! We tracked it at a high sale of $96 for a raw copy and an NM FMV of $77.
#1: BATMAN/SUPERMAN: WORLD'S FINEST #11 – JACK WHITE III – COVER D | DC | 2023 | Considering he's a huge comic book fan, we're sure Jack White was thrilled to appear on the cover of a titular series like BATMAN/SUPERMAN WORLD'S FINEST. If you haven't caught on, a new collector's trend is emerging within our niche world. The popularity of music artists on comic book covers is reaching new all-time highs, and this book is a clear indicator of that trend! We tracked it at a high sale of $250 for a CGC 9.8 copy and an NM FMV of $42.
And that's your TOP 10 COMICS OF THE WEEK for 1/30/23!
0
comments