Avatar: The Way of Water Falls to Third Place at the Box Office, Knock at the Cabin Claims Top Spot
Avatar: The Way of Water's impressive seven-week streak at the top of the box office is coming to an end. The Avatar sequel will fall into third place at the box office, as the new horror movie Knock at the Cabin claims the top spot on the chart. Knock on the Cabin, the latest from M. Night Shyamalan, earned $5.4 million on its first day on its way to a $14.2 million opening weekend haul, making it Shyamalan's seventh number-one opening as a director. Paramount Pictures new sports comedy 80 for Brady lands in second place with an estimated $12.5 million. Avatar: The Way of Water will earn around $10 million in its eighth weekend.
Knock at the Cabin carries a C CinemaScore and a "Fresh" but not "Certified Fresh" score on Rotten Tomatoes. The consensus on the review aggregator reads, "Although it's often less than scary and parts of the story don't bear scrutiny, Knock at the Cabin is a thought-provoking chiller and upper-tier Shyamalan." ComicBook.com's Patrick Cavanaugh awarded the film a score of 4-out-of-5 in his review. He writes:
"Knock at the Cabin delivers audiences a perplexing premise that feels all-too-real yet one that is just heightened enough to allow for some escapism, with its overall narrative structure making it easy to buy into the events and keep us invested until its conclusion. The intimate nature of the setting and engaging performances from a cohesive ensemble help sell the outlandishness of the concept, and even if the final outcome irritates audiences, those disappointed in the outcome are only capable of feeling those frustrations because you invested in the resolution so deeply and easily. The experience could have easily marked three disappointments in a row for Shyamalan, but he's managed to bounce back strongly enough by embracing his narrative and directorial strengths that we'll continue checking out the big swings that keep us on our toes instead of him resting on his laurels."
Puss in Boots: The Last Wish and The Chosen Season 3 finale round out this weekend's top 5. The full list of the top 10 films at the box office this weekend follows.
1. Knock at the Cabin
(Photo: Universal Pictures)

Opening Weekend
Total: $14.2 million
While vacationing at a remote cabin in the woods, a young girl and her parents are taken hostage by four armed strangers who demand they make an unthinkable choice to avert the apocalypse. Confused, scared and with limited access to the outside world, the family must decide what they believe before all is lost.
M. Night Shyamalan directed Knock at the Cabin from a screenplay he wrote, after an initial draft by Steve Desmond and Michael Sherman, based on the 2018 novel The Cabin at the End of the World by Paul G. Tremblay. It stars Dave Bautista, Jonathan Groff, Ben Aldridge, Nikki Amuka-Bird, Kristen Cui, Abby Quinn, and Rupert Grint.
prev
next
2. 80 for Brady
(Photo: Paramount Pictures)

Opening Weekend
Total: $12.5 million
Four best friends live life to the fullest when they embark on a wild trip to see their hero, Tom Brady, play in the 2017 Super Bowl.
Kyle Marvin directed 80 for Brady from a screenplay written by Sarah Haskins and Emily Halpern. The film stars Lily Tomlin, Jane Fonda, Rita Moreno, and Sally Field.
prev
next
3. Avatar: The Way of Water
Week Eight
Weekend: $10.8 million
Total: $636.4 million

Jake Sully and Ney'tiri have formed a family and are doing everything to stay together. However, they must leave their home and explore the regions of Pandora. When an ancient threat resurfaces, Jake must fight a difficult war against the humans.
James Cameron directed Avatar: The Way of Water from a screenplay he co-wrote with Rick Jaffa and Amanda Silver. The film's cast includes Sam Worthington, Zoe Saldaña, Stephen Lang, Joel David Moore, CCH Pounder, Giovanni Ribisi, Dileep Rao, Matt Gerald,
prev
next
4. Puss in Boots: The Last Wish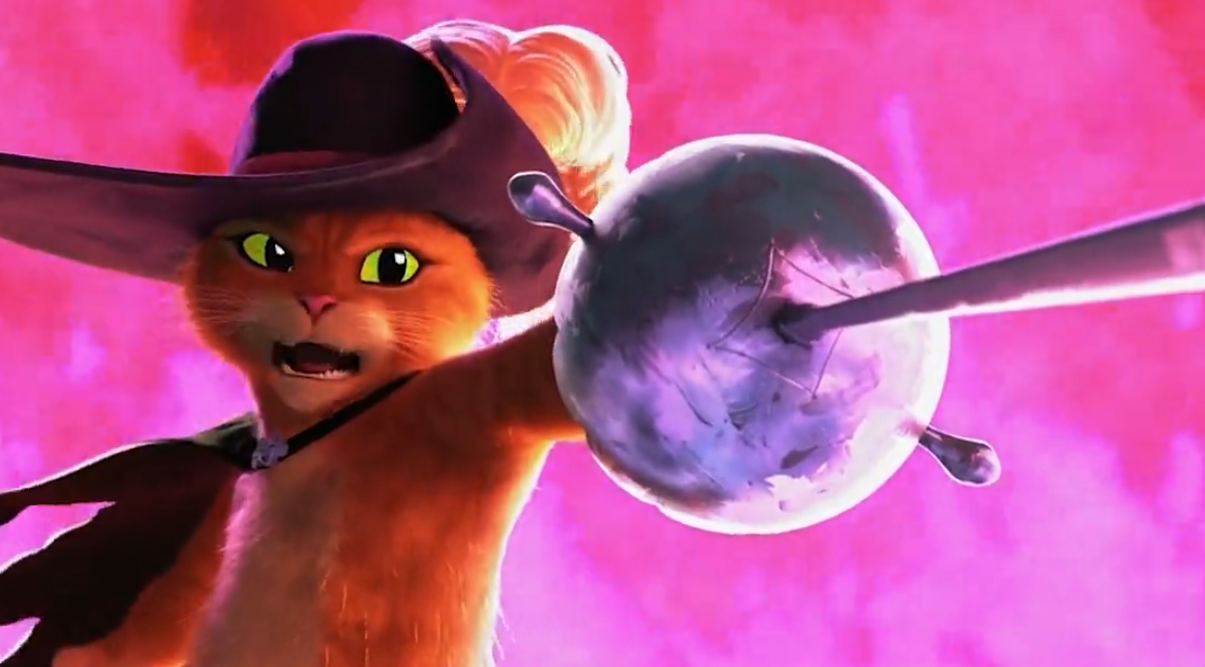 Week Seven
Weekend: $7.95 million
Total: $151.2 million

Puss in Boots discovers that his passion for adventure has taken its toll: he has burnt through eight of his nine lives. Puss sets out on an epic journey to find the mythical Last Wish and restore his nine lives.
Joel Crawford directed Puss in Boots: The Last Wish, with Januel Mercado co-directing, from a screenplay by Paul Fisher and Tommy Swerdlow. Its voice cast includes Antonio Banderas, Salma Hayek, Harvey Guillén, Florence Pugh, Olivia Colman, Ray Winstone, Samson Kayo, John Mulaney, Wagner Moura, Da'Vine Joy Randolph, and Anthony Mendez.
prev
next
5. BTS: Yet to Come in Cinemas
(Photo: Trafalgar Releasing)

Opening Weekend
Total: $9.1 million
Before a two-year hiatus for required army service, BTS presents a special cinematic cut of the 2022 show in Busan, South Korea, featuring hits from across their career as well as the first concert performance of "Run BTS" from the album "Proof."
OH Yoon-Dong directed BTS: Yet to Come in Cinemas. BTS members include Jin, Suga, J-Hope, RM, Jimin, V, and Jungkook.
prev
next
6. A Man Called Otto
(Photo: Sony Pictures)

Week Six
Weekend: $4.1 million
Total: $53 million
When a lively young family moves in next door, grumpy widower Otto Anderson meets his match in a quick-witted, pregnant woman named Marisol, leading to an unlikely friendship that turns his world upside down.
Marc Forster directed A Man Called Otto from a screenplay written by David Magee. It is based on the 2012 novel A Man Called Ove by Fredrik Backman and remakes the 2015 Swedish film adaptation. The film stars Tom Hanks, Mariana Treviño, Rachel Keller, and Manuel Garcia-Rulfo.
prev
next
7. M3GAN
(Photo: Universal Pictures)

Week Five
Weekend: $3.8 million
Total: $87.5 million

M3GAN is a marvel of artificial intelligence, a lifelike doll that's programmed to be a child's greatest companion and a parent's greatest ally. Designed by Gemma, a brilliant roboticist, M3GAN can listen, watch and learn as it plays the role of friend and teacher, playmate and protector. When Gemma becomes the unexpected caretaker of her 8-year-old niece, she decides to give the girl an M3GAN prototype, a decision that leads to unimaginable consequences.
Gerard Johnstone directed M3GAN from a screenplay by Akela Cooper. The film stars Allison Williams, Jenna Davis, and Violet McGraw.
prev
next
8. Missing
(Photo: Sony Pictures)

Week Three
Weekend: $3.7 million
Total: $23 million
When her mother disappears while on vacation in Colombia with her new boyfriend, June's search for answers is hindered by international red tape. Stuck thousands of miles away in Los Angeles, June creatively uses all the latest technology at her fingertips to try and find her before it's too late. However, as she digs ever deeper, her digital sleuthing soon raises more questions than answers.
Nick Johnson and Will Merrick wrote and directed Missing, a standalone sequel to 2018's Searching, based on a story by Sev Ohanian and Aneesh Chaganty. The movie stars Storm Reid, Joaquim de Almeida, Ken Leung, Amy Landecker, Daniel Henney, and Nia Long.
prev
next
9. The Chosen Season 3 Finale
(Photo: Fathom Events)

Opening Weekend
Total: $5.3 million
Season 3 of The Chosen comes to a stunning conclusion that demands to be seen on the big screen. In episodes 7 & 8, Simon and Eden face marital crisis, Matthew's faith takes a turn, and the thousands of people following Jesus grow restless…until a boy brings some loaves and fishes.
Dallas Jenkins directed The Chosen Season 3 finale from screenplays he co-wrote with Ryan Swanson and Tyler Thompson. The series stars Shahar Isaac, Jonathan Roumie, Elizabeth Tabish, Paras Patel, Noah James, and George H. Xanthis.
prev
next
10. Pathaan
(Photo: Yash Raj Films)

Week Two
Weekend: $2.7 million
Total: $14.2 million
Make. Some. Noise! PATHAAN is here! The high-octane spy thriller 'PATHAAN' starring Shah Rukh Khan, Deepika Padukone and John Abraham, directed by Siddharth Anand is set to release on January 25, 2023. The action spectacle will be released in Hindi, Tamil and Telugu. Celebrate Pathaan with YRF50 only at a big screen near you.
Siddharth Anand wrote and directed Pathaan, it stars Shah Rukh Khan, Deepika Padukone, John Abraham, Dimple Kapadia,and Ashutosh Rana
prev
0
comments