Knock at the Cabin Rotten Tomatoes Score Revealed
M. Night Shyamalan's new thriller Knock at the Cabin is out in theaters this week, and now the official Rotten Tomatoes score for the film has been revealed! According to this initial composite score, Knock at the Cabin has scored a "Fresh" rating of 71%, with nearly 100 critic reviews having been submitted.
In terms of the Rotten Tomatoes aggregate process, a score based on nearly 100 reviews means that Knock at the Cabin has achieved a pretty reliable critical score, which is unlikely to see any wild fluxations either up or down. According to the "Critics Consensus" summary of the film on RT: "Although it's often less than scary and parts of the story don't bear scrutiny, Knock at the Cabin is a thought-provoking chiller and upper-tier Shyamalan."
ComicBook Nation show host Kofi Outlaw (me) offers that Knock at the Cabin sees M. Night Shyamalan taking another step in the right career direction, settling into his niche as a talent teller of scary parables, best exhibited by films like The Sixth Sense, Signs, The Village, or Devil. Those going in for the classic (read: tired) "Shyamalan Twist" or full horror scares are going in with the wrong expectations.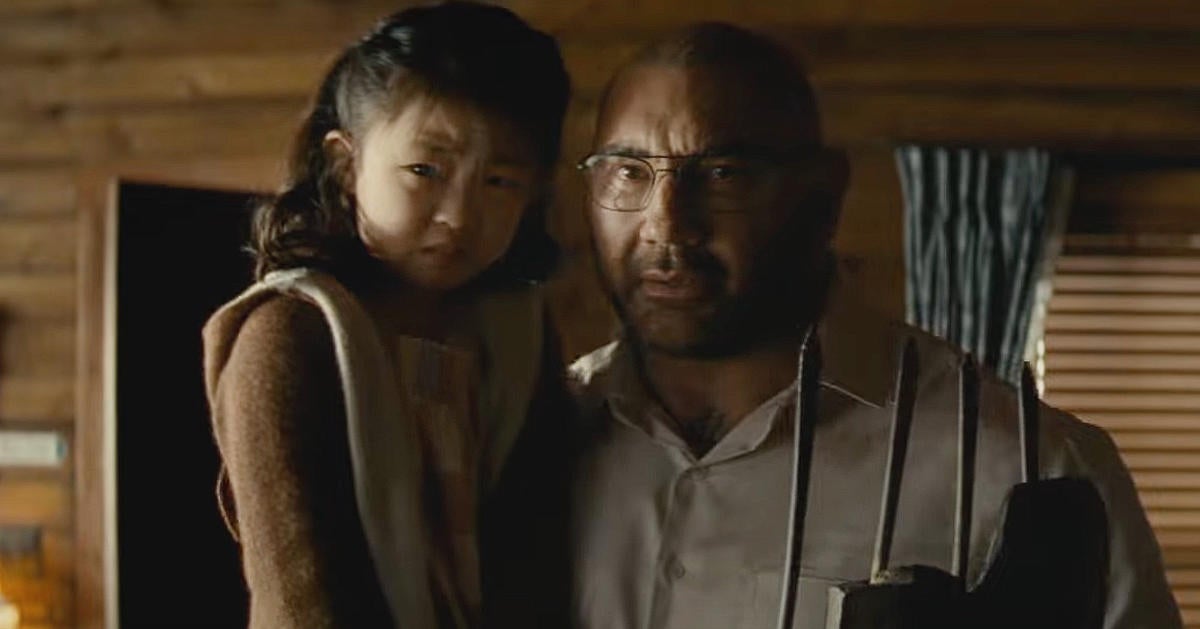 In ComicBook.com's official review of Knock at the Cabin, horror aficionado Patrick Cavanaugh says the film is a definite comeback for Shyamalan, even with its flaws:
Knock at the Cabin delivers audiences a perplexing premise that feels all-too-real yet one that is just heightened enough to allow for some escapism, with its overall narrative structure making it easy to buy into the events and keep us invested until its conclusion.

The intimate nature of the setting and engaging performances from a cohesive ensemble help sell the outlandishness of the concept, and even if the final outcome irritates audiences, those disappointed in the outcome are only capable of feeling those frustrations because you invested in the resolution so deeply and easily. The experience could have easily marked three disappointments in a row for Shyamalan, but he's managed to bounce back strongly enough by embracing his narrative and directorial strengths that we'll continue checking out the big swings that keep us on our toes instead of him resting on his laurels.

Rating: 4 out of 5
Knock at the Cabin stars Dave Baustista (Guardians of the Galaxy), Jonathan Groff (Hamilton), Ben Aldridge (Pennyworth), Nikki Amuka-Bird (Luther, Old), Abby Quinn (Black Mirror, Better Call Saul), Rupert Grint (Harry Potter, Servant) and Kristen Cui as Wen. It will be in theaters on Friday.
0
comments