WWE 2K23 WarGames and 2K Showcase Impressions: Off to a Fantastic Start
WWE 2K23 is headed to a console (and PC) near you relatively soon, and there's a lot to get excited about in 2K's newest addition to the WWE 2K franchise. In addition to the typical improvements in graphic fidelity and gameplay, 2K23 will also boast a brand new WarGames mode as well as a new twist on its 2K Showcase mode, which will feature John Cena as its covers star. I had the chance to go hands-on with the game during the Royal Rumble festivities and try out WarGames and Showcase, and it was difficult not to come away impressed. Much like My GM did last year, WarGames immediately steals the show, and while I look forward to getting more time with everything else the game has to offer, it's already off to a fantastic start.
Let's begin with WarGames, which is playable in 3 vs 3 or 4 vs 4. Just like the WarGames matches you've seen on TV, Superstars enter into the match every few minutes, and the game allows you to adjust those intervals to fit your preference. When a superstar comes out of the cage, they can choose to grab a weapon from under the ring to bring into the cage, and as you might expect, the cage soon becomes littered with chairs, tables, stop signs, and more. Once everyone is in from both teams, the match officially begins, and absolute chaos ensues.
That magical chaos is part of why fans love the match so much, and that's been wonderfully translated into video game form. Picking a weapon is easy and the game automates the more mundane elements for you, so all you need to worry about is picking a weapon and hitting the ground running once you're inside the cage. Once you're inside the cage is your canvas, as you can fling people over the ropes and into the other ring, fight in the space between the rings, and climb the cage. Soon find yourself leaping off the top of it and throwing people through tables in no time.
The strategy of the WarGames match is also at play, as you'll want to take advantage of the double team opportunities when you have them, and pulling out all the stops just to survive until your teammate gets in if you are outnumbered is also part of that thrill. Switching targets worked seamlessly during my time with the game, and it was immensely fun to team up with your partners to destroy someone as they waited for reinforcements. Despite all the chaos and weapons in the ring, the framerate never stuttered or slowed either, which was a surprise with just how much was happening, and the graphics and presentation overall were stellar.
It is a shame that we won't have the trash cans in the game to recreate some famous IYO SKY and Dakota Kai moments from NXT WarGames matches past, and the animation to move between rings could be faster and less stilted, but those are relatively small nitpicks, and didn't hold back the sheer amount of fun I was having.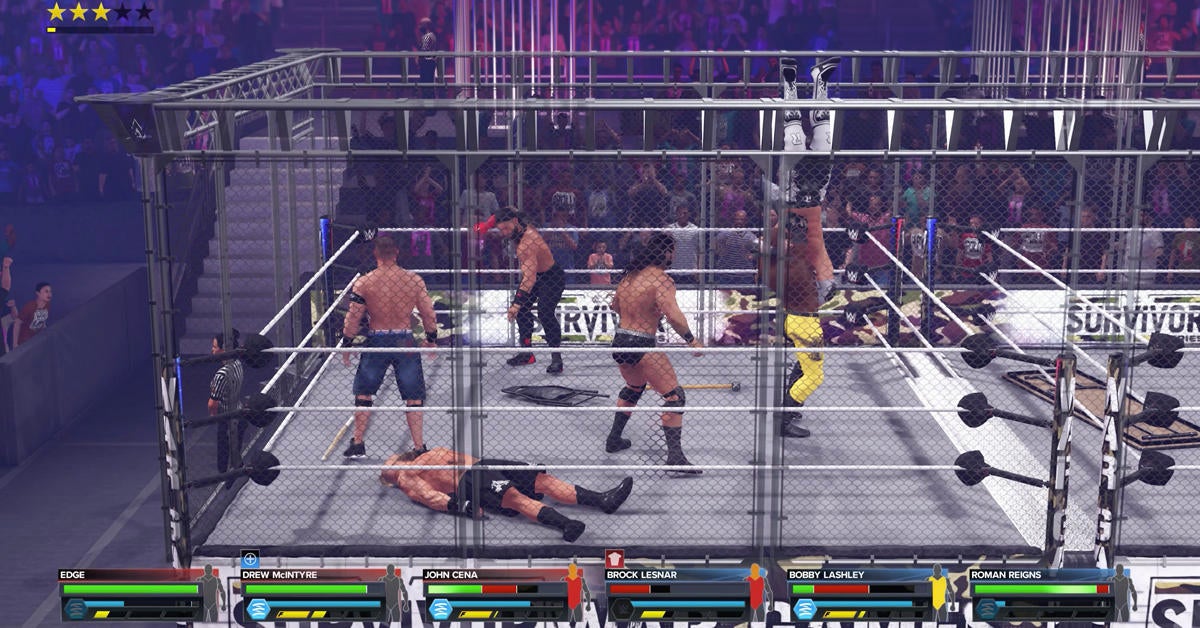 Moving to 2K Showcase mode, it's all about John Cena this year, and despite the fact that he was already featured in a previous showcase, this version feels completely different. That's because this time around you are attempting to recreate Cena's most famous losses, and it kicks off with none other than his famous ECW match against Rob Van Dam. We also got to play his famous match against Kurt Angle, and in both cases, the 2K team excelled at recreating the pivotal moments fans remember from those matches and seamlessly transitioning from footage to gameplay and back again. Cena's little touches in the descriptions and introductions give everything a layer of fun as well as authenticity, and fans of Cena and even those who maybe aren't such big fans will equally find things to love throughout.
It also feels much easier to actually achieve the objectives throughout the match, and props to Cena and 2K on not just filming a quick introduction for each match, as Cena does an excellent job of providing the necessary context on each match, what he remembers most from each one, and how it affected him moving forward. Cena's character model is also impressive, and though there is a moment or two of oddness in his expression, overall Cena and the graphics overall impress. There will be some character models that look more accurate than others, and we only saw a handful of superstars in our time with the game, but those featured looked quite good.
There's still so much to explore in 2K23 and hopefully, I'll get the chance to play more soon. As it stands right now though, 2K23 is already off to a fantastic start, and all I can think of is playing more WarGames, which feels like a stellar sign.
WWE 2K23 Deluxe Edition and Icon Edition will allow early access starting on March 14th, while the Standard Edition and Cross-Get Edition will release on Friday, March 17th.
Are you excited for WWE 2K23? Let us know in the comments or as always you can talk all things wrestling and gaming with me on Twitter @MattAguilarCB!
0
comments