Titan Comics Reveals Extract From Doctor Strange in the Multiverse of Madness Collectors Edition (Exclusive)
We're only a few days away from the release of Marvel Studios' Doctor Strange in the Multiverse of Madness: The Official Movie Special Book, and Titan Comics is revealing an exclusive extract from the collectors edition. The Doctor Strange sequel opened up the multiverse to the Marvel Cinematic Universe, with references to Incursions, the introductions of the Illuminati and America Chavez, and monsters such as Gargantos. The cast and crew of Doctor Strange in the Multiverse of Madness have tons of behind-the-scenes secrets to unveil, and ComicBook.com has the exclusive first look at words from Marvel Studios SFX Supervisor Chris Corbould and Visual Effects Producer Cyndi Ochs.
The exclusive extract from Doctor Strange in the Multiverse of Madness features Chris Corbould discussing an opening scene with Stephen Strange, America Chavez, and Gargantos, which Corbould referred to as one of the most challenging aspects to bring to life. Next, Cyndi Ochs dived into the importance of shooting practical shots.
Doctor Strange in the Multiverse of Madness: The Official Movie Special Book goes on sale February 14th, and can be pre-ordered from Amazon, Barnes & Noble, Books-a-Million, and Indiebound.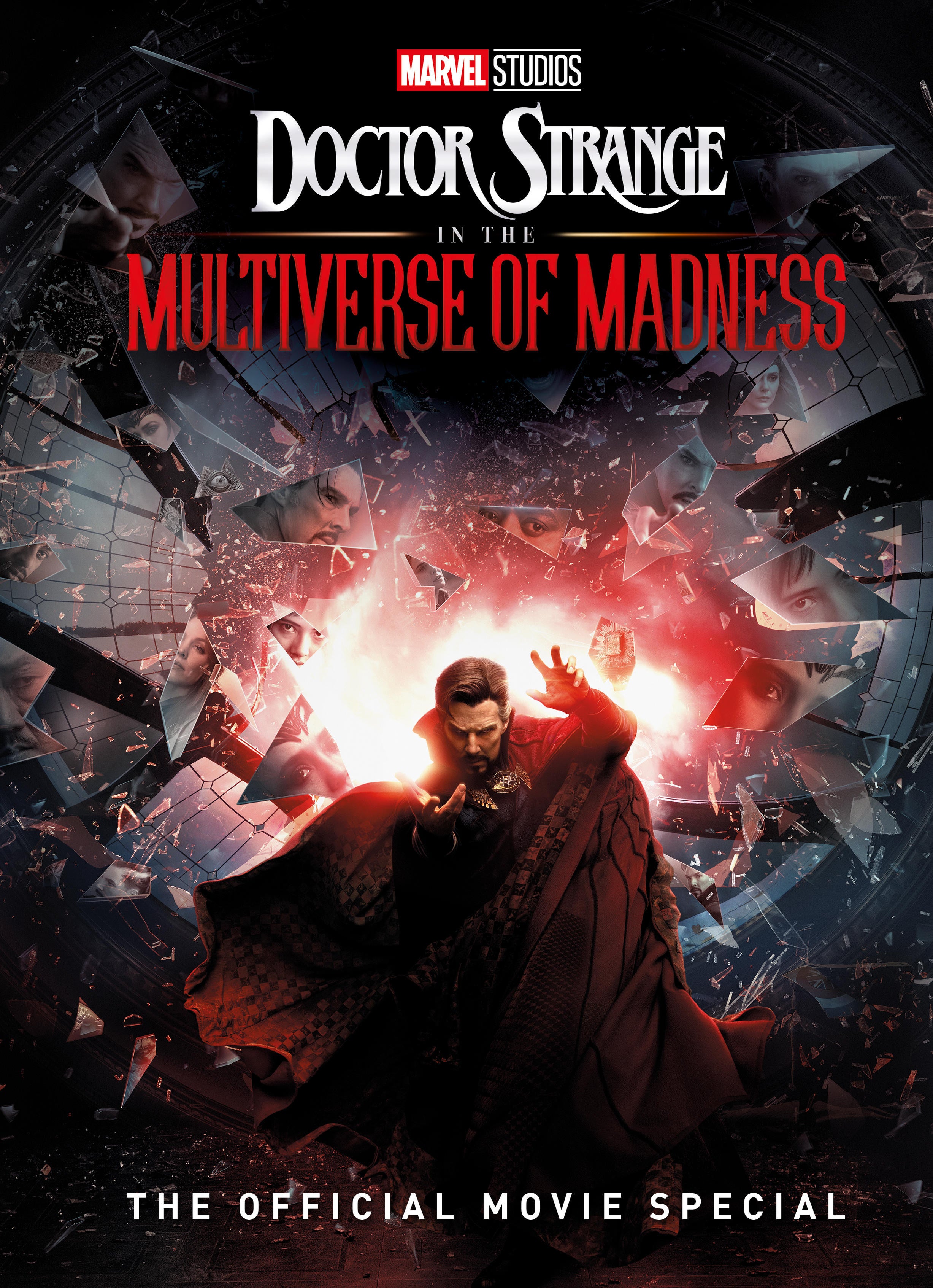 Chris Corbould: SFX Supervisor - Part 1
Production special effects supervisor Chris Corbould reflects on the challenges of bringing a reality-warping monster to life in his Marvel Cinematic Universe debut…
What was the biggest shot you had for the movie?
The biggest special effects shot we had in the film was the Gargantos monster pursuing America down a New York Street. You had this eight or ten-legged creature flailing about in all directions, throwing cars, throwing things through shop front windows, tipping lamp posts over, tipping traffic lights over: you name it. It was total carnage. My ambition was to do so much that no CGI could be put into it. It was fun and we did it all with America running down the street. It looked pretty spectacular.
How did you go about shooting the Gargantos sequence?
Well, just going back to the back story, originally, pre-Covid, we were going to shoot a lot of this somewhere where Marvel Studios had shot before, and they have a lot of freedom in the city. Obviously, when lockdown happened and we couldn't travel, our wonderful production designer, Charlie Wood, built a New York Street up in the back lot. We had about four blocks of New York streets with all the set dressing – a lot of it bought from New York.
So that was the start of it. And then the monster evolved to do certain things. It ended up charging down the street chasing America, [with all the] ultimate damage that eight tentacles could do with this giant monster throwing things out of the way.
A lot of the set was built to be ratcheted backwards, pushed over, and hydraulically dropped. We got big debris drops coming into the street and there were probably 30 or 40 different gags in there, all with a different mechanical mechanism. The biggest problem we had was that we had to shoot the last scene of the demolition before we actually shot the demolition of it. So we had to dress the set in its post-demolition state, and then put it all back to pristine.
prev
next
Chris Corbould: SFX Supervisor - Part 2
That sounds like a crazy continuity challenge…
It was pretty crazy, and it bit us a couple of times. We jerked cars into buildings, and they didn't quite end up in the exact position, [but] generally, we got it right.
[Strange and America] go back to this New York Street in three different dimensions, where it's different-looking each time. The very first dimension we achieved was the post-destruction look. And then it went to another dimension where [we had] a totally different look but not destroyed, and then a third dimension, where it had, again, a totally different look but not destroyed. So we pretty much did everything backwards on this film.
prev
next
Cyndi Ochs: Visual Effects Producer
Production visual effects producer Cyndi Ochs discusses the challenges and triumphs of bringing Marvel Studios' multi-dimensional adventure to the screen.
Why is shooting practically important?
Reality-based imagery is something that's really important. We can make CG worlds up from scratch, but the more we can ground them in reality, the better chance we have to sell the look of something. For instance, we could shoot something on a green screen and not have any sort of back lot New York set build, but just having that on the lower levels and having us extend it, it just gives us a grounding, because even the best looking CG things often times still look CG.
What were the challenges with the New York monster rampage sequence to make it feel fresh?
That one stared out with our pre-viz company, the Third Floor. We had some amazing supervisors there who were super creative, just like 2-D storyboard artists, but they were 3-D storyboard artists and they boarded the scene. We figured out how many shots we wanted and they worked directly with Janek Sirrs, our visual effects supervisor, and showed it to Sam once every few weeks, to really just mold the scene into the new best thing out there.
It was a bunch of cool visual effects geeks, flipping through their Marvel encyclopedias, looking up all the different magic spells that they could possibly use. Everybody came with their ideas, so it was this real collaboration of artists, supervisors and directors, in a global collaboration. And the best ideas won. The table was open with Sam, where he would allow anybody's idea to come to the table. If it was a good idea, it stuck.
prev
next
Gargantos Eye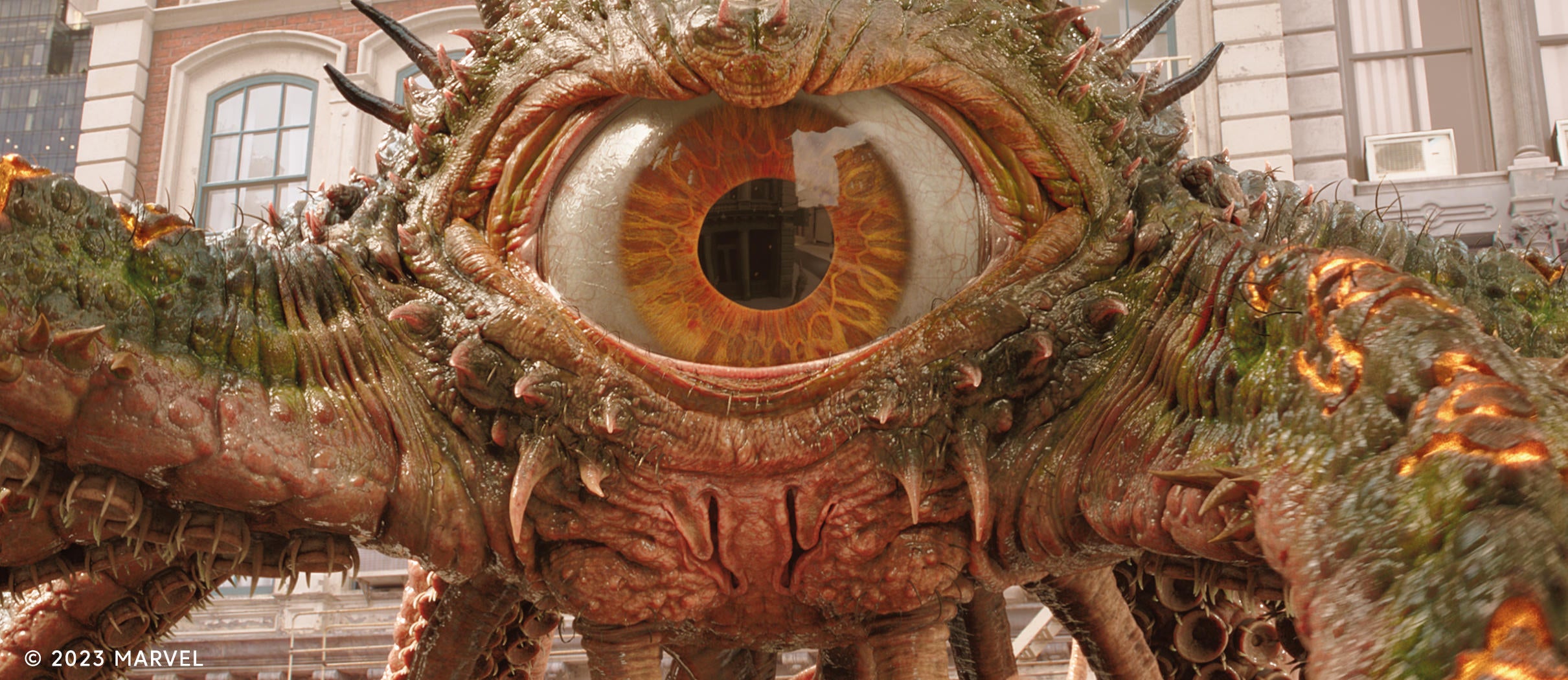 prev
0
comments