Minecraft Announces Free Camp Enderwood DLC and New Mattel Toys
Minecraft Bedrock Edition owners can now download a free Camp Enderwood DLC expansion. The expansion has been released alongside new Mattel Creator Series action figures, which are each accompanied by a code that can be redeemed in the game. Each code will grant the player access to clothing items that match those of the figures. Right now, fans can purchase three individual camper sets, two cryptid expansion packs, and a Mount Enderwood Yeti Scare story pack. Five more sets will release in the summer, but no additional details have been revealed, as of this writing.
An image of the currently announced figures can be found below.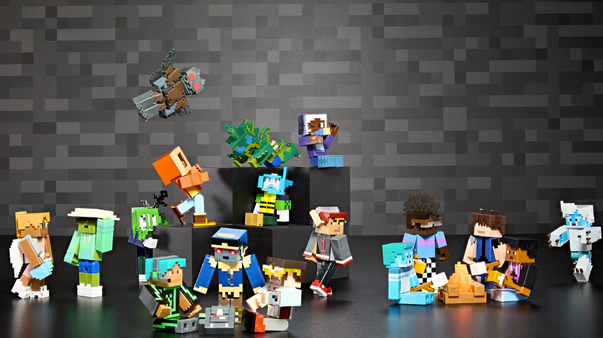 All of these new Minecraft Creator Series figures are compatible with ones that have been released in the past, giving fans the ability to mix and match. While players will have to purchase these toy sets to get their corresponding clothing items, some Character Creator items based on the Camp Enderwood theme can now be claimed in the game's Dressing Room for free.
The Camp Enderwood DLC will see players exploring an island summer camp, where they can participate in various activities, including parkour, archery, and hide n' hunt. Completing these activities unlocks marshmallows, which can be roasted and used for making s'mores. While this all sounds nice and cheerful, players should be warned that the forest outside of the camp seem to be filled with dangerous cryptids, like that aforementioned Yeti!
Minecraft is the greatest selling video game of all-time, with more than 230 million copies sold worldwide. Mojang and Microsoft have expanded the brand beyond the original game in a number of ways, including action figures like the ones above, comic books, and spin-off games. Last week, Microsoft revealed more information about Minecraft Legends, one such spin-off. The game is set to release on April 18th, and puts a much bigger emphasis on action gameplay. Readers interested in learning more about the game can do so right here.
Are you planning to check out this free DLC? What do you think of these new figures from the Minecraft Creator Series? Let us know in the comments or share your thoughts directly on Twitter and on Hive at @Marcdachamp to talk all things gaming!
0
comments