Cowboy Bebop 25th Anniversary Blu-ray Sets Get a Massive Deal on Amazon
Each product has been independently selected by our editorial team. We may receive commissions from some links to products on this page. Promotions are subject to availability and retailer terms.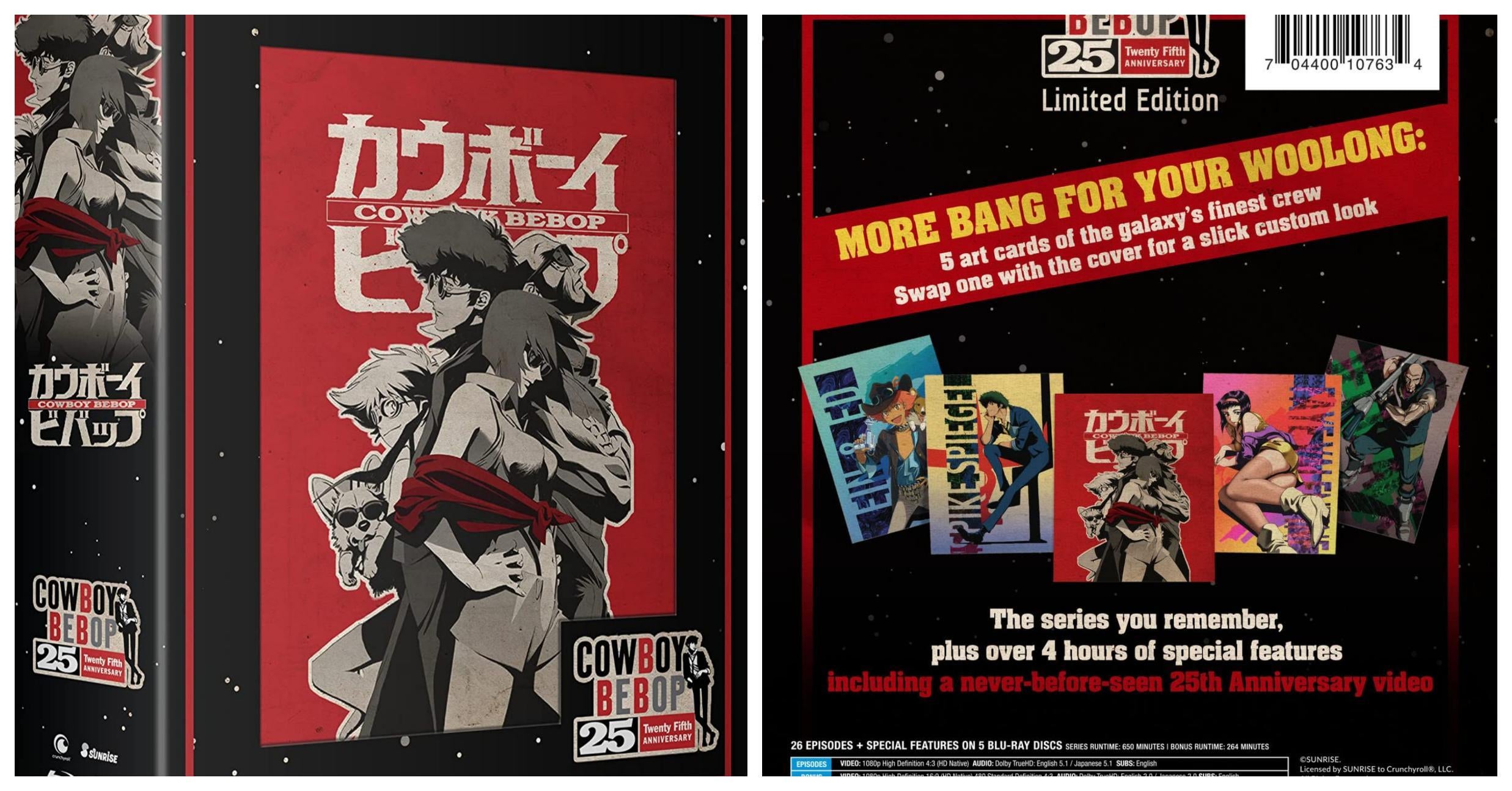 Cowboy Bebop, one of the most beloved anime series of all-time, is turning 25 this year. That means an obligatory anniversary Blu-ray box set, and it's a beauty. Though it doesn't feature a 4K Ultra HD upgrade, the limited edition set does include the full series plus over 4 hours of special features (including a new 25th anniversary video) and 5 cards that can be swapped out for the cover art on the metallic collector's box. What's more, both the limited and special edition releases are massively discounted on Amazon at the time of writing.
Cowboy Bebop: The Complete Series 25th Anniversary Limited Edition Blu-ray box set is avaialble here on Amazon for $44.83, which is 47% off the list price. The special edition version that doesn't include the fancy box and card art is also available here on Amazon for $32.36, which is 50% off the list price. If the extras listed below aren't that important to you, the standard Cowboy Bebop Blu-ray is available on Amazon for only $25.20.
See Cowboy Bebop 25th Anniversary Blu-rays on Amazon
Special Features:
Disc 1 – Cowboy Bebop The Complete Series:
Session #1 Audio Commentary with Koichi Yamadera (Spike) and Unsho Ishizuka (Jet)
Session #5 Audio Commentary with Wendee Lee (Faye) and ADR Producer Yutaka Maseba
Disc 2 – Cowboy Bebop The Complete Series:
Session #10 Audio Commentary with Wendee Lee (Faye) and ADR Producer Yutaka Maseba
Session #17 Audio Commentary with Director Shinichiro Watanabe and Composer Yoko Kanno
Disc 3 – Cowboy Bebop The Complete Series:
Session #24 Audio Commentary with Megumi Hayashibara (Faye) and Aoi Tada (Ed)
Cowboy Bebop Session #0
Interview with Wendee Lee (English Voice of Faye Valentine)
Interview with Cartoon Network Producer Sean Akins
Original Opening Song
Textless Opening Song
Original Closing Song
Textless Closing Song
Original Closing Song Ep. 13
Textless Closing Song Ep. 13
Original Closing Song Ep. 26
U.S. Trailer
Disc 4:
Memo from Bebop: The Dub Sessions Remembered
Ein's Summer Vacation
Tank! Full-Size Music Clip
Tank! Club Remix Music Clip -UK Version-
Dinner Aboard the Bebop
Disc 5:
Cowboy Bebop: A 25 Year Retrospective
Cowboy Bebop 20th Anniversary: Interview with Koichi Yamadera
0
comments