Marvel's Black Panther Series Relaunches With Eve L. Ewing and Chris Allen (Exclusive)
As one era of Black Panther comics ends, another is about to begin. ComicBook.com ended 2022 by breaking the news that Academy Award winner John Ridley was exiting Black Panther with Issue #15 in March. The current story arc of Black Panther, titled "All This and The World, Too," revealed that T'Challa's childhood best friend, Jhai, is the person behind his sleeper agents being exposed, which led to his exile from Wakanda and the country's civil war. While we don't know how that story arc will end, we now know the creative team stepping in for a new volume of Black Panther.
ComicBook.com can exclusively reveal that the new creative team on Black Panther is writer Eve L. Ewing (Ironheart, Monica Rambeau: Photon) and 2023 Marvel's Stormbreakers artist Chris Allen (Miles Morales: Spider-Man). Black Panther is relaunching with a new #1 issue later this year, and even though the opening story arc is being kept under wraps, ComicBook.com did speak with Eve L. Ewing via email to get her thoughts on getting the Black Panther gig, how John Ridley's run will factor into her plans, the types of threats T'Challa will face, and more.
We can also reveal a Black Panther promotional image by Rahzzah, which you can see below.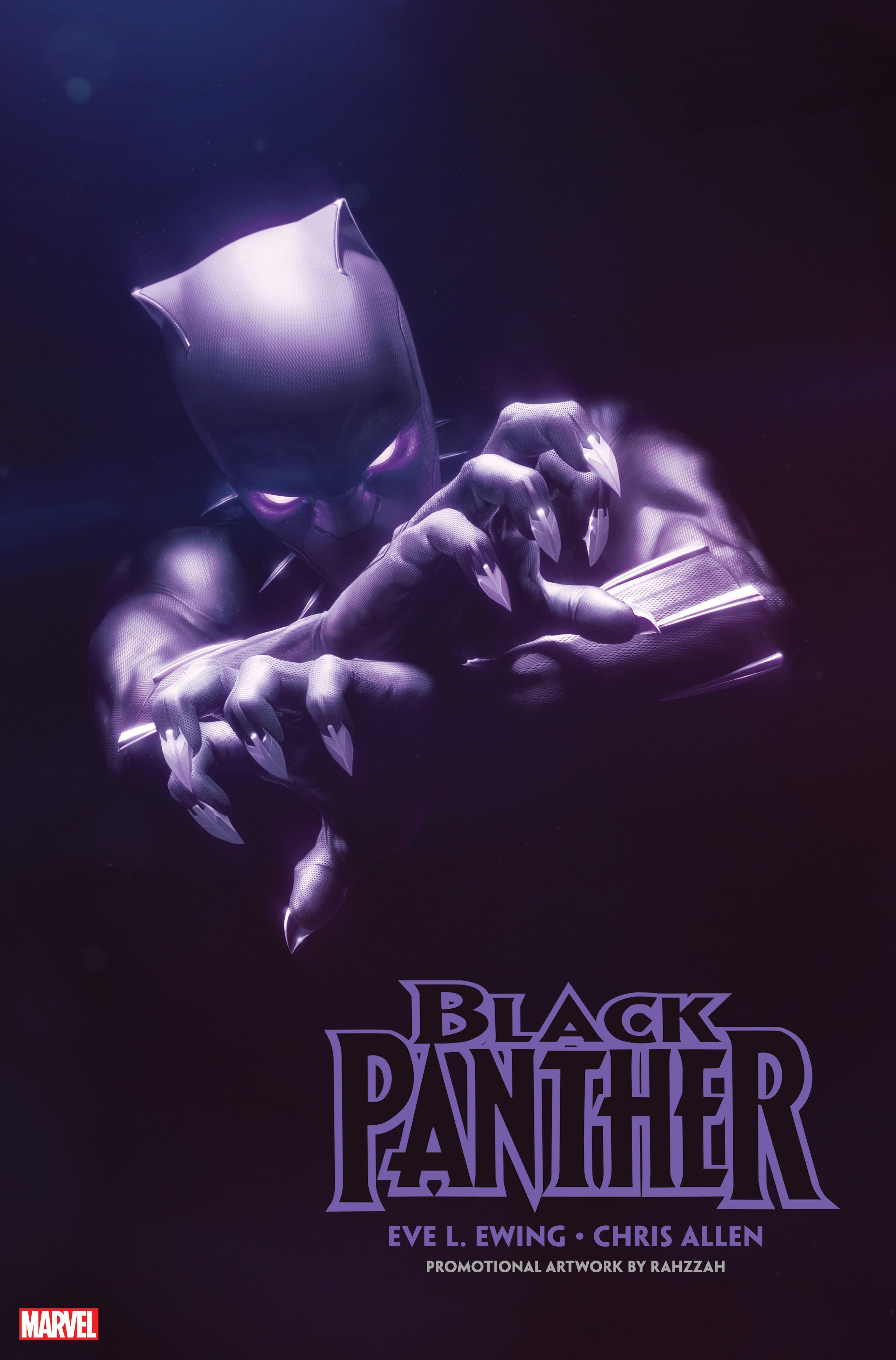 Eve L. Ewing Discusses Writing Marvel's Black Panther
ComicBook.com: Hopefully I'm not forgetting anyone, but how does it feel to be the first Black woman to write Marvel's main Black Panther series, not counting spinoffs like World of Wakanda?
Eve L. Ewing: It's pretty unreal. I mean, there haven't been that many women who've had the opportunity to take on an Avenger solo title, period. But I've actually been thinking about it less in terms of those qualifiers, just because the Wakandan space is an arena where there have been several Black women writers – from Yona Harvey to Roxane Gay to Nnedi Okorafor – and also because I'm so excited that some really awesome Black women, Black non-binary writers, and just dope people of color, in general, have come on board at Marvel even since I was first writing Ironheart in 2018. It's been awesome to see.
More than anything, I'm bowled over at the opportunity to write such a marquee character. I see it as a big responsibility. Black Panther is a tremendously important legacy character for Marvel fans, but moreover, the character has become one of the most important icons in pop culture for people of the African diaspora all over the world. And on a personal note, the title was so indelibly shaped by my friend and mentor, Ta-Nehisi Coates, who is a big part of why I'm even in comics. There are a lot of talented creators working right now and I feel very awed that the editorial team asked me to take this on. It makes me feel really seen as a comics writer, very humbled, and very grateful. It's a big role for me and I take it extremely seriously.
While we don't know how John Ridley's run will end, are there any concepts or themes you're looking to continue and maybe expand upon?
When I had my first conversation with Wil Moss, who edits Black Panther, and I found out where the Ridley run is going to end, I had to laugh. No spoilers, but the status quo is going to be more than a little disrupted. But I've always believed that the fun of writing these characters is not completely ignoring or undoing what your predecessor did, nor is it simply continuing with their storyline – it's taking the reins from the place where they left the story, and accepting the challenge to make it your own. In this case, I can say that I'm extremely geeked about the ways we're picking up where he leaves off.
What type of villains or threats will T'Challa face? Can fans expect familiar villains or will new foes be introduced?
As always, you can expect some unexpected visitors from various corners of the Marvel universe, but I can honestly tell you that virtually everything in this arc will be about T'Challa, and Wakanda, as you've never seen them before. New friends, new foes, but all with the goal of doing some worldbuilding in Wakanda and filling out the fabric of the nation in what I believe are some pretty cool new ways.
What word would you use to summarize your opening arc?
0
comments
I have so many, but if I can only pick one, let's go with... noir.
Black Panther #1 launches in June.