Creed 3: Michael B. Jordan Comes Out Swinging on New Poster
On the new poster for Creed III, boxing champ Adonis "Donnie" Creed (Michael B. Jordan) is back in the ring for round 3 — but this time around, it's without trainer Rocky Balboa (Sylvester Stallone) in his corner. Jordan makes his directorial debut in the sequel to 2015's Creed and 2018's Creed II, which finds Adonis thriving in his career and family life with wife Bianca (Tessa Thompson) and daughter Amara (Mila Kent). But when a childhood friend — former boxing prodigy Damian "Dame" Anderson (Jonathan Majors) — is released from prison after 18 years, the hungry, hard-hitting fighter is out to settle old scores and prove he deserves his shot in the ring.
See the new poster below.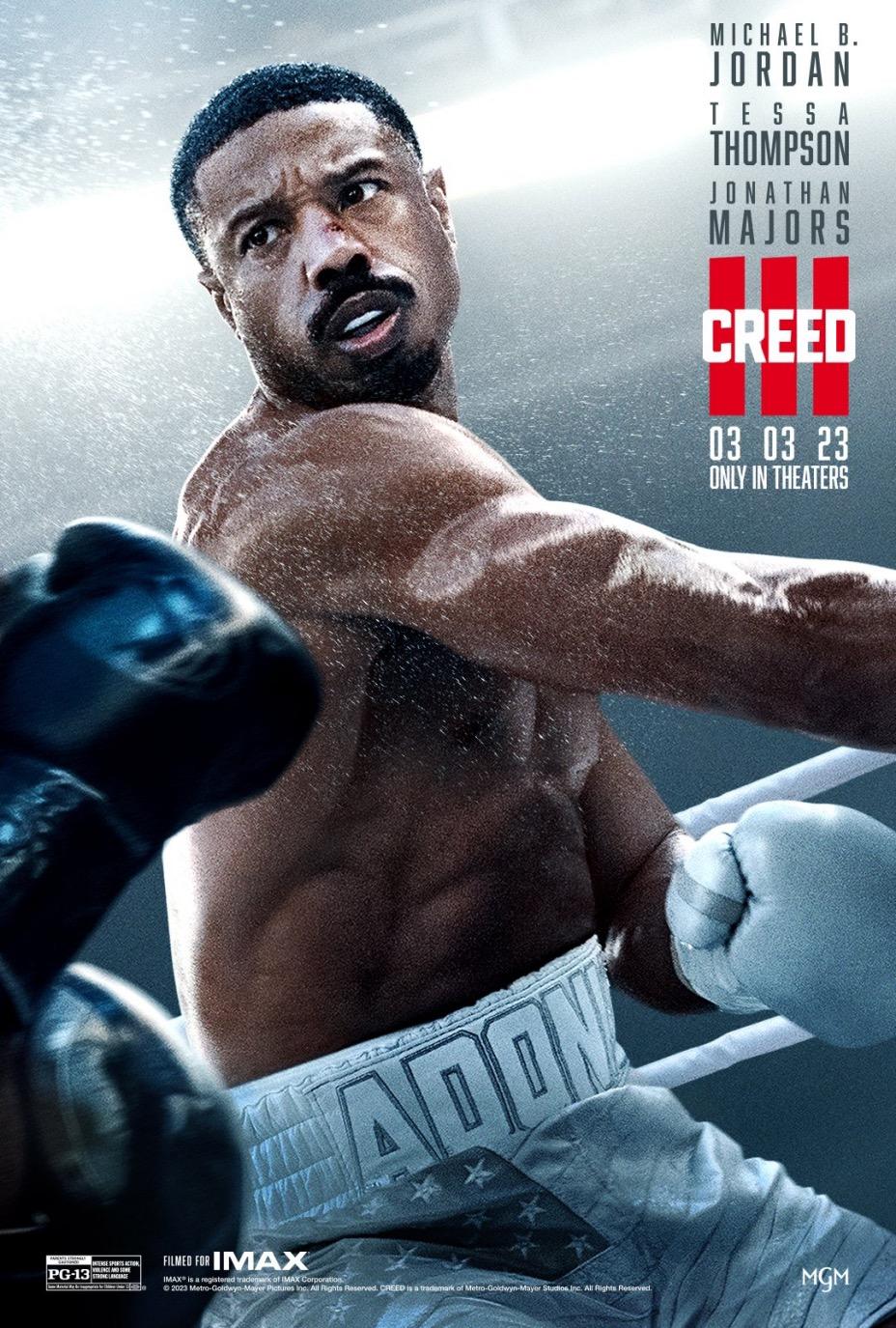 "I finally got to this place in my career where I wanted to tell a story and not just be in front of the camera, not just execute somebody else's vision," Jordan explained during an October press conference and trailer reveal. "And having a character that I played twice before — it's been seven, eight years living with this guy — so to be able to tell a story of where I believe Adonis is at. And also, at 35 years old, I had a lot to say. As a young man, a young Black man, just my life experiences and how I could actually share a piece of myself with the world through these characters and through this story."
On stepping out from behind the camera and into the directing ring, Jordan said, "I just felt it was the right time. I was talking to Ryan Coogler back when we were doing Creed I, and he was like, 'It's never the right time. You just gotta jump in the deep end and go for it.' I just felt like it was the right time for me."
In pitting Adonis against Damian, who was like a brother to the young illegitimate son of world heavyweight champion Apollo Creed (Carl Weahters), the theme of Creed III is laid out in its trailer: "There's no enemy like the past."
"Thematically, for us, family is always the core. Family and heart. You have to face your past and find out who you really are," Jordan said of Adonis' homecoming in the much-hyped Battle for Los Angeles. "That's something I think we address in this movie, sort of a homecoming ... remembering where you come from is really important in this one as well. Settling debts and being accountable for your actions is something that we wanted to look at."
Starring Michael B. Jordan, Tessa Thompson, Jonathan Majors, Wood Harris, Florian Munteanu, Mila Kent, and Phylicia Rashad, Creed III opens in theaters March 1st.
0
comments