Act-Age Artist Shiro Usazaki Announces New Manga
The manga series known as Act-Age was unceremoniously brought to an end by Shueisha thanks to the controversy involving the creator of the series, Tatsuya Matsuki. The artist of the series, Shiro Usazaki, who had nothing to do with said controversy is looking to bounce back with a new manga one-shot titled Kimi to Aoi Yoru no. The upcoming single story will be written by creators Kidasaori and Muneaki Taoko, revolving around the idea of a "murder game mystery".
If you're unaware of the Act-Age controversy which rocked the anime world, writer Tatsuya Matsuki was taken into custody once a police report was filed in 2020 stating that the writer had touched a middle school girl inappropriately. It was further reported that Matsuki had also performed an indecent act on another middle school girl earlier that day and the writer refrained from denying the allegations following their arrest. Following the announcement that Act-Age would be understandably canceled, Shueisha released an official statement: "It is extremely unfortunate to have to end a series that has received so much support from so many readers in this way. However, this decision was made because of the nature of the incident, and because Weekly Shonen Jump recognizes the weight of its social responsibility. We offer our deepest regrets and apologies to our readers."
A Murder Mystery Manga
The new one-shot special will arrive in the upcoming issue of Weekly Shonen Jump on March 20th, 2023. Shueisha has yet to confirm whether Kimi to Aoi Yoru no will receive additional chapters, though Shonen Jump has printed a number of one-shots that never received sequels. With murder mysteries like Knives Out and its follow-up Glass Onion becoming more popular, perhaps this new one-shot could swing open the door for anime to dive further into the mystery genre.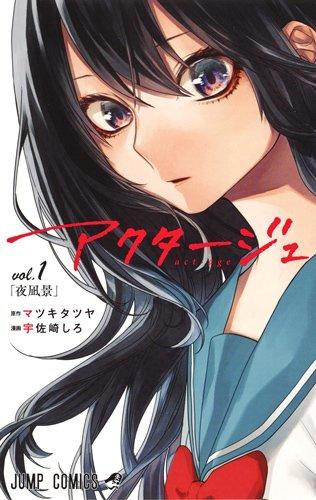 Following the incident, artist Shiro Usazaki has expressed sympathy and condolences for those who were affected by the actions of Act-Age's writer. Usazaki had worked on a prior one-shot to this upcoming release titled Engan no Cyclops, aka Fire-Eyed Cyclops, which ran in the pages of Weekly Shonen Jump. The artist stated the following when it came to the victims of the incident: "First of all, I would like to express my heartfelt sympathy to the victim and her family. It is truly an act of courage that she spoke up in great shock and fear and didn't let go of the anger at the injury to her dignity."
Another big selling point of the upcoming murder mystery is that Shueisha is touting it as an "interactive" manga, in which readers will be able to play through the story via their smartphones. The chapter is reportedly fifteen pages long so it is sure to be a breezy mystery. It should be interesting to see how the one-shot is able to incorporate technology into the manga's story and if it hits North America proper.
0
comments