DC Reveals International Women's Day Variant Covers
DC has become known for its pretty wide array of characters, many of whom have inspired the lives and hearts of many. In March, the publisher will be celebrating some of its most beloved female heroines — with the help of some epic variant covers. On Thursday, DC revealed the first official look at its 2023 International Women's Day variant covers, which will be published across its some of its new comics in March. The covers provide a wide array of delightful images, from Ma Kent getting her own Super family jacket, to a new team-up between Wonder Woman, Yara Flor, and Mary Marvel.
You can check out a full list of covers and release dates below:
ACTION COMICS #1053 by ELEONORA CARLINI on sale March 28
BATGIRLS #16 by LYNNE YOSHII on sale March 14
CATWOMAN #53 by QISTINA KHALIDAH on sale March 21
HARLEY QUINN #28 by CATHY KWAN on sale March 28
JUSTICE SOCIETY OF AMERICA #3 by MARIA LAURA SANAPO and LAURA MARTIN on sale March 7
POISON IVY #10 by SKYLAR PATRIDGE on sale March 7
WILDC.A.T.s. #5 by REBEKAH ISAACS and CARRIE STRACHAN on sale March 14
WONDER WOMAN #797 by JASMIN DARNELL on sale March 21
Wonder Woman #797, in particular, will be a part of the Revenge of the Gods storyline, the next chapter of the ongoing DC event Lazarus Planet. Lazarus Planet: Revenge of the Gods takes place immediately after the events of Lazarus Planet. The gods of the Multiverse have decided to take down the heroes they once called champions and the world they've sworn to protect. For years the gods sat idle atop their mountains as their legends faded into obscurity along with their bodies. Now is their time to remind the selfish mortals of their existence and take back the world with something more powerful than belief...fear. Only the brave heroes Wonder Woman and Shazam stand in their way, but will their combined powers be enough?
"I'm excited for readers to see what we've been cooking up – old favorite characters, new favorite characters, and team-ups you've never seen before are all coming your way," Revenge of the Gods writer G. Willow Wilson said in a statement. "Diana will be tested in ways she's never been tested before, and find new allies in unexpected places. There are some twists and reveals that I guarantee will have you jumping out of your chair."
Will you be picking up DC's International Women's Day variant covers? Keep scrolling to check them out, and share your thoughts with us in the comments below!
Wonder Woman #797 by Jasmin Darnell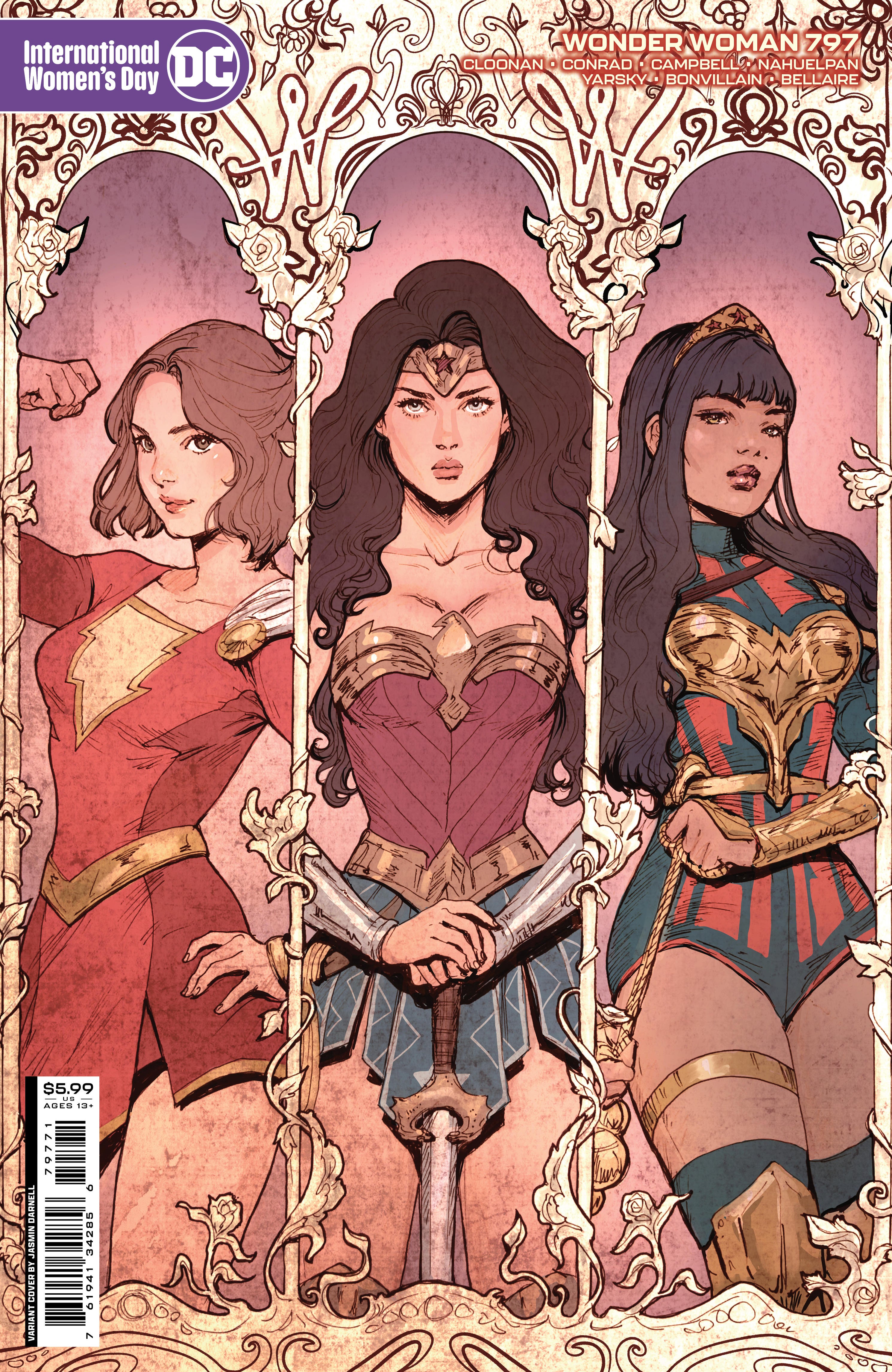 prev
0
comments