Brave and the Bold: Meet Batman's Son, Damian Wayne
Nearly 30 years after 1997's Batman & Robin, the dynamic duo is reuniting in live-action as The Brave and the Bold. On Tuesday, DC Studios co-chiefs James Gunn and Peter Safran announced the first ten projects in their slate for an interconnected and unified DC Universe, bringing Batman and Robin back to the big screen — this time around as Batman and son. DC Studios' Brave and the Bold will introduce the DCU's Batman and Robin in what Gunn and Safran described as an "unusual father-son story" based on Grant Morrison's comic series.
The son of Bruce Wayne and Talia al Ghul — daughter of Batman's enemy, Ra's al Ghul, leader of the shadowy League of Assassins — Gunn described Damian as "a little son of a bitch." Becoming Batman's sidekick as the new Robin, the moral-challenged Damian is an "assassin and murderer who Batman takes on, who is Batman's actual son that he doesn't know exists for the first 8-10 years of his life."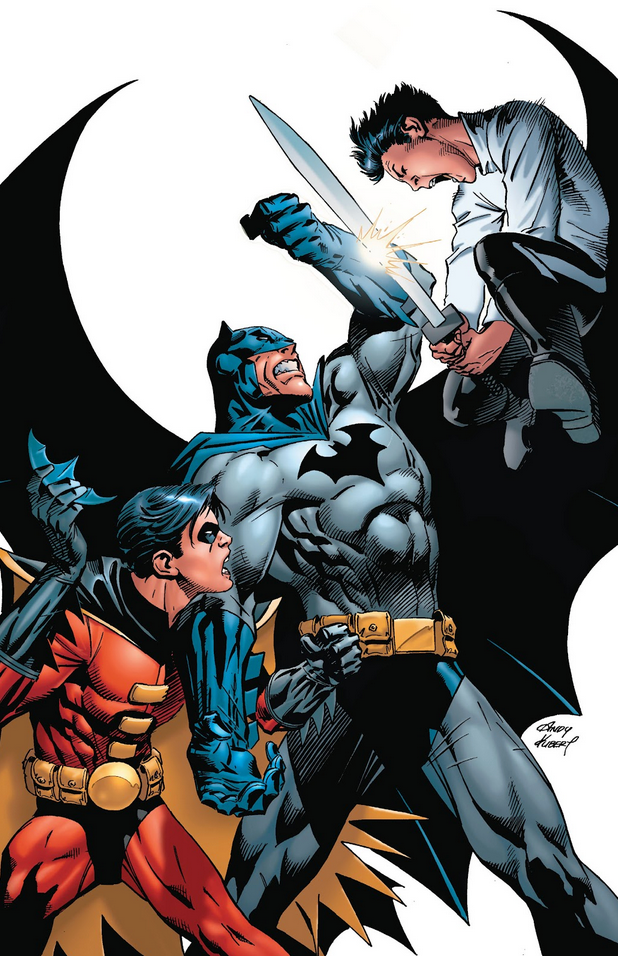 Introduced during the Batman and Son arc in Morrison's Batman #655 in 2006, Damian would become the latest Bat-protégé to take on the mantle of Robin, a position previously held by Bruce Wayne wards Dick Grayson, Jason Todd, and Tim Drake. After Bruce was presumed dead, Morrison's "Batman: Reborn" arc saw the debut of a new dynamic duo in the 2009 series Batman and Robin: Dick Grayson donned the cape and cowl of the Dark Knight with Damian Wayne by his side as the new Robin.
The Brave and the Bold "is going to feature other members of the extended Bat-Family," said Safran of Batman's partners in crime-fighting, which has included such characters as Nightwing, Batgirl, Huntress, Black Bat, and the Red Hood. "Just because we feel like they've been left out of the Batman stories in the theater for far too long."
The last live-action film to feature the dynamic duo was 1997's Batman & Robin, which teamed George Clooney's Batman and Chris O'Donnell's Robin after becoming superhero partners in 1995's Batman Forever.

Produced by Gunn and Safran's DC Studios, The Brave and the Bold is separate from the continuity established in Matt Reeves' The Batman, which follows a younger Bruce Wayne (Robert Pattinson) in his second year as Gotham's caped crusader. A sequel, titled The Batman — Part II, is dated for release on October 3rd, 2025.
Other films revealed as part of the DC Universe's first chapter, titled "Gods and Monsters," are the universe-launching Superman: Legacy (in theaters July 11th, 2025), The Authority, Supergirl: Woman of Tomorrow, and Swamp Thing.
Follow DC on ComicBook and DCU on ComicBook on Twitter for more DC Universe news.
0
comments