DC Studios' James Gunn Teases How The Flash Resets DC Universe
Since directing Guardians of the Galaxy in 2014, James Gunn has become a favorite amongst many because of his candid nature on social media. The filmmaker routinely hosts impromptu Q&A sessions with those who have questions, often answering many questions in one go. One such event took place Wednesday night, with the newfound DC Studios boss answering some questions about the upcoming DC Universe slate in a post on his Instagram.
Case in point, Gunn mentioned earlier in the week that The Flash was going to reset all things DC, implying it will set the stage for a clean slate when the DC Universe officially launches next year. One fan followed that up with a clarification regarding the continuity of certain characters and projects. "Flash resets many things, not all things," Gunn revealed. "Some characters remain the same, some do not."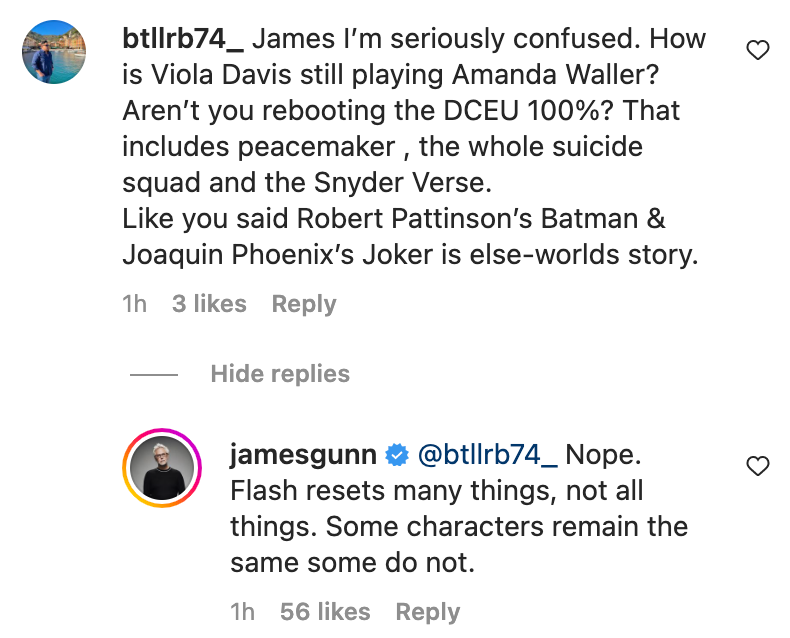 When does the DCU officially begin?
Between now and Superman: Legacy's release in 2025, there are five film projects set for release. The likes of Shazam!: Fury of the Gods, Blue Beetle, Aquaman 2, and The Flash may or may not be in the same continuity with the rest of the DC Universe. The likes of Gunn and Peter Safran have yet to determine just which projects will remain in-line with everything else. That said, there will be a clear break once Superman: Legacy hits theaters.
"The one thing that we can promise is that everything from Superman forward, from our first project forward, will be canon and will be connected," Gunn said. "We're using some actors from the past. We're not using other actors from the past, but everything from that moment forward will be connected and consistent."
Will Ezra Miller continue being The Flash?
While characters like Superman and Batman will be getting new actors within the DCU, some will be returning to their roles, like Viola Davis' Amanda Waller. When it comes to Miller, it's unclear if the actor will return, although Safran hasn't ruled their return out.
"Ezra is completely committed to their recovery," Safran said. "And we are fully supportive of that journey that they're on right now. When the time is right, when they feel like they're ready to have the discussion, we'll all figure out what the best path forward is. But right now, they are completely focused on their recovery. And in our conversations with them over the last couple of months, it feels like they're making enormous progress."
The Flash races into theaters on June 16. What other characters do you hope to see pop up in The Flash? Let us know your thoughts in the comments section!
0
comments