My Hero Academia Teases Its Finale With New Creator Update
My Hero Academia's Paranormal Liberation War Arc came to an end in the latest episodes of the Shonen's anime adaptation, and the Final Arc of the manga is currently playing out in the pages of Weekly Shonen Jump. While creator Kohei Horikoshi has been tight-lipped when it comes to how many more chapters will focus on the world of UA Academy before bidding a fond farewell to Class 1-A, a new message from the mangaka might give us a depressing hint as to how much time is left.
Currently, a major event is preparing to take place as Deku and Shigaraki are facing off for what will most likely be the last time. With the Final Arc seeing some major battles take place such as Shoto Todoroki fighting against his nefarious older brother Dabi and Endeavor and Hawks teaming up to fight against All For One, Horikoshi hasn't hinted at the idea that his beloved Shonen franchise will continue once this storyline comes to an end. While the anime adaptation also hasn't confirmed how many additional seasons it will have before also coming to an end, we could see two more coming down the pike, if not a movie or two as well.
My Hero Finale
In a recent popularity poll for My Hero Academia's characters, the eighth to arrive so far over the course of the manga's history, creator Kohei Horikoshi hinted at the idea that this character poll might be the last for the franchise, meaning that the ending might be sooner than we think:
"The story is going through some chaos and sadness but I'm here to announce the results of the 8th popularity poll. Thank you very much for the votes and for all the support! I think this was probably the final popularity poll. Thank you."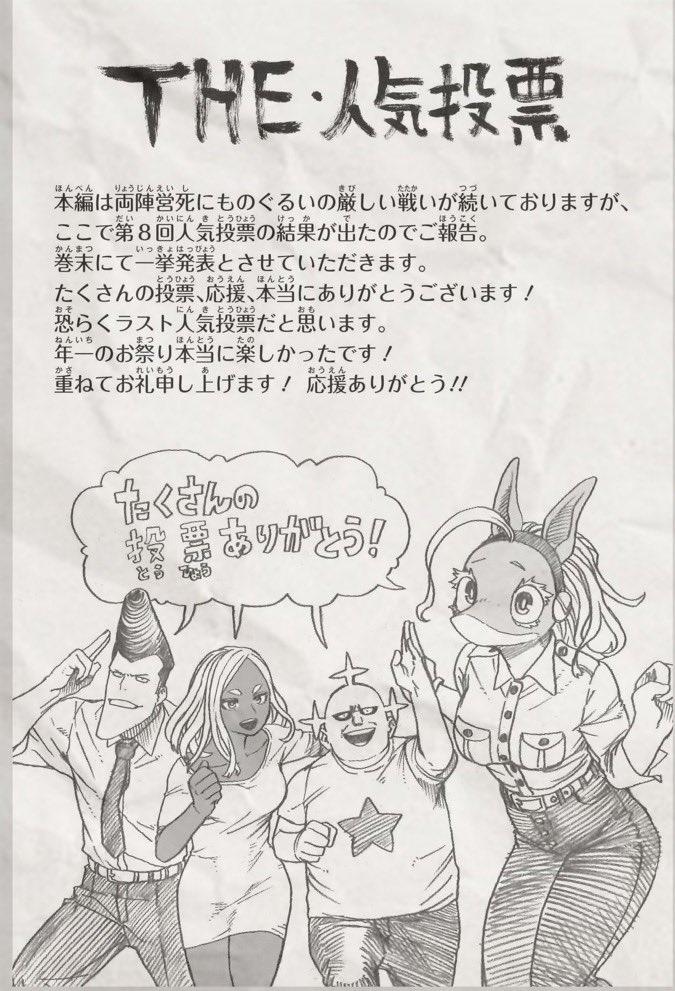 Currently, My Hero Academia's manga recently announced a two-week hiatus due to a health issue with creator Kohei Horikoshi, and with the final panel of the previous chapter hinting at the last battle between Deku and Shigaraki is about to take place, it's going to be a long wait for many Shonen fans.
Do you think we'll get the final chapter of My Hero Academia this year? Feel free to let us know in the comments or hit me up directly on Twitter @EVComedy to talk all things comics, anime, and the world of UA Academy.
0
comments