National Lampoon's Vacation Coming to 4K for 40th Anniversary
Load up the Wagonqueen Family Truckster and get ready to hit the (holiday) road: National Lampoon's Vacation is coming to 4K Ultra HD Blu-ray in time for its 40th anniversary. The classic 1983 comedy directed by Harold Ramis and scripted by John Hughes follows the Griswold family — bumbling but well-meaning patriarch Clark (Chevy Chase), wife Ellen (Beverly D'Angelo), and their kids Rusty (Anthony Michael Hall) and Audrey (Dana Barron) — on their ill-fated cross-country road trip to the Walley World theme park.
Getting there is half the fun, but the Griswolds' pilgrimage to see a moose hits a speed bump or two with their run-ins with Cousin Eddie (Randy Quaid) and his country kin, a tempting girl in a Ferrari (Christie Brinkley), ornery Aunt Edna (Imogene Coca), and Walley World security (John Candy). And for the first time, the Griswold family Vacation is being remastered in 4K resolution.
According to a listing on HD Movie Source, Warner Bros. Home Entertainment will release the National Lampoon's Vacation 4K Blu-ray on July 4th — nearly 40 years after the box office-topping comedy opened in theaters on July 29th, 1983.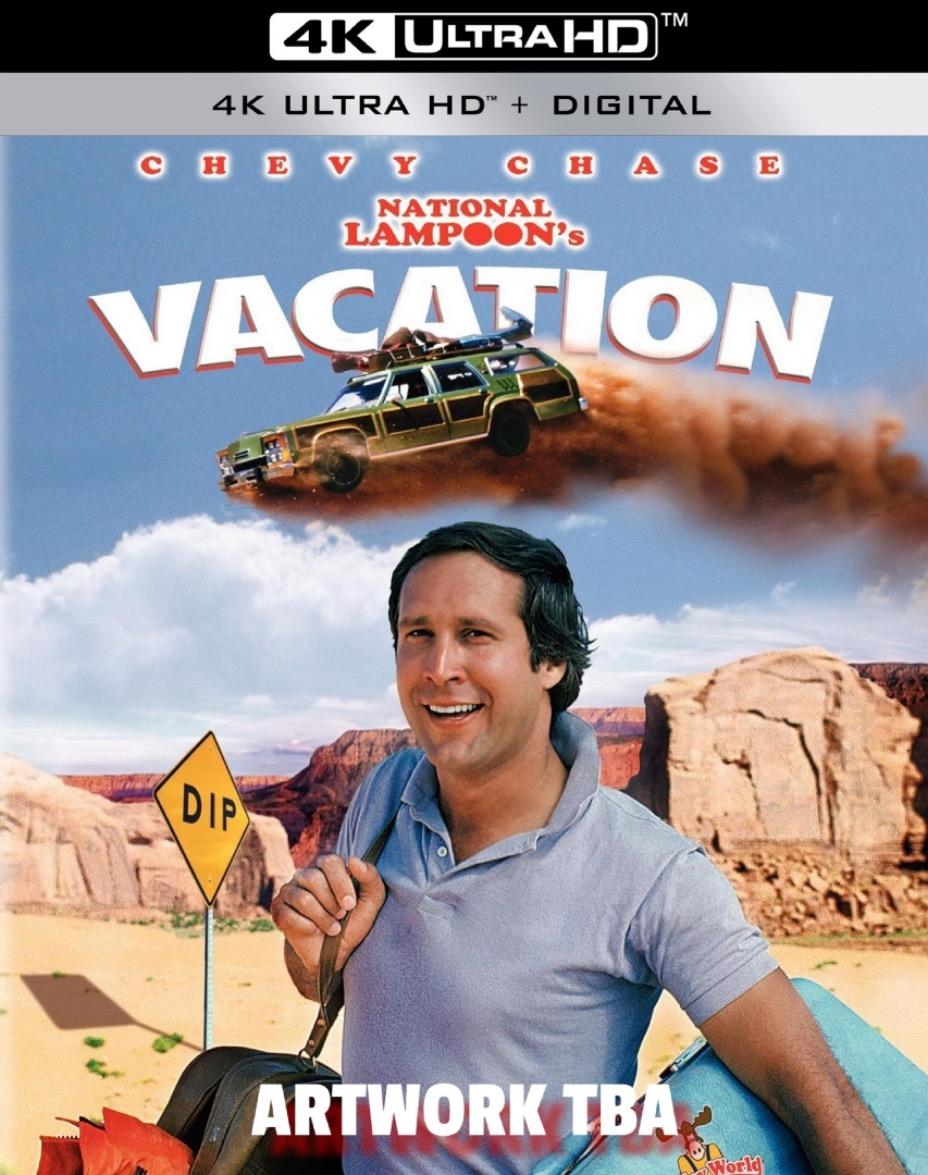 No word yet when 1985's National Lampoon's European Vacation or 1997's Vegas Vacation might complete the original collection: 1989's Christmas Vacation debuted on the premium format with the 4K remaster treatment in November 2022. Extras are TBA, but the 30th anniversary Blu-ray was light on special features: the 2013 release included a 44-second introduction to the film by Chase, Quaid, and producer Matty Simons; a "Griswold Family" feature commentary by Chase, Quaid, Hall, Baron, and Simmons; the theatrical trailer; and the 2011 making-of special Inside Story: National Lampoon's Vacation.
"There were so many elements that brought people to that movie and made them watch it again. Because you just don't really know what might happen to these people next," Chase said in the 2011 retrospective. "Frankly, I think it's good comedy. It has a story you want to follow — it has your everyman and the jealousies and the norms of a normal kind of life." Added Ramis, Vacation was a "combination of very adult, hip, smart comedy with the very classic, all-American form."
National Lampoon's Vacation will release on 4K Ultra HD Blu-ray on July 4th from Warner Bros. Home Entertainment.
0
comments