Dead City's Jeffrey Dean Morgan: Negan and Maggie Might Kill Each Other "At Any Moment"
Keep your friends close and your enemies closer. The old adage is especially true of The Walking Dead: Dead City, the new show pairing enemies-turned-uneasy allies Maggie (Lauren Cohan) and Negan (Jeffrey Dean Morgan) on a trip into the zombie apocalypse version of Manhattan. In their final scene together in the series finale of The Walking Dead, Maggie made peace with an apologetic Negan for murdering her husband Glenn (Steven Yeun), but told him in a heart-wrenching speech she hasn't forgotten — and he isn't forgiven.
First-look images from the Walking Dead spin-off showed Maggie and Negan at each others' throats — literally — indicating the dysfunctional duo aren't on good terms when circumstances force them to work together once again in Dead City.
"When the idea was first pitched, I thought it was as crazy as you probably did," Morgan told E! News. "How do you put these two characters together? There was a lot of talk about spinoffs and how they would do it. They were talking to Lauren and I about doing our own."
Instead of separate Maggie and Negan spinoffs, Morgan continued, "One day, [TWD Universe chief content officer] Scott [Gimple] said, 'Hey, we've got this idea and it's the two of you.' I remember I talked to Lauren the next day on set and we were both eyebrows raised going, 'How the f--k does that work?'"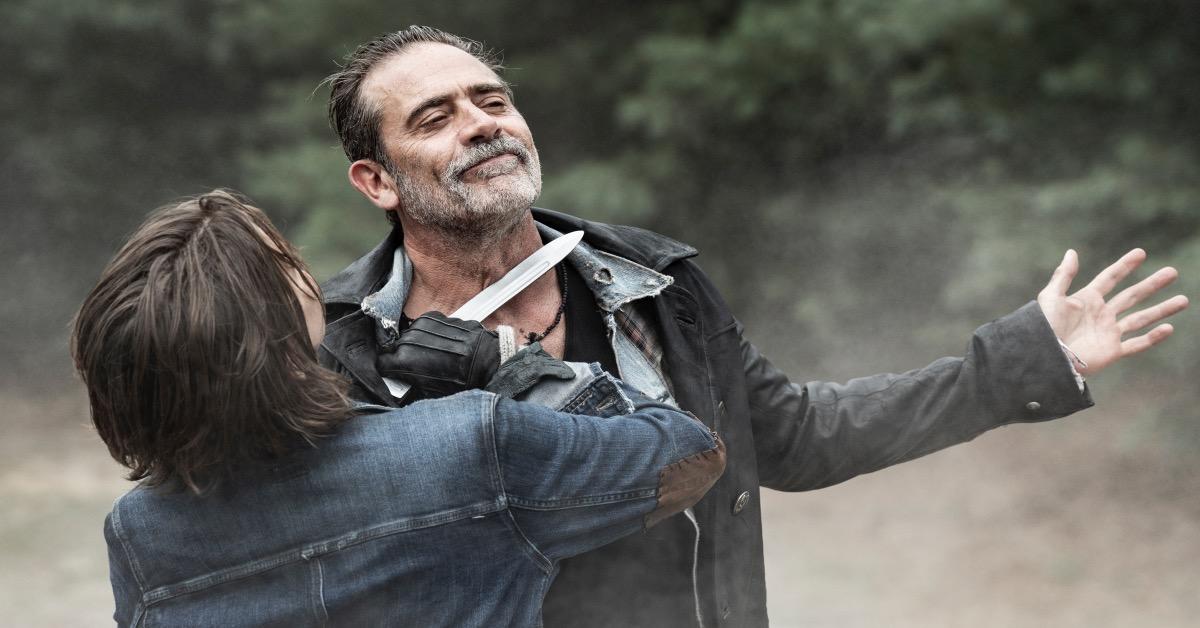 The answer may be their families: it's been hinted that the turbulent team-up happens because the disappearance of Maggie and Glenn's son, Hershel Rhee, puts them on the trail of a notorious killer. Last we saw him, Negan was expecting his own child with pregnant wife Annie (Medina Senghore).
The Maggie-Negan dynamic is "a good territory for us to get into as actors, but our audience is going to want to see it," Cohan said. "It is so much left on the table. If you're tethered to somebody you have every reason to never want to deal with and want to hate and you have to, for me it just brings up the biggest questions you can have in life."
The "how" and "why" Maggie and Negan are together in Dead City are questions that will be answered quickly in the show's six-episode first season, slated to premiere on AMC and AMC+ in June.
"I think they're going to be answered, really, in the first couple episodes. It's really interesting. It's really interesting storytelling," Morgan said, adding that reuniting with Cohan on Dead City "felt the same" as their tenure together on The Walking Dead.
0
comments
"We had an intimacy from just being around each other for the last seven years," he added. "But at the same time, we got to do all this new stuff and dive into dark places that you really need to trust your partner. Make no mistake, we really are partners in this, on screen and off, and yet she might kill me at any moment. Or maybe me her. Who knows?"
Fear the Walking Dead: The Final Season – Part 1 premieres May 14th on AMC and AMC+, followed by The Walking Dead: Dead City in June and The Walking Dead: Daryl Dixon later in 2023. Stay tuned to ComicBook/TWD and follow @NewsOfTheDead for more TWD Universe coverage.