James Gunn Hints at Fan-Favorite DC Comics Story Influencing DC Studios' Chapter 1
Earlier this week, James Gunn and Peter Safran revealed the opening projects for DC Studios' slate, revealing ten total in development projects that will comprise Chapter 1: Gods and Monsters. Then, a few days later, Gunn followed the slate up with a tweet confirming some of the comics that are inspiring those projects. Now, a recent Instagram Story from Gunn has fans thinking that there could be another important comic influencing the future of the DCU: Darwyn Cooke's DC: The New Frontier.
On his Instagram Story, Gunn shared a story shared by Paul Scheer in which Scheer wrote "After @jamesgunn big @dcofficial announcement something tells me maybe it's a good time to revisit this…"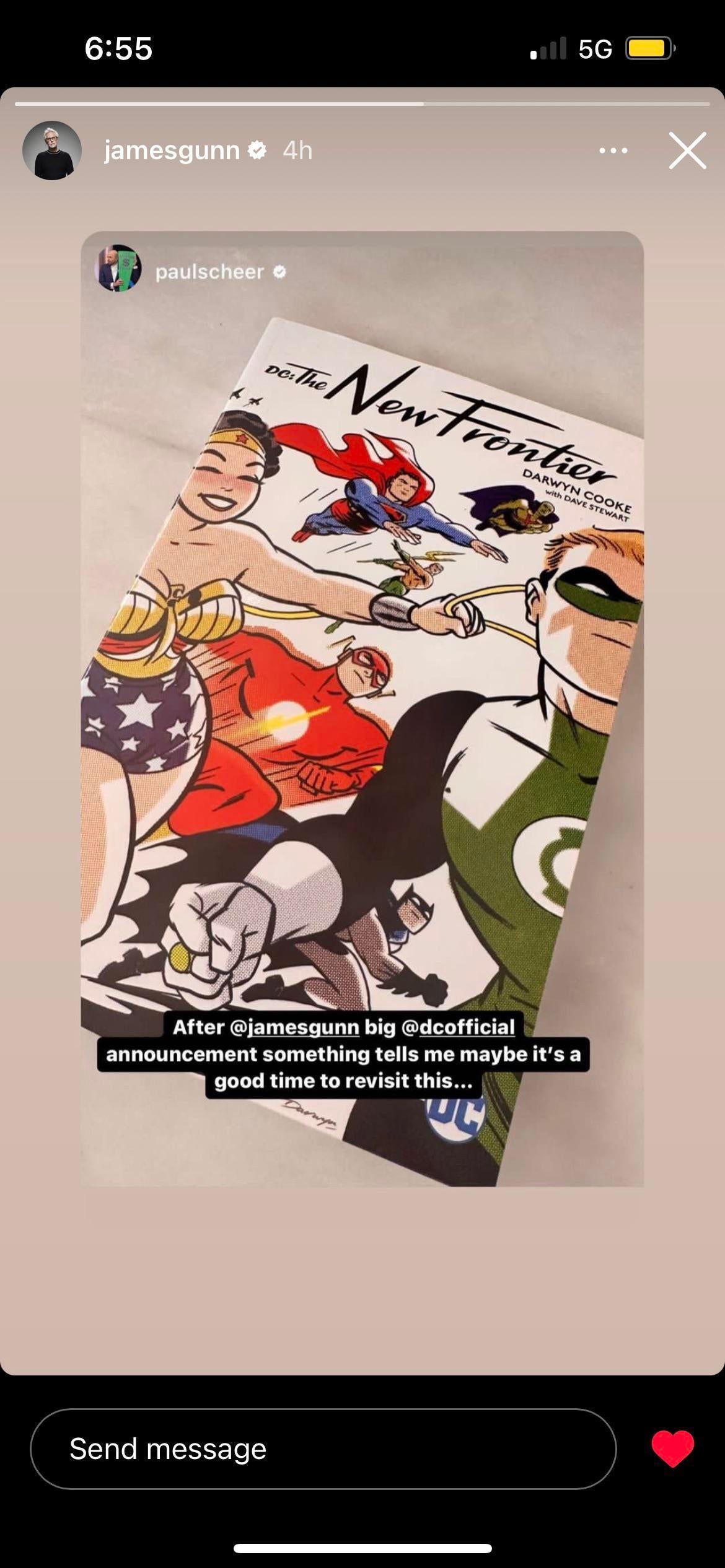 While nothing in Gunn's story expressly indicates that The New Frontier is one of the comics influencing the slate, it's not hard to see some connections between the story and what we already know about Gods and Monsters. First published in 2004, DC: The New Frontier was a six-issue comic book limited series written and drawn by Darwyn Cooke and is set between 1945 and 1960 with its story spanning 1945 through 1960 and puts familiar heroes of the Golden Age — such as Batman, Superman, and Wonder Woman — into the Cold War era as they continue to fight for truth and justice even as the world moves toward an uncertain future and a new breed of hero. The story serves to bridge the gap between the Golden Age and the Silver Age in DC.
However, beyond the setting, there are elements of the story that seem like they would fit well with what we've been told about Gods and Monsters. In the series, an entity called "The Centre" is discovered that is pulling humanity's psyche into its thrall and defeating this entity ultimately requires various heroes to work together to save the day. Key players in this story include Batman, Superman, and Wonder Woman, but Hal Jordan is a major player in the story as well and the story also sees involvement by Themyscira. How this first part of the DC Studios slate would get to something like DC: The New Frontier is still up for speculation — after all, we are still at the very early point of knowing much about what DC Studios has planned but more than that, inspiration isn't necessarily direct adaptation — but this certainly seems like a good time to be revisiting this story.
And if you're looking to explore DC: The New Frontier, now is probably a good time. Shortly after Gunn revealed the comics that inspiring Gods and Monsters, they sold out on Amazon and other retailers. Gunn later reassured fans that he'd spoken with Jim Lee and DC Comics and more printings are coming soon.
What is on the DC Universe slate?
The initial DC Studios slate for "Gods and Monsters" will include movies for Superman: Legacy, The Brave and the Bold, Supergirl: Woman of Tomorrow, Swamp Thing, and The Authority. It will include the HBO Max television shows Waller, Booster Gold, Lanterns, Paradise Lost, and an animated Creature Commandos series.
"We're honored to be the stewards of these DC characters we've loved since we were children," Gunn and Safran said in a statement when their roles were first announced. "We look forward to collaborating with the most talented writers, directors, and actors in the world to create an integrated, multilayered universe that still allows for the individual expression of the artists involved. Our commitment to Superman, Batman, Wonder Woman, Aquaman, Harley Quinn, and the rest of the DC stable of characters is only equaled by our commitment to the wonder of human possibility these characters represent. We're excited to invigorate the theatrical experience around the world as we tell some of the biggest, most beautiful, and grandest stories ever told."
5
comments