Avatar: The Way of Water Nears Another Milestone In Sixth Weekend at the Box Office
Avatar: The Way of Water continues to dominate the box office in its sixth weekend, helping to life the box office as a whole to over $500 million in the third week of January. The Avatar sequel will earn $19.7 million this weekend, bringing its domestic box office total to just shy of $598 million, inching closer to the $600 million milestone marker. Also helping the box office surge this weekend are Puss in Boots: The Last Wish, earning $11.5 million, and M3GAN, which will earn $9.1 million. The weekend's sole major new release, Missing, will open with $9.3 million. Avatar: The Way of Water has gotten a mostly positive reception from critics, though its Rotten Tomatoes score dipped following its debut. The consensus on the review aggregator reads, "Narratively, it might be fairly standard stuff -- but visually speaking, Avatar: The Way of Water is a stunningly immersive experience."
ComicBook.com's Liam Crowley had high praise for the film, awarding it a 5-out-of-5 review: "Film is an ever-evolving medium that, for better or worse, demands a "what have you done for me lately" hunger from its audience. In the 13 years between Avatar films, fans have been treated to a rebirth of Star Wars, the meteoric rise of the Marvel Cinematic Universe, and an overall box office boom that has made billion-dollar pictures a regular occurrence. With an abundance of theatrical treats over the past decade, the magic of Avatar (2009) has been somewhat overlooked. If there was any doubt, James Cameron reminds audiences exactly what he's capable of. Words don't do Avatar: The Way of Water justice. While this film has all the makings of a once-in-a-lifetime theatrical experience, audiences should relish in the fact that there is much more to come."
Avatar: The Way of Water is now playing in theatres. The full list of the top 10 films at the box office this weekend follows.
1. Avatar: The Way of Water
Week Six
Weekend: $19.7 million
Total: $597.9 million

Jake Sully and Ney'tiri have formed a family and are doing everything to stay together. However, they must leave their home and explore the regions of Pandora. When an ancient threat resurfaces, Jake must fight a difficult war against the humans.
James Cameron directed Avatar: The Way of Water from a screenplay he co-wrote with Rick Jaffa and Amanda Silver. The film's cast includes Sam Worthington, Zoe Saldaña, Stephen Lang, Joel David Moore, CCH Pounder, Giovanni Ribisi, Dileep Rao, Matt Gerald,
prev
next
2. Puss in Boots: The Last Wish
(Photo: Universal)

Week Five
Weekend: $11/5 million
Total: $126.4 million

Puss in Boots discovers that his passion for adventure has taken its toll: he has burnt through eight of his nine lives. Puss sets out on an epic journey to find the mythical Last Wish and restore his nine lives.
Joel Crawford directed Puss in Boots: The Last Wish, with Januel Mercado co-directing, from a screenplay by Paul Fisher and Tommy Swerdlow. Its voice cast includes Antonio Banderas, Salma Hayek, Harvey Guillén, Florence Pugh, Olivia Colman, Ray Winstone, Samson Kayo, John Mulaney, Wagner Moura, Da'Vine Joy Randolph, and Anthony Mendez.
prev
next
3. M3GAN
Week Three
Weekend: $9.1 million
Total: $72.6 million

M3GAN is a marvel of artificial intelligence, a lifelike doll that's programmed to be a child's greatest companion and a parent's greatest ally. Designed by Gemma, a brilliant roboticist, M3GAN can listen, watch and learn as it plays the role of friend and teacher, playmate and protector. When Gemma becomes the unexpected caretaker of her 8-year-old niece, she decides to give the girl an M3GAN prototype, a decision that leads to unimaginable consequences.
Gerard Johnstone directed M3GAN from a screenplay by Akela Cooper. The film stars Allison Williams, Jenna Davis, and Violet McGraw.
prev
next
4. Missing
(Photo: Sony Pictures)

Opening Weekend
Total: $9.3 million
When her mother disappears while on vacation in Colombia with her new boyfriend, June's search for answers is hindered by international red tape. Stuck thousands of miles away in Los Angeles, June creatively uses all the latest technology at her fingertips to try and find her before it's too late. However, as she digs ever deeper, her digital sleuthing soon raises more questions than answers.
Nick Johnson and Will Merrick wrote and directed Missing, a standalone sequel to 2018's Searching, based on a story by Sev Ohanian and Aneesh Chaganty. The movie stars Storm Reid, Joaquim de Almeida, Ken Leung, Amy Landecker, Daniel Henney, and Nia Long.
prev
next
5. A Man Called Otto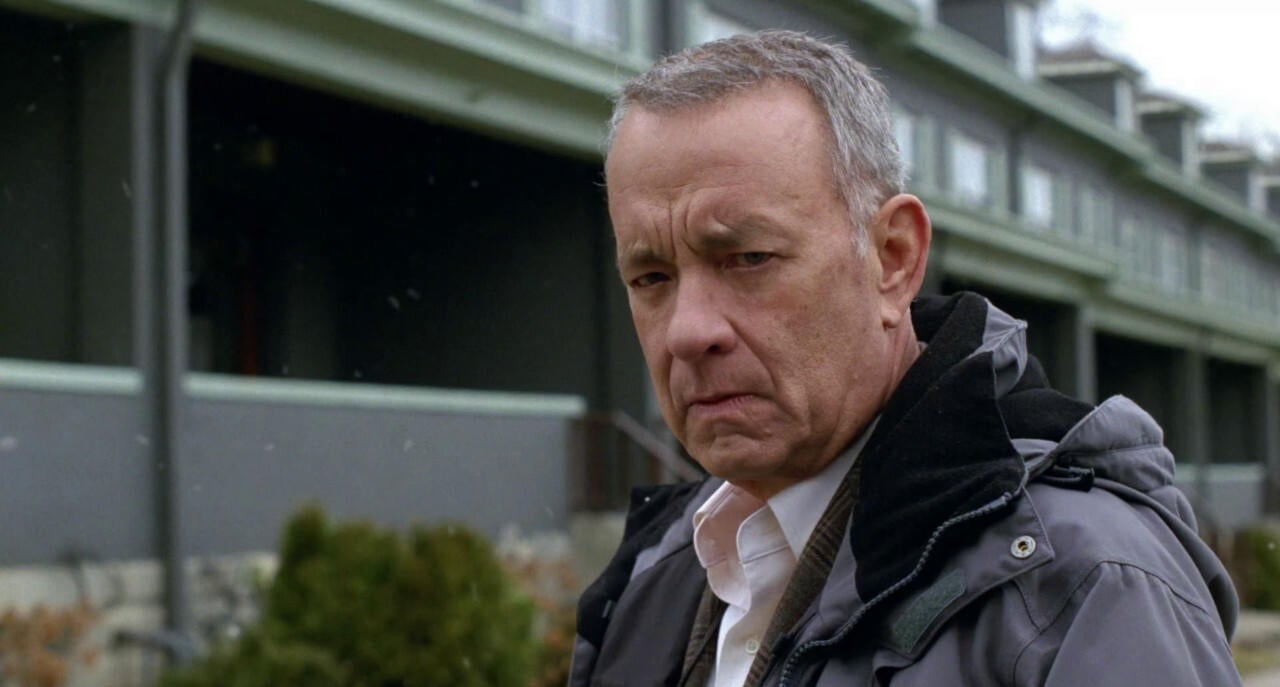 Week Four
Weekend: $9 million
Total: $35.3 million
When a lively young family moves in next door, grumpy widower Otto Anderson meets his match in a quick-witted, pregnant woman named Marisol, leading to an unlikely friendship that turns his world upside down.
Marc Forster directed A Man Called Otto from a screenplay written by David Magee. It is based on the 2012 novel A Man Called Ove by Fredrik Backman and remakes the 2015 Swedish film adaptation. The film stars Tom Hanks, Mariana Treviño, Rachel Keller, and Manuel Garcia-Rulfo.
prev
next
6. Plane
(Photo: Kenneth Rexach/Lionsgate)

Week Two
Weekend: $5.3 million
Total: $19.5 million
Pilot Brodie Torrance saves passengers from a lightning strike by making a risky landing on a war-torn island -- only to find that surviving the landing was just the beginning. When dangerous rebels take most of the passengers hostage, the only person Torrance can count on for help is Louis Gaspare, an accused murderer who was being transported by the FBI.
Jean-François Richet directed Plane from a screenplay written by Charles Cumming and J. P. Davis. The movie stars Gerard Butler, Mike Colter, Yoson An, and Tony Goldwyn.
prev
next
7. House Party
(Photo: New Line Cinema)

Week Two
Weekend: $1.75 million
Total: $7.1 million
Aspiring club promoters and best buddies Damon and Kevin are barely keeping things together. Out of money, down on their luck and about to lose the roofs over their heads, they need a huge windfall to make their problems go away. They soon decide to host the party of the year at an exclusive mansion, which just happens to belong to none other than NBA superstar LeBron James.
Calmatic directed House Party from a screenplay by Jamal Olori and Stephen Glover. It is a reboot/remake of the 1990 movie starring Kid 'n Play. It stars Tosin Cole, Jacob Latimore, Karen Obilom, D.C. Young Fly, and Scott Mescudi.
prev
next
8. The Time I Got Reincarnated as a Slime The Movie: Scarlet Bond
Opening Weekend
Total: $1.46 million
After his people were wiped out by the Orcs, Hiiro was sure he was the last of the Ogres. Since then, he's found a home in the small nation of Raja in service to their young queen. However, things are not going well for the city-state. A mysterious curse has repeatedly fouled their water source and their queen's health is clearly declining. But when Hiiro heads off in search of aid, he runs across the Orcs responsible for the deaths of all those he held dear in the nearby country of Tempest.
Yasuhito Kikuchi directed The Time I Got Reincarnated as a Slime The Movie: Scarlet Bond from a screenplay written by Kazuyuki Fudeyasu. The film's English-language voice cast includes Brittney Karbowski, Charlie Campbell, Cherami Leigh, Chris Rager, Cristina Vee, Daman Mills, Eric Vale, Ian Sinclair, Jonah Scott, Kent Williams, Kristen McGuire, Mallorie Rodak, Michelle Rojas, Ricco Fajardo, Ryan Reynolds, Tia Ballard, Tony Oliver, and Tyson Rinehart.
prev
next
9. Black Panther: Wakanda Forever
(Photo: Marvel Studios)

Week 11
Weekend: $1.36 million
Total: $451.8 million

Queen Ramonda, Shuri, M'Baku, Okoye and the Dora Milaje fight to protect their nation from intervening world powers in the wake of King T'Challa's death. As the Wakandans strive to embrace their next chapter, the heroes must band together with Nakia and Everett Ross to forge a new path for their beloved kingdom.
Ryan Coogler directed Black Panther: Wakanda Forever from a screenplay he co-wrote with Joe Robert Cole. The movie stars Letitia Wright, Lupita Nyong'o, Danai Gurira, Winston Duke, Florence Kasumba, Dominique Thorne, Michaela Coel, Tenoch Huerta, Martin Freeman, Julia Louis-Dreyfus, and Angela Bassett.
prev
next
10. The Whale
(Photo: A24)

Week Seven
Weekend: $1.23 million
Total: $13.1 million
An obese and reclusive English teacher tries to reconnect with his estranged teenage daughter for one last chance at redemption.
Darren Aronofsky directed The Whale from a screenplay by Samuel D. Hunter, based on his 2012 play of the same name. The film stars Brendan Fraser, Sadie Sink, Hong Chau, Ty Simpkins, and Samantha Morton.
prev
1
comments