Anya Taylor-Joy Reveals Her Twitter Account Was Hacked
Actor Anya Taylor-Joy briefly worked fans up into a mild frenzy when her official Twitter account shared the post "The Queen's Gambit 2," only to promptly delete it, though the actor herself has taken to another social media platform to confirm her Twitter had been hacked. Given that a social media account being hacked can cause complete chaos, as celebrities have formerly seen their accounts post hateful content attributed to their name, the post hinting at the continuation of a fan-favorite series, especially to be deleted minutes later, is a relatively innocuous hack that many fans had already dismissed.
On her Instagram account, Taylor-Joy shared a story with the message, "My Twitter has been hacked -- apologies for all inconveniences, it's NOT me!"
Between the ambiguity of the initial post and its prompt deletion, even though reports of the tweet were widely circulated, the likelihood of a new season of the acclaimed, limited series seemed doubtful. As if posting a message about the series in general wasn't cryptic enough and its vagueness allowing it to be quickly debunked, Taylor-Joy has become an immensely busy performer in the wake of her success in the series. As with most TV series, a follow-up season of The Queen's Gambit would take up a major chunk of her schedule, and with various other projects already on her horizon, clearing the room for such an event would create a variety of conflicts.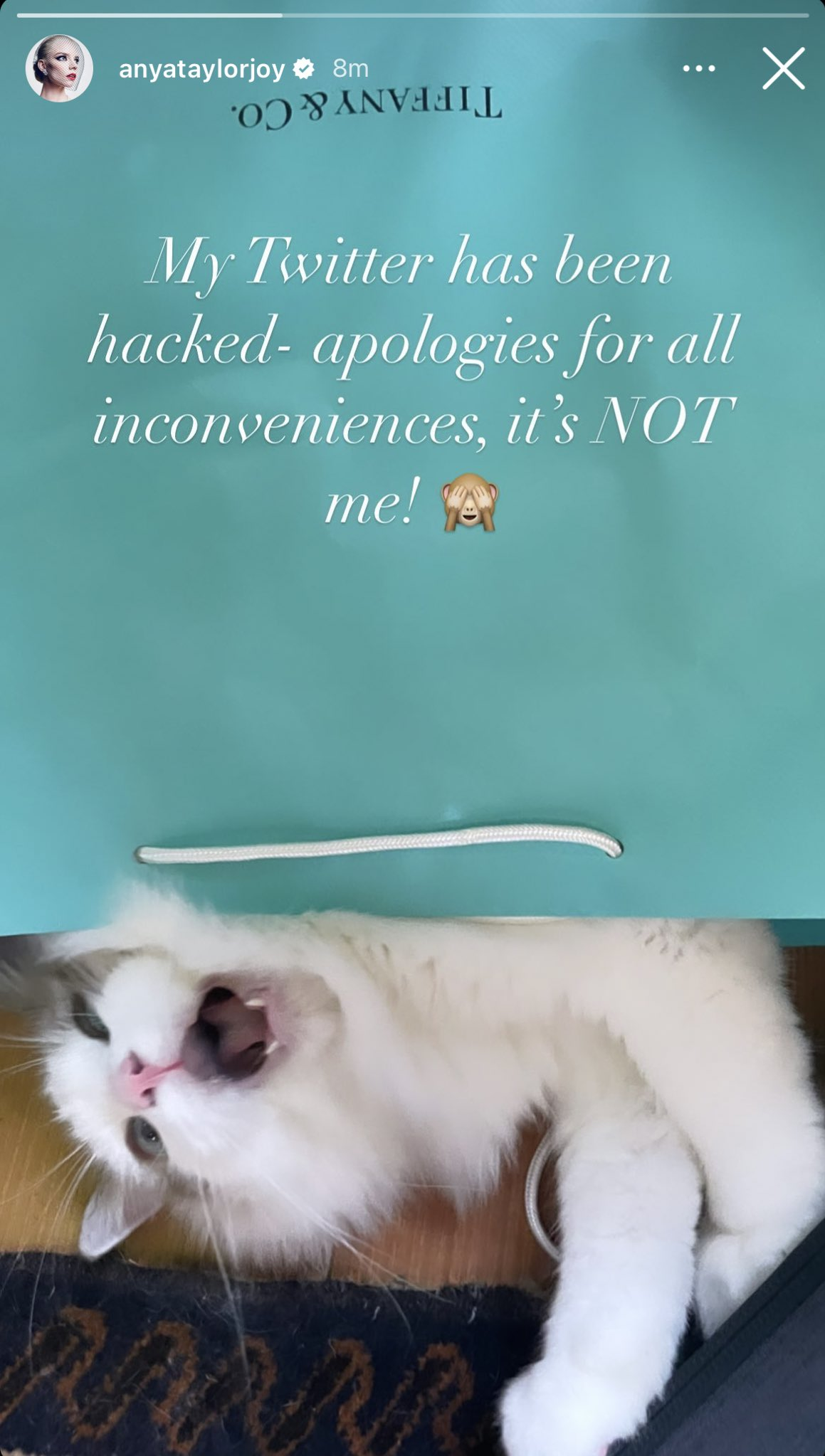 Based on the novel by Walter Tevis, the Netflix limited series drama The Queen's Gambit is a coming-of-age story that explores the true cost of genius. Abandoned and entrusted to a Kentucky orphanage in the late 1950s, a young Beth Harmon (Anya Taylor-Joy) discovers an astonishing talent for chess while developing an addiction to tranquilizers provided by the state as a sedative for the children. Haunted by her personal demons and fueled by a cocktail of narcotics and obsession, Beth transforms into an impressively skilled and glamorous outcast while determined to conquer the traditional boundaries established in the male-dominated world of competitive chess.
Even though Taylor-Joy made it a point to clarify she hadn't tweeted about The Queen's Gambit, she shared previously that, even though it's unlikely, she's not necessarily ruling out a follow-up.
"Maybe," Taylor-Joy shared back in 2021 with ET when asked about Season 2. "Not to disappoint anybody, but we just never thought about it. It was always a sapling-to-tree transition. You see her grow, you leave her in a good place. So we were genuinely surprised when people were like, 'Where's Season 2?'"
She added, "That being said, I adore the entire team that made it and I would jump at the chance to work with them again."
Stay tuned for details on Anya Taylor-Joy's future projects.
Are you disappointed that the message didn't actually come from the actor? Let us know in the comments!
0
comments