Watch Bryan Cranston and Aaron Paul's Breaking Bad Super Bowl Commercial
It's time to cook. Walter White (Bryan Cranston) and Jesse Pinkman (Aaron Paul) are back in business in PopCorners' Breaking Bad Super Bowl commercial — only this time, they're not manufacturing pure Blue Sky. Titled "Breaking Good," the 60-second ad airing during Super Bowl 57 on Sunday is written and directed by series creator Vince Gilligan. The big game spot, which you can watch in full below, reunites Cranston's meth-making drug lord Heisenberg (say his name!) with apprentice Jesse and their distributor, Tuco Salamanca (Raymond Cruz), who enthusiastically embraces PopCorners' snack that is air popped and never fried. (Now available in seven unique flavors cooked up by Walt and Jesse.)
"The people at PopCorners may have heard interviews about how much we enjoy working together, and I'm not sure how they conceived the idea. But once we heard the creative behind it and what they wanted to do, to really reestablish the authenticity of the characters, the wardrobe, the RV and all that, we were intrigued," Cranston told EW about reprising his Emmy-winning role for a PopCorners Super Bowl ad. "It's funny, after almost seven years of doing [Breaking Bad], we didn't have a lot of opportunities to just have fun, because of the intensity of the show. This was different because we had three days of just smiling and laughing and just enjoying each other's company and putting on these costumes that meant so much to us — as did the show itself."
Cranston continued: "I realized when Aaron and I were looking at the creative and being pitched that we're having fun with the characters, we're not making fun of the characters, and that was important to us, to be able to stay in character. The characters don't break and goof around. They are who they are."
Cranston and Paul co-starred in five seasons of Breaking Bad between 2008 and 2013, reprising their roles in the Gilligan-directed feature film El Camino: A Breaking Bad Movie in 2019. They would reunite — seemingly for the last time — in the sixth and final season of the spinoff Better Call Saul, which officially closed the book on the Breaking Bad Universe. Until now.
"We were just smiling the entire time and looking at each other's clothes again, and the sensibility and how Raymond Cruz as Tuco talked, how Jesse talked. Even how Walt talked. We all had our own distinctive ways of communicating. It was just so much fun," Cranston said. "That's one of the biggest reasons we did it. One, PopCorners was going to stay true to the milieu of Breaking Bad, which was really important to us. And the second thing is: We're just going to have a lot of fun. Like I said, we didn't have a lot of opportunities just to be laughing and smiling through production on Breaking Bad because of the content."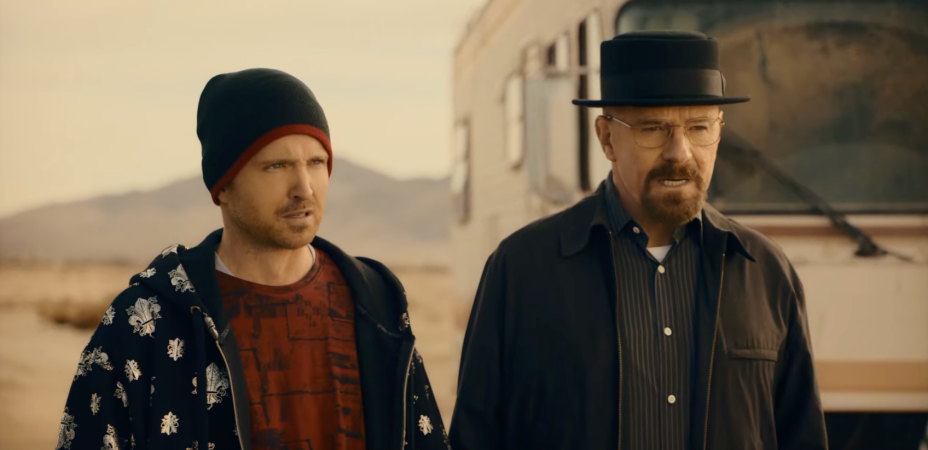 This isn't Cranston's first Super Bowl commercial: in 2015, the actor appeared as Walter White — in full meth-cooking regalia — in Esurance's viral "Say My Name" spot. After saying goodbye to the character in Breaking Bad, then El Camino, then Better Call Saul, PopCorners' "Breaking Good" may not yet be the end of Cranston's Walter White.
"April 3rd of this year, so just two months away, was the last day of shooting Breaking Bad [10 years ago]. And when we all stood as a group out there in the middle of the desert, everyone's speaking of what it meant to us. We thought that was going to be the last time we ever did those characters," Cranston said. "And then we had another opportunity in the El Camino movie, and then it was like, 'Oh! So it might not be the last.' So we've stopped saying, 'This is the last time we're ever going to do this.' Who knows? It could be. I'm not sure, but... you know, we'll just leave it to the fates."
Here's everything you need to know about how to watch Super Bowl 2023.
0
comments