Mysterious '80s He-Man Action Figure Returns for Masters of the Universe: Revelation Part 2
Each product has been independently selected by our editorial team. We may receive commissions from some links to products on this page. Promotions are subject to availability and retailer terms.
Today, Mattel announced that Part 2 of Kevin Smith's Netflix series Masters of the Universe: Revelation is hitting the streaming service on November 23rd. What's more, MOTU fans will be very excited to hear that a mysterious character depicted in a very rare action figure from 1981 will appear in the show and in Mattel's Masterverse Toy line. Spoilers ahead!
If you are a long-time Masters of the Universe fan, you might have immediately thought of Savage He-Man (aka Wonder Bread He-Man). As the story goes, the figure was part of a Wonder Bread promotion that Mattel did in the early '80s, but the reality seems to be that it was part of a buy 3 get 1 free promotion. The free fourth figure was Savage He-Man - a Tarzan/Conan-esque bare-chested action figure with a loin cloth. Figures claiming to be the real deal Savage He-Man currently fetch thousands on eBay.
Fast forward to 2021, and Mattel is acknowledging Savage He-Man in a big way with Kevin Smith's Masters of the Universe: Revelation series on Netflix and a Masterverse figure pack that includes a bonus Orko figure. In fact, they've finally provided a backstory for Savage He-Man that ties into the events of the show. You can read it below.
"For years it was assumed that Prince Adam could only call upon the Power of Grayskull using the Sword of Power, but Adam himself always wondered what would happen if he called upon the power without the sword. We now know the answer: Savage He-Man.
With the full Power of Grayskull unleashed inside him, Adam gains a combination of primal rage and all of the power in the universe - the raw fury, the brutal strength, and the unbridled speed of ten He-Men! But without the Sword of Power to temper these mighty forces, Savage He-Man is all strength with no intellect to control it. The barbarian version of our hero leaves his friends wondering if Adam is truly present within the transformed beast, as he tears through Eternia in an uncontrolled frenzy. Luckily, Adam at his core possesses innate compassion, humility, goodness that rivals the Power of Grayskull itself. Only the Prince of Eternia could wield such Power and be both willing and able to relinquish it once the battle is won."
The Masters of the Universe: Revelation Savage He-Man and Orko 2-pack will include accessories like an axe, sword, spear, and alternate hands. Mattel notes that it will be available at retailers in 2022, and we assume that Walmart will be the prime place to get it thanks to their Netflix Hub partnership. Walmart was also the first to carry the He-Man, Moss Man, Skeletor, Evil-Lyn, an oversized 9-inch tall Skelegod, a 14-inch long Battle Cat, Spikor, Beast Man, Teela, and Man-At-Arms figures in the Revelation lineup. Images of the Savage He-Man figure can be found in the gallery below.
Savage He-Man Masterverse Figure #6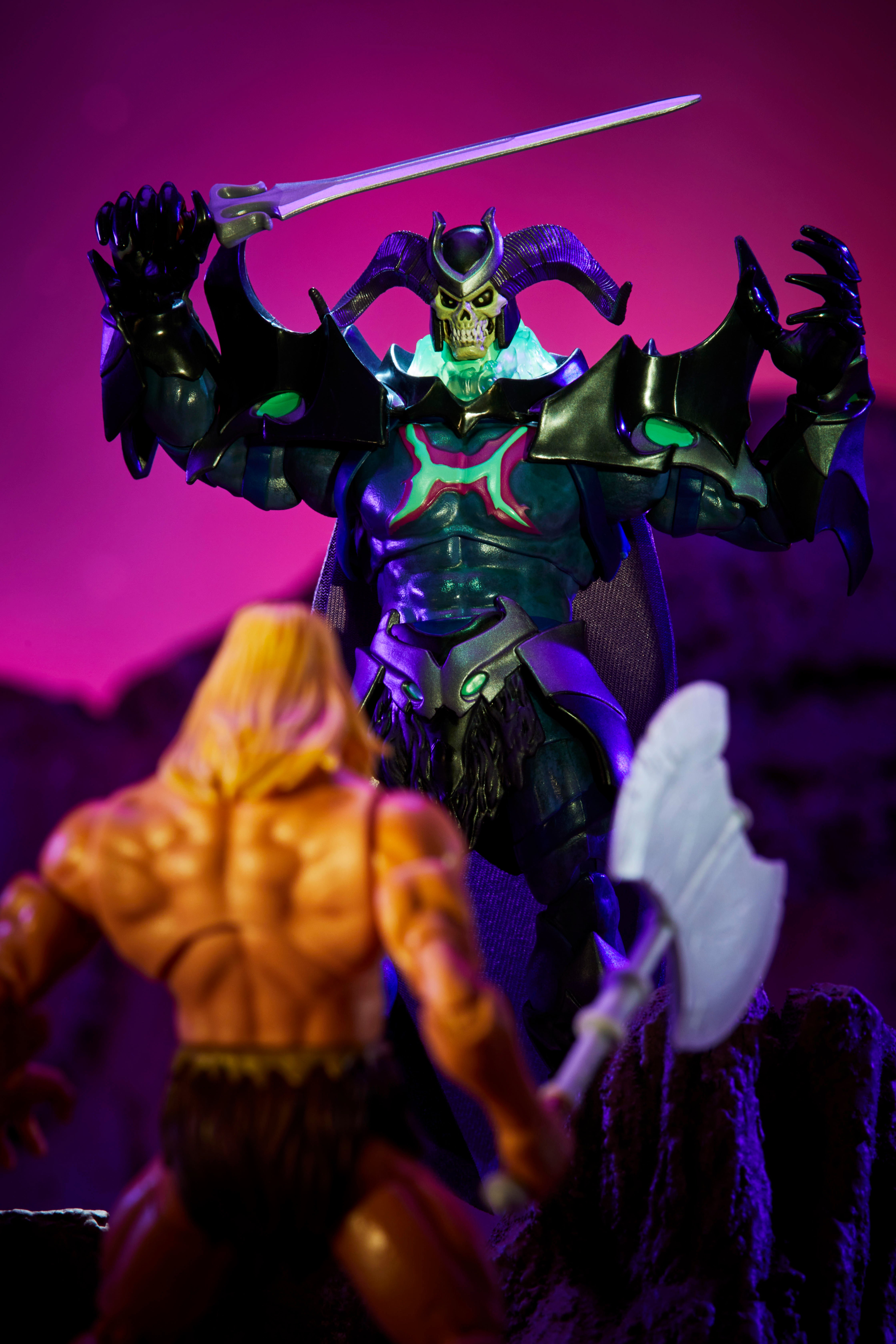 prev