Marvel's Scarlet Witch Series Debuts a WandaVision-Inspired Variant Cover
WandaVision is coming to the Marvel Universe, courtesy of a variant cover for the new Scarlet Witch comic. WandaVision was the first television series to launch on Disney+ that was developed under Marvel Studios. It introduced fan-favorite characters like Agatha Harkness and Monica Rambeau to the Marvel Cinematic Universe, with both characters moving on to projects like Agatha: Coven of Chaos and The Marvels, respectively. Scarlet Witch took a villainous turn in Doctor Strange in the Multiverse of Madness, but is on the side of Earth's Mightiest Heroes in the comics. With her new solo series officially underway, Marvel has released a look at an MCU variant cover that celebrates the Emmy Award-winning series.
The MCU variant cover for Scarlet Witch #3 is by David Nakayama. It features Wanda Maximoff's transformation into the Scarlet Witch, the showdown between Vision and his white counterpart, Monica Rambeau in her S.W.O.R.D. outfit, and Agatha Harkness giving the reader a sly wink of the eye. The Westview versions of Vision and Wanda in their suburban civilian clothes are also included.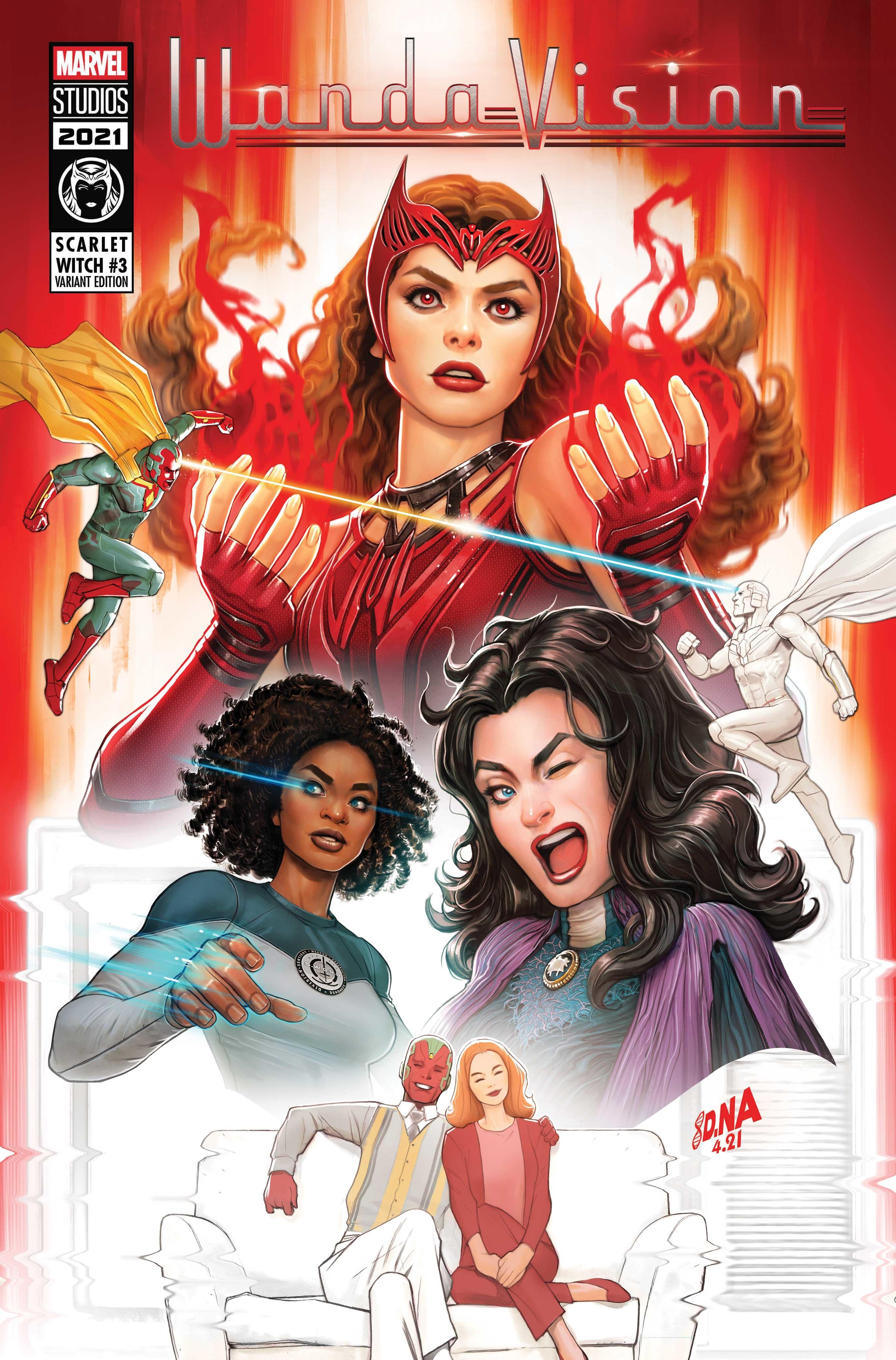 How Darcy Lewis Factors Into Marvel's Scarlet Witch Series
The first issue of Steve Orlando and Sara Pichelli's Scarlet Witch marks the comic debut of Kat Dennings' Darcy Lewis from the MCU. Darcy is written with the same energy as Kat Dennings portrays on the small and large screen, but she's not the only familiar character to make an appearance. Scarlet Witch's brother Quicksilver also stops by. Of course, Pietro Maximoff was played by Aaron Taylor-Johnson in 2015's Avengers: Age of Ultron.
"Darcy's there to lightly chide the absurdities we love of comic books, especially in a character like Thor," Scarlet Witch writer Steve Orlando told Polygon in November. "Wanda speaks casually about a life that is absurd and strange, and it's normal for her. But if you look at her family tree and the things she does, it can seem quite esoteric. Darcy essentially gives a voice to the audience in the same way that Kat Dennings' character does."
Of the magic shop setting, Orlando said, "One of the things we wanted to do was show that, despite her immense power, [Wanda] isn't always off battling threats and menaces that are relatively hard to relate to. It's really back to what makes Marvel characters iconic. They are the people that exist in the world outside your window. No matter what their power level was, they were also someone you could see in their civilian guise at the coffee shop, or maybe they can't make rent, things like that. Even someone like Captain America — for a long time he was living in a shit apartment in New York."
Fans can pick up David Nakayama's MCU variant cover for Scarlet Witch #3 when it goes on sale March 8th.
0
comments