Immortal X-Men Writer Kieron Gillen on Taking Over the Quiet Council From Jonathan Hickman
Kieron Gillen returns to the X-Men in Immortal X-Men in March. Gillen previously wrote the original S.W.O.R.D. miniseries, Generation Hope, and, most notably, Uncanny X-Men for Marvel's X-office. In recent years has focused on creator-owned work like The Wicked + The Divine and Die at Image Comics and Once and Future at BOOM! Studios. Last year, he returned to Marvel Comics to write its Warhammer 40,000 comic Marneus Calgar. Earlier this year, Gillen returned to the Marvel Universe proper in Eternals. Next, he's writing the X-Men series focused on the Quiet Council of Krakoa following Jonathan Hickman's departure from the X-books with Inferno's conclusion. It also puts Gillen at the helm of two parties involved in Marvel's upcoming Judgment Day event.
Gillen discussed his return to the X-Men in an interview with CBR. "They said to me, 'Jonathan [Hickman] is going to step off the X-Books and we want to do a Quiet Council book. Are you interested?' Since it was specifically a Quiet Council book, it was relevant to my interests. It's a political, large-scale Krakoan book. Also, it's weird and I only recently realized that if Jonathan hadn't left I wouldn't be in the X-Office. It's not because I dislike Jonathan. It's that I'm pretty sure he would have done this book. Jonathan likes high-level, political books with people sitting around a table. This is absolutely his jam."
Gillen continued, expressing his viewers on the unique dynamic Hickman helped foster among the current crop of X-Men writers, "So, this book is a really exciting drama full of complicated, messy, intelligent people that I wanted to write. And being able to write this political superhero book in a glamorous place with a lot more give and take in this sort of writer's anarchist commune that Jonathan helped germinate was great. I say that regularly because I'm always the meta guy in the room, but I think the X-Office is Krakoa in that this is a community of people brought together to fight for a shared corner even if they disagree -- and they disagree a lot! That's part of the fun of it and the point of doing X-Men books. You get different angles, situations, and takes. It becomes this Hegelian dialectic in the form of a comic book line. That's my theory!"
0
comments
What do you think? Let us know in the comments. Immortal X-Men #1 goes on sale on March 30th.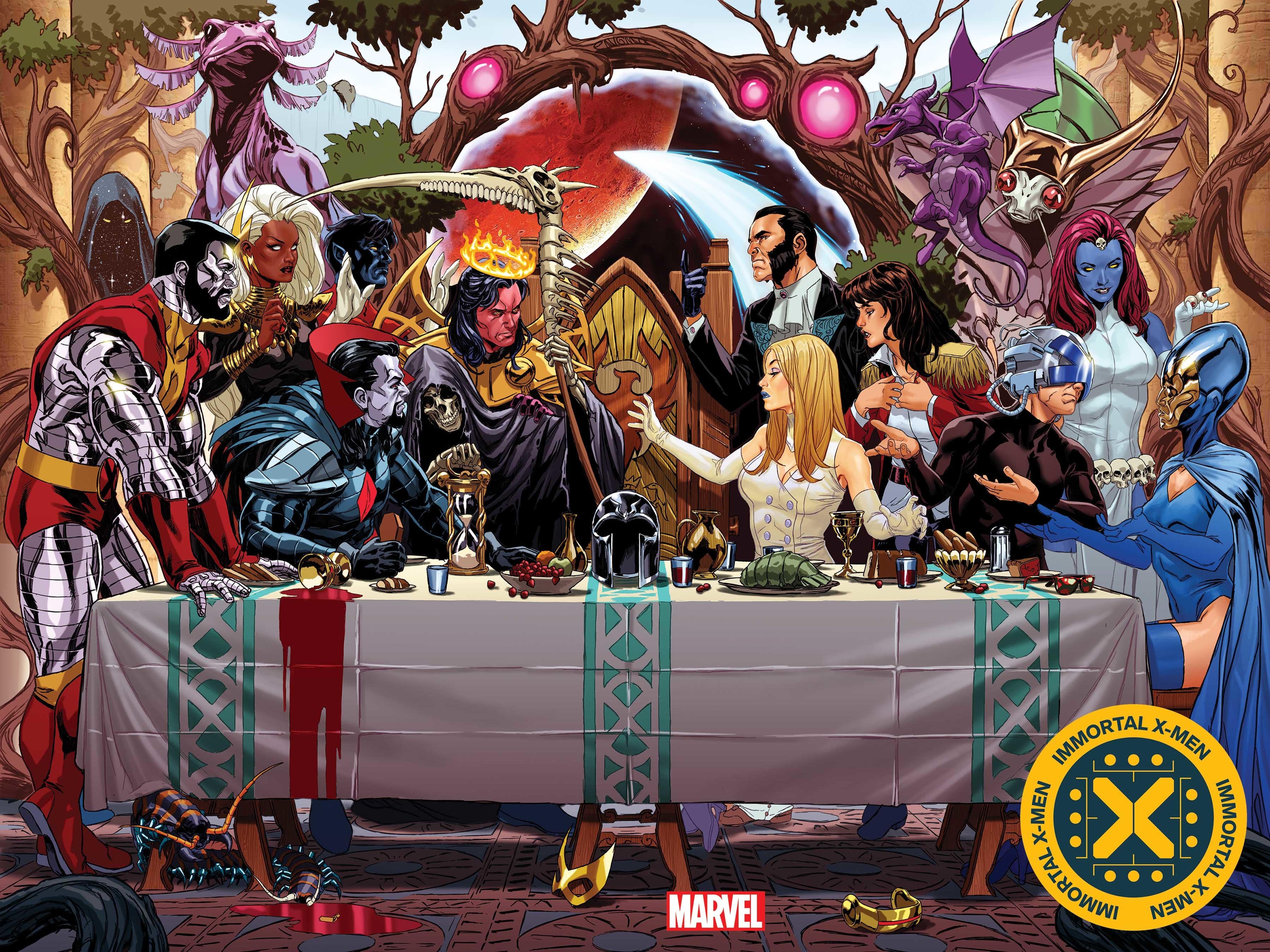 Immortal X-Men #1
JAN220809
(W) Kieron Gillen (A) Lucas Werneck (CA) Mark Brooks
IN THE QUIET COUNCIL, NO ONE CAN HEAR YOU SCREAM!
The Quiet Council rules the Krakoan age, for better... or worse. Now, shaken by INFERNO and X LIVES / X DEATHS OF WOLVERINE they strive to hold together, no matter how much they want to tear each other apart. Writer Kieron Gillen (UNCANNY X-MEN, ETERNALS, The Wicked + The Divine, Die) returns to the world of X with artist Lucas Werneck (TRIAL OF MAGNETO) to bring us all into the room where it happens. "It" being "the most powerful people on Earth deciding the fate of the whole planet." Prepare for sinister secrets to be revealed and learn that some secrets are more sinister than others...
RATED T+
In Shops: Mar 30, 2022
SRP: $5.99