Jean-Claude Van Damme Street Fighter SteelBook Blu-ray Is On Sale Now
Each product has been independently selected by our editorial team. We may receive commissions from some links to products on this page. Promotions are subject to availability and retailer terms.
The '90s was a golden age for terrible video game movies. Super Mario Bros, Double Dragon, and Street Fighter were the Big Three, with Mortal Kombat on the outside looking in (Mortal Kombat: Annihilation is another story). If you enjoy a "it's so bad it's good" movie now and then, you'll definitely want to have these films in your Blu-ray collection. Street Fighter is so delightfully bad that you might want to get the upcoming SteelBook edition.
Indeed, 1994's Street Fighter starring Jean-Claude Van Damme, Raul Juliá, Ming-Na Wen, Damian Chapa, and Kylie Minogue is getting a fancy SteelBook Blu-ray edition Mill Creek Entertainment for some reason. Pre-orders are live here on Amazon for $37.99 with a release date set for December 7th. At the time of writing, it was the #1 seller in Amazon's Comedy category, which makes sense.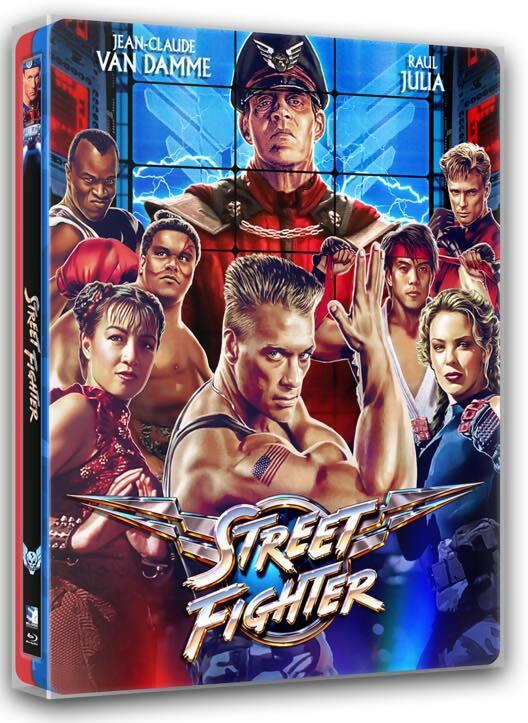 Keep in mind that you wont be charged until the Blu-ray ships and you'll automatically get any discounts that occur during the pre-order period. We expect to see a discount on this, so you'll be covered if it happens. You should also note that the Street Fighter Extreme Edition Blu-ray is available here on Amazon for $9.99. Double Dragon is available here on Amazon for $18.42, Super Mario Bros. is here at Zavvi for $21.99, and Mortal Kombat / Mortal Kombat: Annihilation recently got a 4K SteelBook edition.
If you are unfamiliar with the Street Fighter film, a description is available below.
Gen. Bison (Raul Julia), the evil dictator of Shadaloo, captures a busload of relief workers and holds them for ransom. Col. Guile (Jean-Claude Van Damme) leads an international strike force to invade Shadaloo and rescue the hostages. Along the way, Guile recruits Chun-Li (Ming-Na Wen), a reporter and martial-arts expert whose father was killed by Bison years ago, two young con men (Damian Chapa, Byron Mann) and a sumo wrestler (Peter Navy Tuiasosopo).
0
comments