Star Wars Reveals From a Certain Point of View: Return of the Jedi Details
The legacy of the Star Wars universe is always ongoing, with new and familiar stories both being woven into its tapestry. 2023 will bring about a major cornerstone of that, with the 40th anniversary of Star Wars: Return of the Jedi. To celebrate, Star Wars is continuing one of its newest franchise trends by publishing From a Certain Point of View: Return of the Jedi. The anthology collection, which follows volumes about A New Hope and The Empire Strikes Back, provides fans with forty stories set during the events of Return of the Jedi, but through various supporting characters.
According to Star Wars' official website, these new stories will include Olivie Blake giving us a chilling glimpse into the mind of Emperor Palpatine, Saladin Ahmed recounting the tragic history of the rancor keeper, Charlie Jane Anders exploring the life and times of the Sarlacc, Fran Wilde revealing Mon Mothma's secret mission to save the Rebel Alliance, Mary Kenney chronicleing Wicket the Ewok's quest for one quiet day on the forest moon of Endor, and Anakin Skywalker becoming one with the Force in a gripping tale by Mike Chen. Additional stories will be from Tom Angleberger, Kristin Baver, Akemi Dawn Bowman, Emma Mieko Candon, Olivia Chadha, Gloria Chao, Adam Christopher, Paul Crilley, Amal El-Mohtar, M. K. England, Jason Fry, Adam Lance Garcia, Lamar Giles, Max Gladstone, Thea Guanzon, Ali Hazelwood, Patricia A. Jackson, Alex Jennings, Jarrett Krosoczka, Sarah Kuhn, Danny Lore, Sarah Glenn Marsh, Kwame Mbalia, Marieke Nijkamp, Danielle Paige, Laura Pohl, K. Arsenault Rivera, Dana Schwartz, Tara Sim, Phil Szostak, Suzanne Walker, Hannah Whitten, Sean Williams, and Alyssa Wong.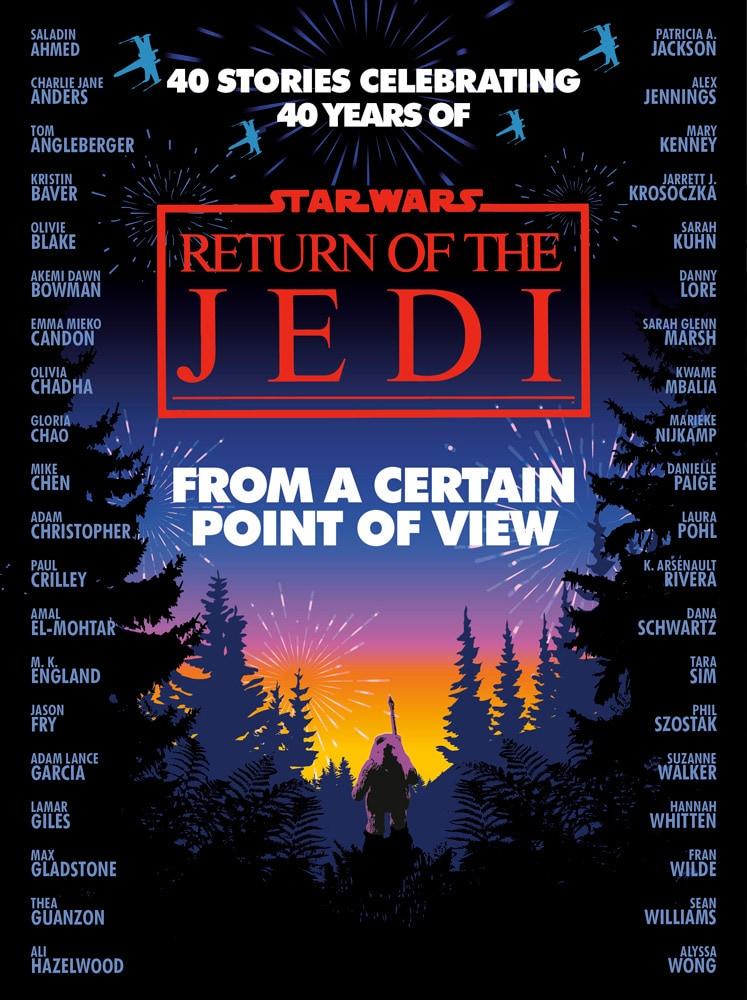 What is the next Star Wars movie?
Earlier this week, a report from Variety revealed that two potential, long-in-development Star Wars movies are no longer in the works at Lucasfilm — Patty Jenkins' Star Wars: Rogue Squadron, and an untitled movie produced by Marvel Studios chief Kevin Feige. According to the report, neither project is currently in active development at the studio. Other Star Wars movies are still in the works, including one directed and co-written by Thor: Love and Thunder's Taika Waititi, and one directed by Ms. Marvel's Sharmeen Obaid-Chinoy and written by Watchmen's Damon Lindelof and Counterpart's Justin Britt-Gibson. Reports from last month indicated that the studio's film plans could be unveiled at April's Star Wars Celebration Europe convention.
What do you think of the new details surrounding From a Certain Point of View: Return of the Jedi? Share your thoughts with us in the comments below!
From a Certain Point of View: Return of the Jedi. arrives wherever books are sold on September 5th.
0
comments