Star Trek: Picard No Man's Land Announced Starring Jeri Ryan, Michelle Hurd
Each product has been independently selected by our editorial team. We may receive commissions from some links to products on this page. Promotions are subject to availability and retailer terms.
Star Trek fans can add audio dramas to the list of things to look forward to from the franchise in 2022. Simon & Schuster today announced, via StarTrek.com, Star Trek: Picard: No Man's land. This new, original audio drama tells a story written and produced exclusively for audio that will not be available in any other format. No Man's Land is a fully-dramatized Star Trek production starring two members of the Star Trek: Picard cast: Jeri Ryan as Seven of Nine and Michelle Hurd as Raffi. No Man's Land begins immediately after Star Trek: Picard Season 1's finale. Seven of Nine and Raffi enjoy some time off in Raffi's remote hideaway. Their downtime is interrupted by a cry for help. A distant planet has enlisted the Fenris Rangers to assist in an evacuation effort. Seven and Raffi team up to save a mysteriously ageless professor, whose infinity-shaped talisman places him in the sights of a vicious Romulan warlord. The audio drama will also explore Seven of Nine and Raffi's newfound attraction, first hinted at in Star Trek Picard Season 1's closing moments.
Star Trek: Picard co-creator/writer/producer Kirsten Beyer and veteran Star Trek comics writer Mike Johnson co-wrote Star Trek: Picard: No Man's Land's script. In addition to Ryan and Hurd, No Man's Land's cast includes Fred Tatasciore (Lt. Shaxs on Star Trek: Lower Decks), John Kassir (the Crypt-Keeper on HBO's Tales from the Crypt), and John Cutmore-Scott (ABC's Deception).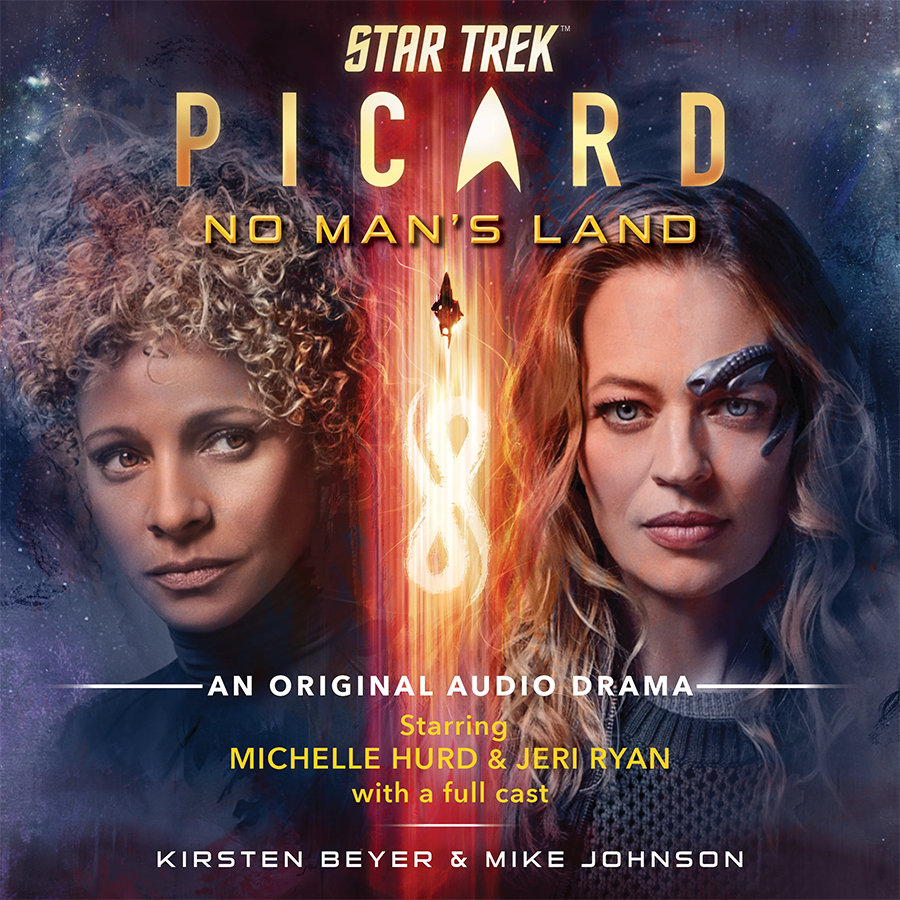 Raffi is also the subject of the next Star Trek: Picard novel, Second Self, the first Picard novel set after Season 1's events. In that story, Raffi must choose between returning to her old life as a Starfleet Intelligence officer or teaching at Starfleet Academy. Her choice is made for her when an old contact, a Romulan spy, sends her a message asking for aid. With the help of Cristobal Rios and Dr. Agnes Jurati and some assistance from Jean-Luc Picard, Raffi heads back into the shadows of the galaxy.
Ryan has voiced Seven of Nine in her Star Trek: Picard iteration for Star Trek Online's 10th-anniversary update, Legacy. "I'm having a great time on Picard," Ryan told ComicBook.com during an interview ahead of the update's launch. "It's a very happy set. It's a very relaxed set, which has been great."
0
comments
Are you excited for Star Trek: Picard: No Man's Land? Let us know in the comments. Star Trek: Picard: No Man's Land, the exclusive Star Trek audio drama, will debut on February 22nd. It's available to pre-order now on Amazon. Star Trek: Picard Season 1 is streaming no on Paramount+.