Star Trek Universe Comic-Con 2022 Panel Recap and Footage
Star Trek has boldly gone on to become one of the biggest franchises in entertainment (once again). Heading into the Star Trek Universe panel at Comic-Con 2022, the franchise has no less than nearly half a dozen successful TV series on Paramount+ (Discovery, Strange New Worlds, Picard, Lower Decks, Prodigies); multimedia spinoffs like the Star Trek Fleet Command mobile game (which is tied to the shows), and of course, new Star Trek movies in development at Paramount Pictures.
With that all said, it's no surprise that Star Trek's presence at SDCC 2022 has been bigger than seemingly ever before – perfect timing for a big Hall H panel celebrating all things Star Trek!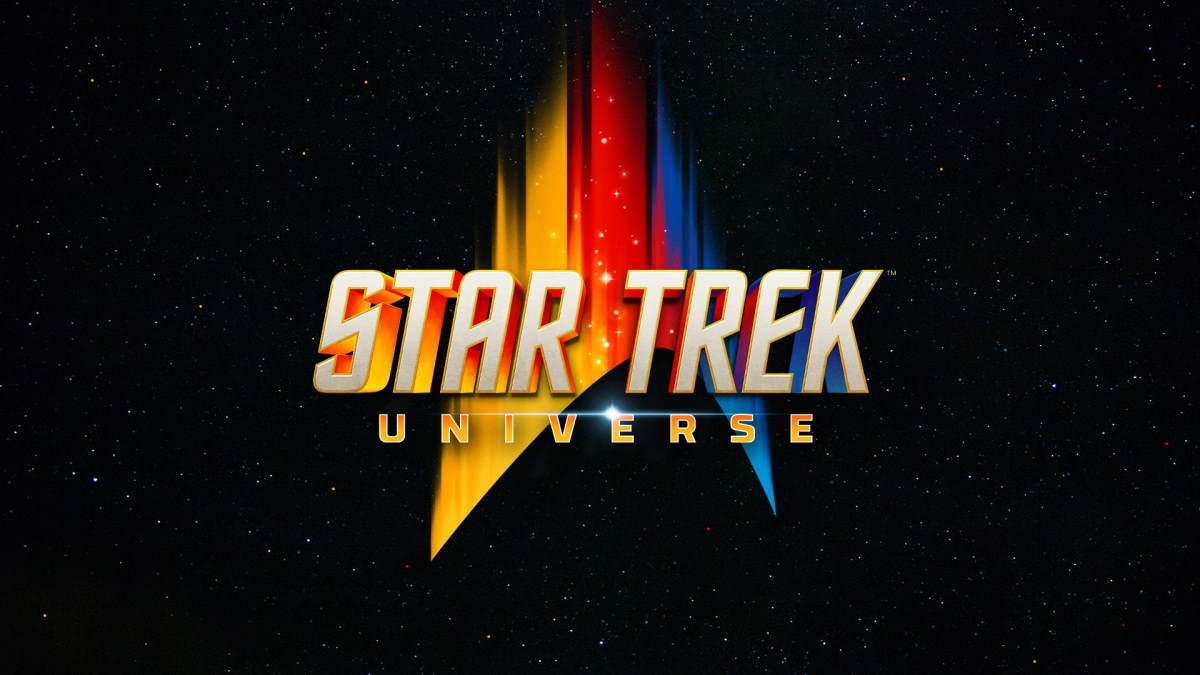 The Star Trek Universe panel got a surprise moderator in the form of Leah Thompson (Back to the Future)!
A Sizzle reel of the Star Trek Unvierse content was shown before the first panel was introduced: Star Trek: Picard!
Star Trek: Picard Season 3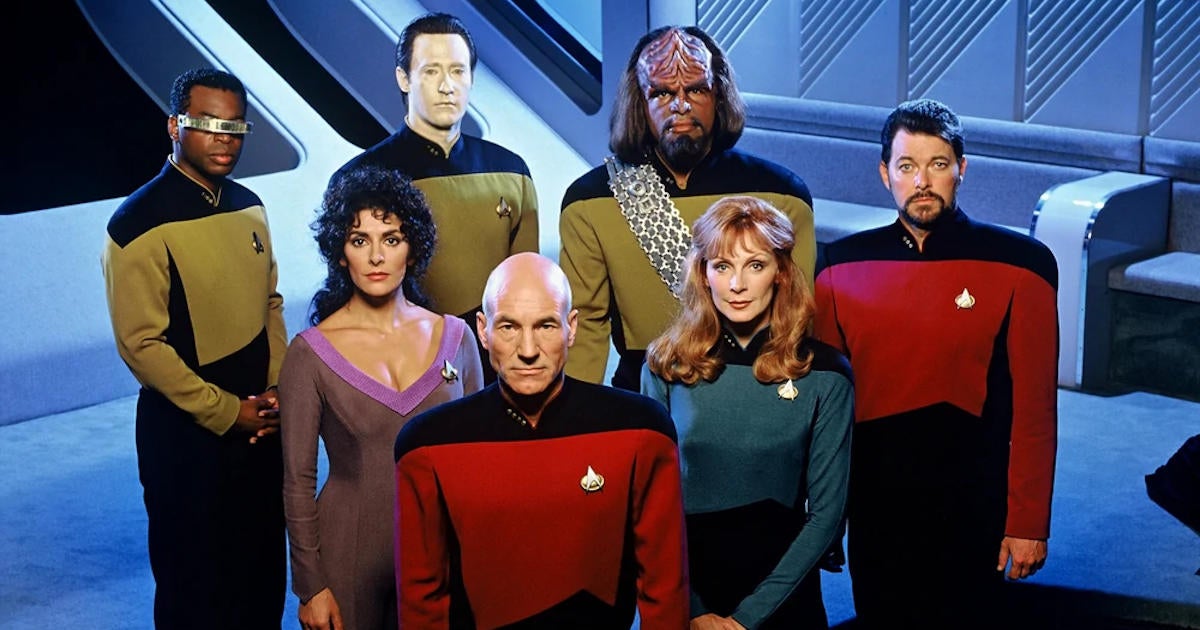 including Patrick Stewart, Gates McGadden, Alex Kurtzman, and Rod Roddenberry, son of Star Trek creator Gene Roddenberry!
The first quest from Thompson was to Patrick Stewart about how Star Trek: Picard Season 3 begins. Stewart didn't realize he was being talked to – nor could he remember how Season 3 began. Alex Kurtzman stepped in to explain how Stewart put down the mandate from the gate that Picard couldn't be a cameo-heavy retread of Star Trek: The Next Generation. It took two seasons to earn the opportunity to pull the TNG back together – and apparently it will play like a heist film: rounding up each member of the gang.
McFadden jokes that 20 years later they are "younger" and "smarter" before getting serious about the "gift" of getting to re-team with Patrick Stewart and tell what she feels is a great storyline.
Stewart talked about how he had concerns, at first, until he talked to Kurtzman, who asked "hasn't anything happened to you in 25 years?" That made Stewart really intrigued.
A Star Trek: Picard Final Season teaser is shown. revealing how the TNG characters well be re-designed for Star Trek: Picard. It's pretty epic.
Kurtzman teases the villain of Picard Season 3, saying it's a "she" and that they took core inspiration from Wrath of Khan and Captain Kirk's head-game match with Khan. Kurtzman says the story arc gave him goosebumps (still does) but that it will ultimately tell a final story of these characters that feels like "returning home."
Patrick Stewart doesn't want to think of it as revisiting Star Trek: TNG in Star Trek: Picard; he talks about the process of having once lost the line between "Patrick Stewart" and "Jean-Luc Picard", but that Star Trek: Picard has challenged him again. He doesn't quite finish the point, but it's clear: he and the TNG cast members will be digging into new material and drama of their characters, not rehashing the old dynamics.
Roddenberry felt that the what he saw of Picard Season 3 honored the legacy of what his father built; Stewart cites the passion and dedication that the entire cast put in for Season 3; Kurtzman expanded it to include the producers and writers, in a round of applause.
Picard Q&A
The Q&A started with a question for Patrick Stewart: Who would win between Picard and Prof. X? Poor Stewart got a bit confused by that one, going with an anecdote about how he left school at 15 and only really knows how to learn lines and repeat. He jokes that to him, "Q" and "X" are basically the same thing.
McFadden answers a question about how Star Trek is treating female characters better these days by stating that season 3 of Picard is the 'best material for her character ever in Star Trek.' She likes how the franchise has evolved since her heyday. Stewart adds that Star Trek always breaks boundaries and imagines a future that could (should?) be. Kurtzman assures the fans that they have not seen the last of Star Trek show with female leads. McFadden ended by saying that she loved the dynamic of working with the ladies.
On a final conspicuous note, Patrick Stewart said he WOULD return for more Star Trek movies, even calling that prospect a great opportunity. Kurtzman says that Picard Season 3 is very much a return to those types of Star Trek films, but if it's popular, you never know...
Patrick Stewart wasn't quite ready to speak up on which actor he thinks would be a great "Young Picard" in a different Star Trek story. He thanked San Diego Comic-Con for all the years of supporting him, since it may be "my last opportunity." He said he's "very proud" to be back in Hall H.
Stewart was also a bit muddled about whether or not he gets back in the captain's chair in Picard Season 3 – but he reveals there will be multiple Enterprises involved – including one that they hang out on for bit of the season.
Star Trek: Lower Decks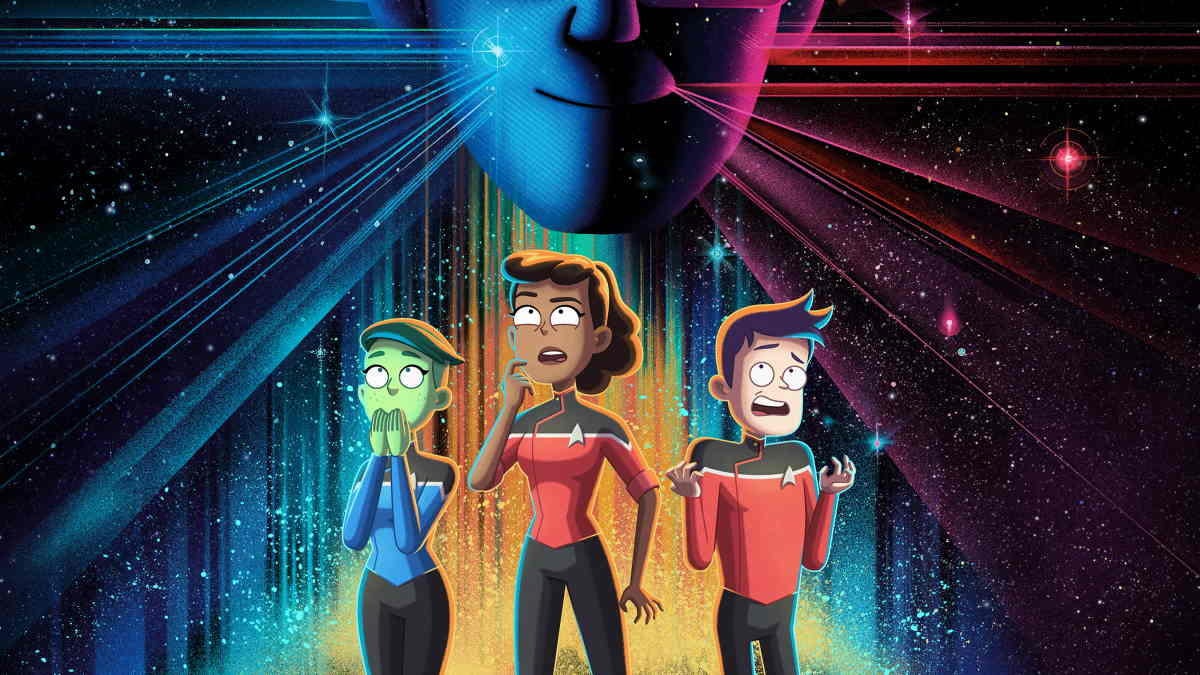 The panel included Lower Decks EP Mike McMahan and voice cast members Jack Quaid, Noelle Wells, Tawny Newsome, and Dawnn Lewis.
The Lower Decks cast almost immediately spiraled into what they called "Trek Beef," over things like not being able to record together since COVID. At the same time, Newsome let it be known what a tight family the Lower Decks cast has become.
Jack Quaid joked about how much he is in love with his character's (Brad Boimier) knock-off Picard chateau, which is a raisin farm. Newsome was psyched to be at Comic-Con having been welcomed by fans as a breakout character in the franchise (Beckett Mariner). Lewis got truly emotional talking about joining Star Trek as a female captain of color, after being inspired by Star Trek as a kid, and meeting and being mentored by Nichelle Nichols, the classic Uhura, who invited Lewis to her Leo parties every year, and let her meet other Star Trek icons who pushed her forward.
The Star Trek: Lower Decks Season 3 trailer was show, which was full of references to The Search for Spock, and ends with a great big cameo from none other the Deep Space 9 station! McMahan confirms that Season of Lower Decks will dedicate one full episode to a swan song for DS9.
Roddenberry loves the Easter egg and references that Lower Decks packs in, admitting that not even he can keep up with all the references. But as he higlights (and the crowd confirms), Lower Decks is, in some ways, more Star Trek than anything else in the franchise.
The cast talks about how Season 3 picks up from the cliffhanger in Season 2 of the captain being arrested. The quest to save her will be pretty questy; the voice cast each say they love the various Easter eggs they packed into things like the outfits they wear for the quest.
Voice acting doesn't seem to bother this cast more than live acting – they recount how chatty and gossipy they all are before doing their recording.
McMahan teases both epic and heartfelt episodes in Season 3, saying the DS9 episode is ridiculous.
Star Trek: Strange New Worlds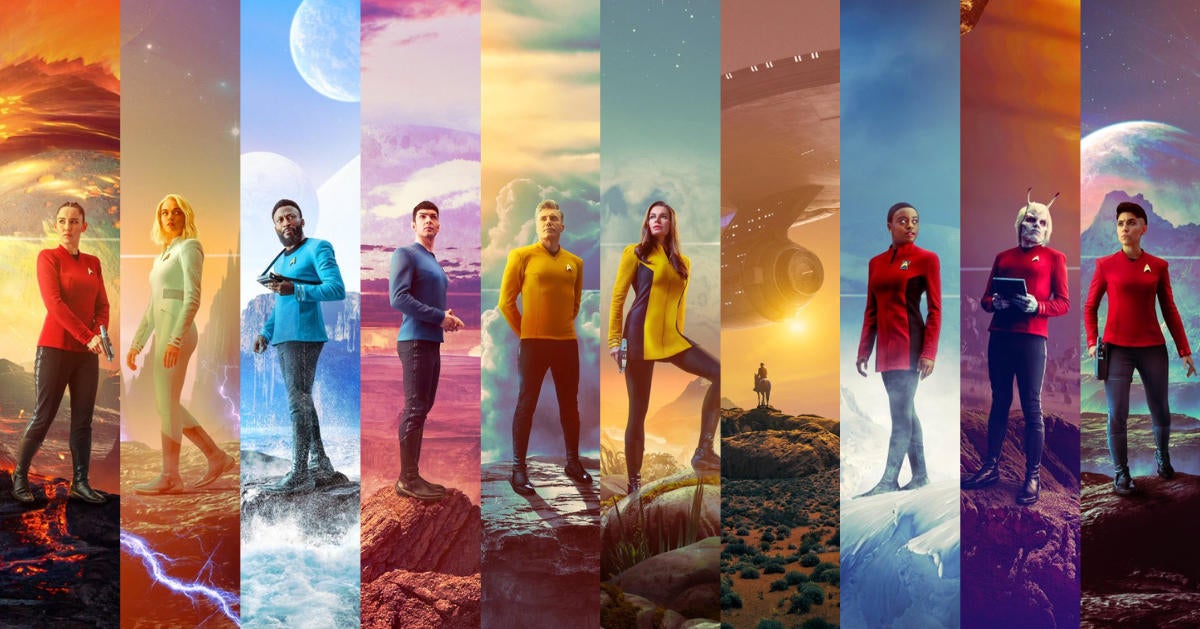 Star Trek: Strange New Worlds is the undisputed breakout hit of the franchise right now, having completed a very successful Season 1. So, the Comic-Con 2022 panel for Strange New Worlds was nothing by a victory lap.
Panelists included Anson Mount, Thean Peck, Christina Chong, Celia Rose Gooding, Paul Wesley, and producers Henry Alonso Myers, Alex Kurtzman, and Rod Roddenberry.
The panel started with an epic announcement: Star Trek: Strange New Worlds and Star Trek: Lower Decks are meeting in a crossover in SNW Season 2! Jack Quaid and Tawny Newsome stormed the SNW panel to force their way in, leading to the reveal of why.
The cast talked about how they have been blown away by the response to Strange New Worlds. Mount tries to temper expectations in his career, so he was very surprised. The producers point out that they new and fans new there was something here when Mount, Peck, and Rebecca Romijn were in Star Trek: Discovery Season 2. That's the reason Strange New Worlds happened. Mount jokes the bridge they created for Discovery was so nice, he lobbied them to make a whole show to make use of it.
It's Paul Wesley's birthday today! He got a rousing song form all of Hall H!
Christina Chong talks about being a new Trek fan who had to learn about the deep history of Khan, while still putting her own new stamp on the character and his legacy. Gooding talked about the legacy of Nichelle Nichols and how it opened doors for her as a black actress – a duty she is carrying forward.
Rod Roddenberry talks about his mother playing Nurse Chapel, Number One, and generally helping to prop-up Star Trek The Original Series. He is loving how Romijn and actress Jess Bush are honoring his mother's legacy.
Anson Mount talks about how he was passionate about doing the show episodically – so that they could do the wonderful variety we got, like vacation episodes, fantasy cosplay episodes, horror episodes, and traditional Star Trek. Mount teases they are "swinging for the fences" in terms of high-concept episodes for Season 2.
Kurtzman talks about the Gorn being the unofficial big-bads of SNW season 1, and teases that we haven't seen the last of them. Gooding talks about the big character death in Season 1 at the Gorn's hands, and how wrenching that loss is for her character.
Peck teases more complicated identity/feelings arcs for Spock in Season 2, as Spock continues trying to balance his human and Vulcan sides.
Myers recounts the epic Strange New Worlds finale being his version of "A Christmas Carol" using a classic Star Trek episode as his framework. That exploration also introduced us to Paul Wesley's kirk – if only an alt-universe version of him. Wesley teases the Kirk we'll see in SNW Season 2, when he's still a lieutenant on the USS Farragut. He still won't be the classic Kirk in full, but we will get more fun.
Mount reveals how SNW is using the new AR Wall tech for VFX, allowing the show creators and technicians to create real-time CGI environments for the actors to respond to and interact with, instead of having to imagine a green screen is a fantastical environment. Kurtzman teases how much work and pre-planning goes into that.
Chong and Myers once again tease how Star Trek: Strange New Worlds Season 2 will be doing even high concept episodes that we saw in Season 1. Myers goes so far as to say that one episodes will do something that "has never been done in Star Trek before."
During the Q&A, Alex Kurtzman was asked if Ben Sisko and Deep Space Nine will get a new series in the modern Star Trek Universe. Kurtzman demurs by saying that while they definitely talk about it, they will not touch that side of things unless they have the right story to do so. It's not just about pulling on the threads of the past for novelty.
0
comments