Does Daryl's Dog Die on The Walking Dead?
Does the dog die on The Walking Dead? Spoiler warning: read on to find out if there's any animal harm in Season 11 Episode 4, "Rendition." If Dog dies, we riot. Daryl (Norman Reedus) and Dog track down an old friend and get captured by the Reapers, the squad of human-hunting killers who are Pope's (Ritchie Coster) "Chosen Ones" baptized by fire. After Walking Dead viewers voted Daryl's dog as the fan-favorite they're most worried about dying in Season 11, Reedus said on Talking Dead, "I think [Daryl] would go to any lengths to protect Dog. He's been out in the woods, that dog has been his best buddy. I think if anybody hurt the dog he would just go ballistic, apesh*t."
During the Reapers attack that scatters the survivors on a mission to Meridian, Daryl sics Dog on a skull-masked mercenary they hunt down in the woods. A knife fight turns into hand-to-hand combat and a snarling Dog sinks his teeth into the Reaper pummeling Daryl. The Reaper howls in pain and grabs the biting dog by his neck, heaving the hound and throwing him off a hill into the dark woods.
Daryl scurries off after the whimpering Dog as more Reapers close in. In the light of day, Daryl finds Dog — alive and unharmed. Dog sits next to another Reaper unmasked as Dog's original owner: Leah (Lynn Collins).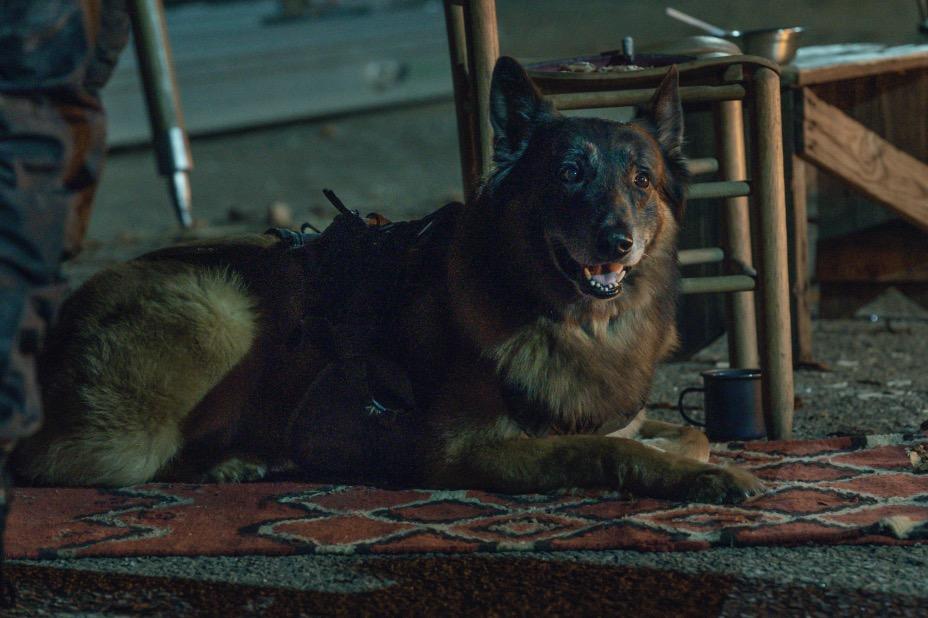 No harm happens to Dog for the remainder of the episode. It's Daryl who is forged by fire and baptized by Pope, the Chosen Ones commander invoking the wrath of God on marked woman Maggie (Lauren Cohan) and her group of survivors.
Read on for reactions to that doggone close call:
READ: Walking Dead Fans Fear for Daryl's Dog in Season 11
READ: Daryl's Dog Origin Story Revealed on The Walking Dead