Deadpool 3: Ryan Reynolds Begins Training for Marvel Studios Sequel
With the release of Ant-Man and the Wasp: Quantumania later this month, Phase 5 of the Marvel Cinematic Universe will officially be underway. One of the most highly-anticipated entries in the franchise's future is easily Deadpool 3, which is not only the first foray of Ryan Reynolds' Wade Wilson / Deadpool into the franchise, but a long-awaited new team-up between him and Hugh Jackman's Wolverine. While updates surrounding Deadpool 3 are scarce so far, a new post from Reynolds' trainer has definitely gotten fans hyped. Don Saladino recently took to Instagram to share photos of Reynolds working out, flat-out saying that "Deadpool 3 training [is] in full effect."
Reynolds posted the photos to his Instagram stories, joking that he's "not training for Deadpool, [he's] training to spend several months with @thehughjackman — who's not nearly as nice as everyone thinks."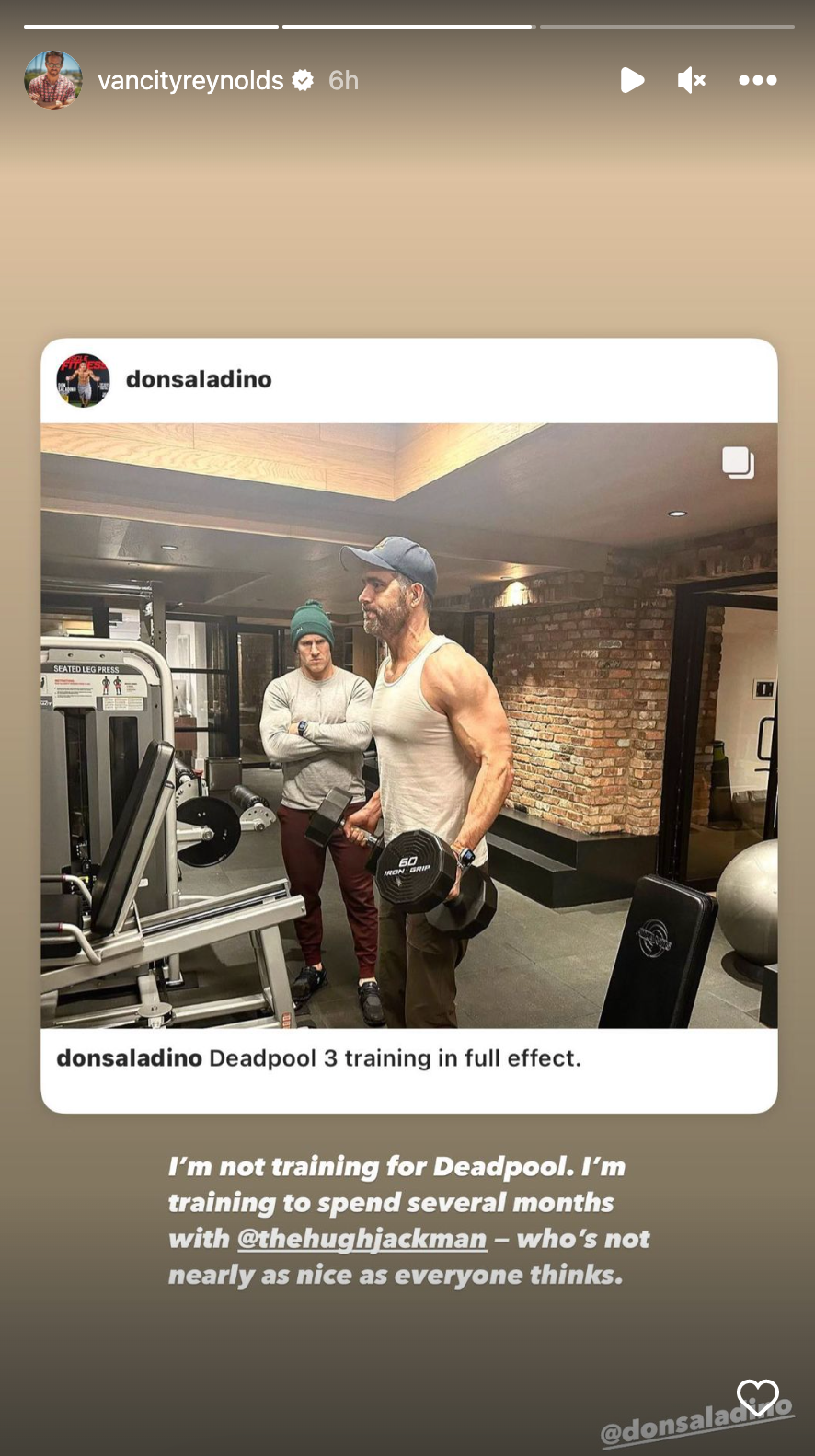 What is Deadpool 3 about?
Deadpool 3 will be directed by Shawn Levy, with a script written by Bob's Burgers' Wendy Molyneaux and Lizzie Molyneaux-Loeglin, with Deadpool and Deadpool 2 writers Rhett Reese and Paul Wernick reportedly also returning to contribute to the script.
"I think you're giving me too much credit," Reynolds explained in a previous interview with Collider. "I don't believe that I'm responsible for Hugh coming back. I always wanted Hugh to come back. My first meeting with Kevin Feige when Disney bought Fox years ago, maybe three years ago, or three and a half, four years ago, I'm not sure, was about doing a movie with the two of us, a Deadpool Wolverine movie. And that was not possible at the time. And then Hugh just happened to call at that perfect moment and express that he'd be interested in coming back and doing this one more time. And the contents of that conversation, I'll let Hugh, because I know it's only inevitable that you and Hugh are going to speak at some point soon, I'm sure. I'll let Hugh answer that on his own. But he expressed interest in coming back, and then it was my job to take that to Kevin Feige one more time and sell it."Are you excited for Deadpool 3? What do you think of Ryan Reynolds' new training photos? Share your thoughts with us in the comments below!
Deadpool 3 is currently scheduled to debut in theaters on November 8, 2024.
1
comments