Here's Where to Get San Diego Comic-Con 2022 Funko Pop Figures and Exclusives
San Diego Comic-Con 2022 will be the first SDCC event to take place in person since 2019, but you don't have to attend to get your hands on the exclusive Funko Pops. Everything you need to know about SDCC 2022 Funko Pop exclusives and where to pre-order them can be found right here.
Funko's in-person SDCC "Funkoville" events will take place at booths #5341, Booth #5137, and Booth #5145. However, you'll be able to pre-order many of the exclusive Funko Pops from shared retail partners starting on Thursday, July 21st. Odds are these releases will take place between 9am ET and 12pm ET. A breakdown of the SDCC 2022 shared retail exclusive Funko Pops can be found below. Existing early pre-order links might not be active until after the launch. The links will be updated as needed.
Note that the shared exclusive Funko Pops will feature 2022 Summer Convention Exclusive sticker. Convention sticker hunters will have to get their Pops at SDCC 2022 or via resellers here on eBay. The same goes for the Fundays Box of Fun, which launched in the Funko shop on July 15th and quickly sold out. You can still find them here on eBay if you're willing to pay the markup.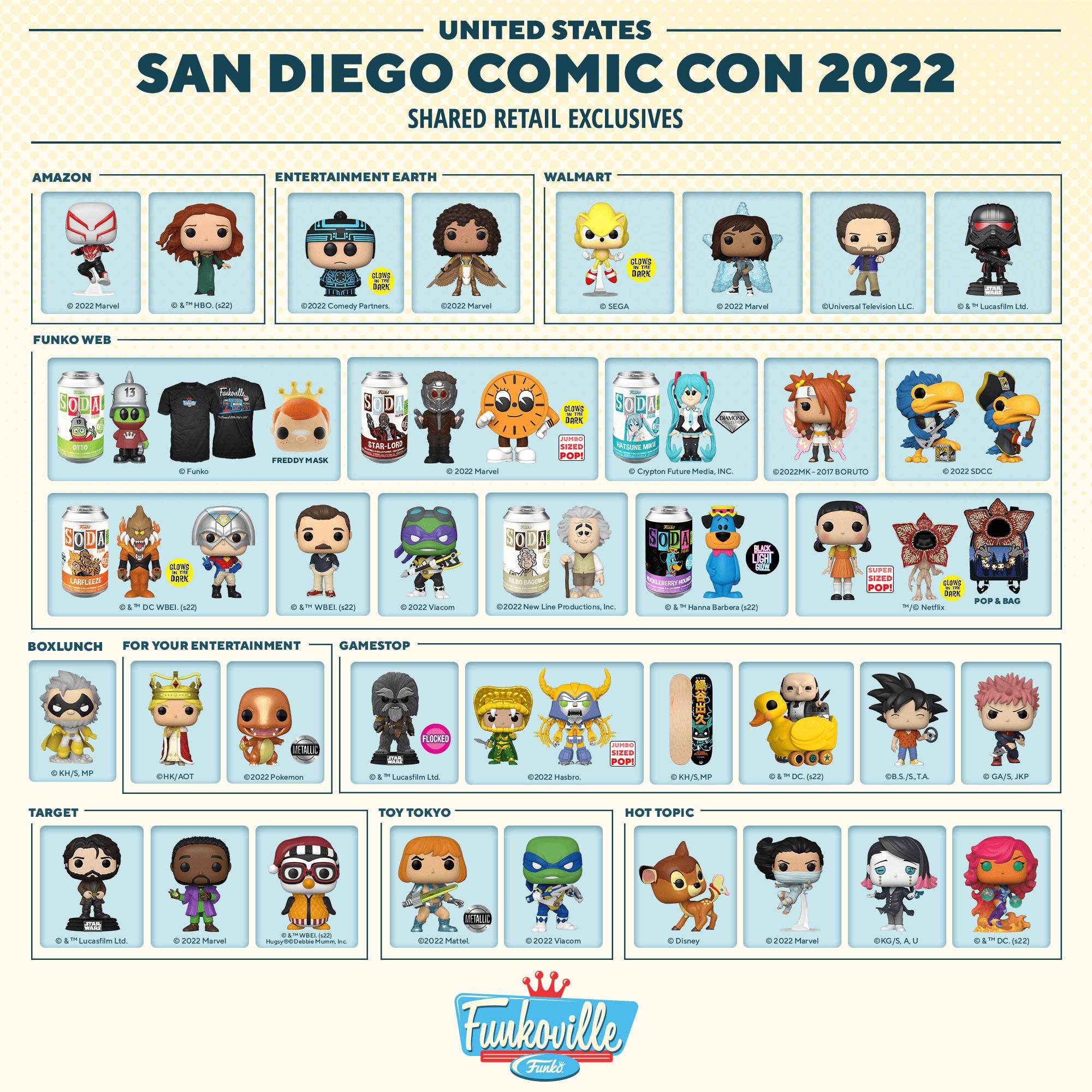 Amazon SDCC 2022 Exclusive Funko Pops / Buy Amazon Exclusive Funko Pops:
Walmart SDCC 2022 Exclusive Funko Pops (will probably launch after 10am ET as part of Collector Con) / Buy Walmart Exclusive Funko Pops:
Hot Topic SDCC 2022 Exclusive Funko Pops / Buy Hot Topic Exclusive Funko Pops:
BoxLunch SDCC 2022 Exclusive Funko Pops / Buy Box Lunch Exclusive Funko Pops:
GameStop SDCC 2022 Exclusive Funko Pops / Buy GameStop Exclusive Funko Pops:
Entertainment Earth SDCC 2022 Exclusive Funko Pops (launches at 9am PT / 12pm ET) / Buy EE Exclusive Funko Pops:
Funko SDCC 2022 Exclusive Funko Pops / Buy Funko Shop Exclusives:
Pop Boruto Naruto Next Generation – Cho-Cho
Pop Ad Icons – Toucan with Guitar
Pop Ad Icons – Toucan Pirate
Pop Loki – Miss Minutes (GITD)
Pop TMNT x Power Rangers – Donatello
Pop Peacemaker – Peacemaker with Peace Sign
Pop Squid Game – Young-Hee Doll (Super-Sized)
Pop Ted Lasso – Ted Lasso
Pop Stranger Things – Demogorgon Pop and Bag Bundle (GITD)
Soda Lord of the Rings – Bilbo Baggins
Soda Guardians of the Galaxy – Star-Lord
Soda Hanna Barbera – Huckleberry Hound Blacklight
Soda DC Comics – Larfleeze
Soda Fantastik Plastik – Otto
Soda Virtual Singer – Hatsune Miku
FYE SDCC 2022 Exclusive Funko Pops / Buy FYE Exclusive Funko Pops:
Target SDCC 2022 Exclusive Funko Pops / Buy Target Exclusive Funko Pops:
Toy Tokyo SDCC 2022 Exclusive Funko Pops / Buy Toy Tokyo Exclusive Funko Pops:
Pop TMNT x Power Rangers – Leonardo
Pop Masters of the Universe – He-Man (Metallic)
0
comments