Storm Mourns the Death of Her X-Men Team in Sins of Sinister (Exclusive)
The Martian X-Men team led by Storm finds itself slaughtered in a Sins of Sinister tie-in series. The X-Men event features the machinations by Mister Sinister finally coming home to roost, resulting in an alternate universe where the X-Men villain rules. Sins of Sinister will be told across three new series – Immoral X-Men, Storm & The Brotherhood of Mutants, and Nightcrawlers – as the story travels between three different timelines, jumping 10 years, 100 years, and 1000 years into Sinister's new future. As its title suggests, Storm & The Brotherhood of Mutants follows Ororo Monroe and her new Brotherhood as they look to take down Mister Sinister.
ComicBook.com has the exclusive preview of Storm & The Brotherhood of Mutants #1 by Al Ewing and Paco Medina. The limited series takes the place of Ewing's X-Men Red, which featured Storm, Magneto, Sunspot, Vulcan, Abigail Brand, and others on the terraformed Mars, now called Arakko. The preview of Storm & The Brotherhood of Mutants flashes back to Sinister and his forces attacking Arakko, along with Storm discovering Sinister has planted his DNA in resurrected members of the Quiet Council in Sins of Sinister #1.
Storm eventually retreats from Krakoa and gathers her team on Arakko, where they are met by Mister Sinister's Chimera, augmented creations that have multiple mutant powers. We see Sugar Man leading giant eyeballs with Cyclops' vision blasts, along with an army of Multiple Men that possess Angel wings. The final page of the preview shows Storm holding the dead body of Sunspot among a pile of skulls.
Kieron Gillen Talks Sins of Sinister Event
ComicBook.com spoke to Kieron Gillen ahead of Sins of Sinister to learn more about the event. "The short of Sins of Sinister is it's a very different take on an X-Men classic, the alternate timeline, except this is not an alternate timeline," Gillen said. "Due to the nature of the Moira engine, it's the future of the Marvel universe. It's just the future that may get blown up because that's what the Moira engine does. And it's also my gleeful homage to -- not mine, actually, it's me and Al [Ewing] and Si [Spurrier]. I actually forget which of us had the idea to basically riff on Powers of X. It's told across a thousand years of history in three time zones: 10, 100, and 1,000 years in the future."
He continued, "The core idea, which I think Jon said to Jordan [White], was let's just do one of those timelines. Instead of doing a short time reset, let's go for a long one. Let's follow what happens at the end of Immortal 10 into a hell dimension. I joke that it makes Age of Apocalypse look like the Swimsuit Special and I'm not saying in terms of quality or anything. What I'm actually saying is, by the end of the thousand-year bit, it's so apocalyptically grim that it's gone straight into apocalyptically-grimly comic. It's really horrific, some of the worst stuff that three pretty horrible people can imagine, but it's got this enormous operatic grandeur to it. It's a lot. The idea came from 'let's do a timeline' and we did."
The exclusive preview of Storm & The Brotherhood of Mutants #1 is below. The issue goes on sale Wednesday, February 8th.
STORM & THE BROTHERHOOD OF MUTANTS #1 (OF 3)
AL EWING (W) • PACO MEDINA (A) • Cover by LEINIL FRANCIS YU
VARIANT COVER BY ARTHUR ADAMS
WOMEN OF MARVEL VARIANT COVER BY ELENA CASAGRAND
STORMBREAKERS VARIANT COVER BY LUCAS WERNECK
VARIANT COVER BY ERNANDA SOUZA
CONNECTING VARIANT COVER BY PHIL NOTO
THE NEW BROTHERHOOD!
Ten years from now, Mars has been destroyed – and now STORM wants revenge! To get it, the New Brotherhood will battle their way through Hell to seek the greatest secret of the Sinister Age…but are they fighting to save the world – or end it? And who is the man called IRONFIRE? 32 PGS./Rated T+ …$3.99
prev
next
Preview 4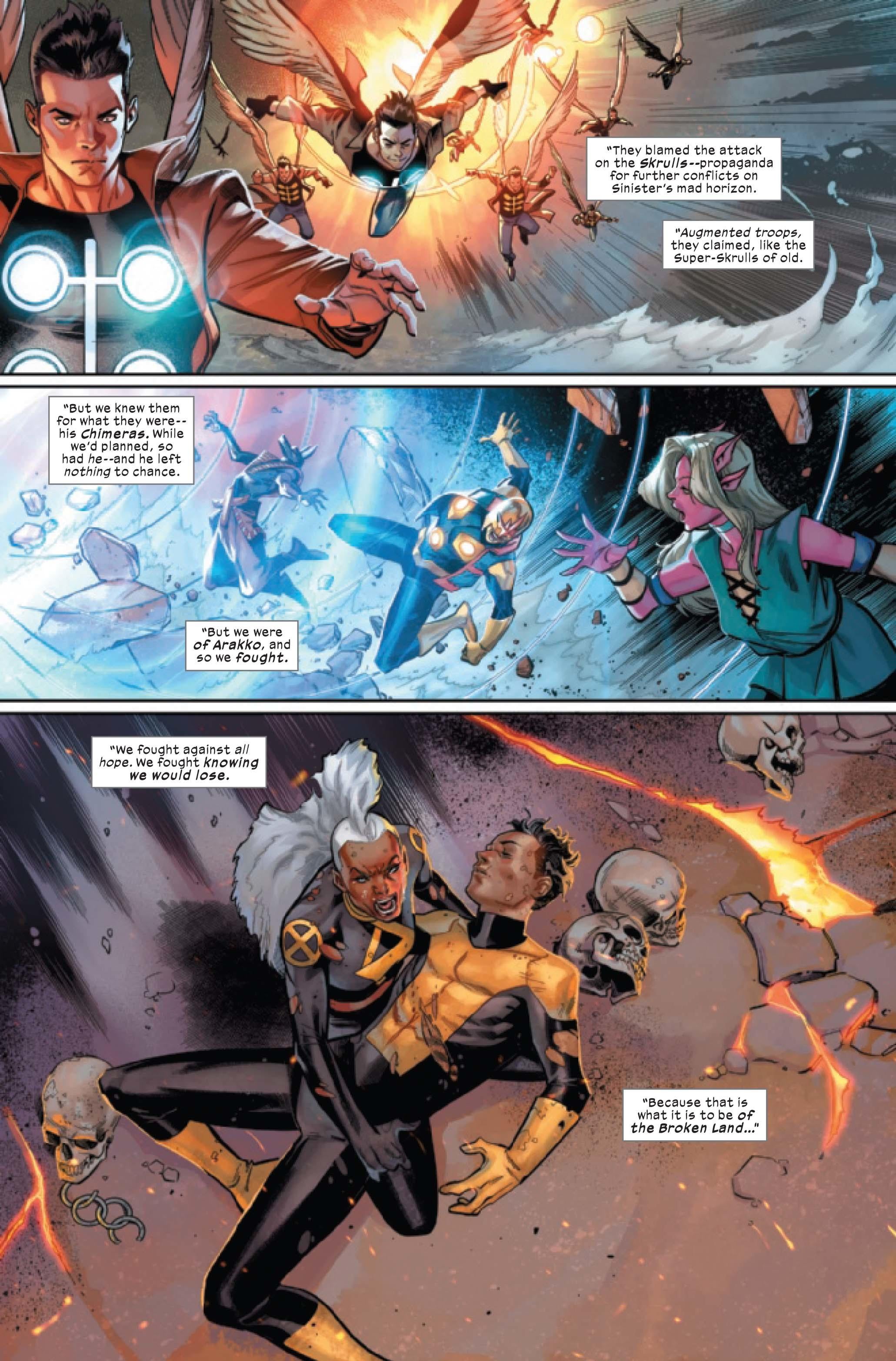 prev
0
comments