The Godfather 50th Anniversary Trilogy 4K Blu-ray Box Set Is up for Pre-Order
Each product has been independently selected by our editorial team. We may receive commissions from some links to products on this page. Promotions are subject to availability and retailer terms.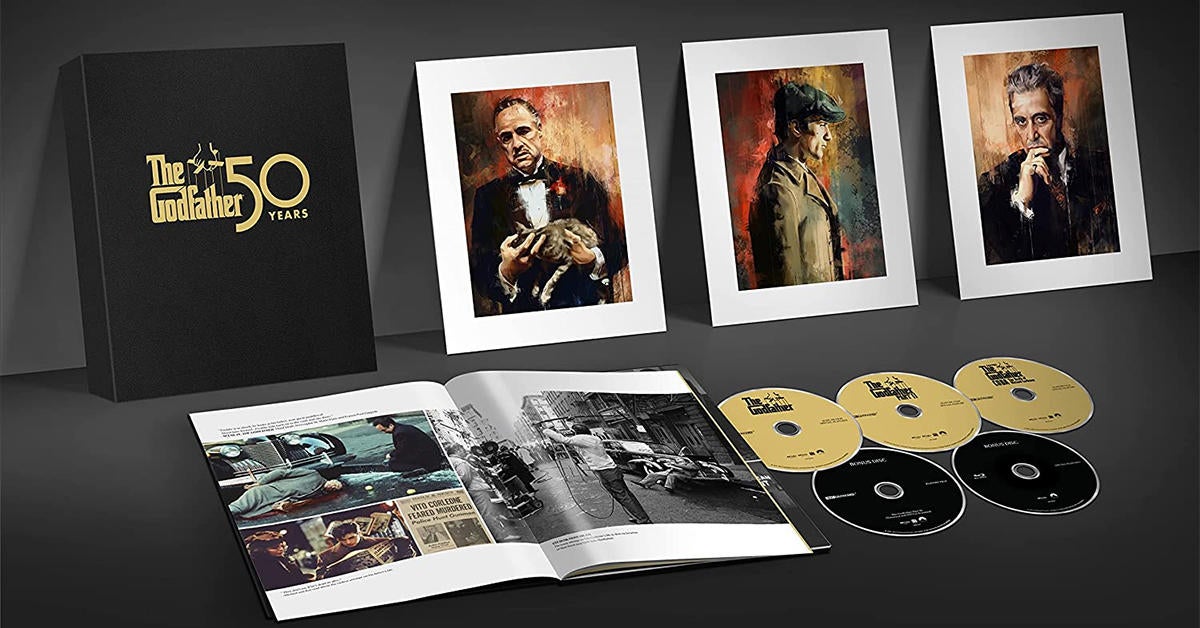 Earlier today, Paramount released a new trailer for the 50th anniversary of The Godfather along with the announcement that a new 4K Blu-ray box set will be launching on March 22nd. The box set will include The Godfather and The Godfather Part II alongside The Godfather Coda: The Death of Michael Corleone, which is a recently released director's cut of The Godfather Part III. Before you complain, note that the set will also include the theatrical and 1991 cuts of Part III. This really is the definitive set.
That said, all three films have been remastered and restored in 4K UHD with HDR-10 and Dolby Vision, and the treatment was overseen by Director Francis Ford Coppola himself. The set will include a bonus Blu-ray with new special features, three commissioned illustrated portraits, and a hardcover book that features "extensive photography and an introduction from Francis Ford Coppola, housed in a beautiful foil-embossed box."
Buy the Godfather Trilogy 4K Blu-ray Box Set on Amazon ($98.99 to $182.99)
Pre-orders for The Godfather 50th Anniversary Collector's Edition Trilogy box set are available here on Amazon for $182.99 or here on Amazon in a standard edition for $98.99. You won't be charged until it ships, and when the price gets a discount in pre-order (which is highly likely), you'll automatically get it. Additional details about the restoration of the Godfather films can be found below.
0
comments
Over 300 cartons of film were scrutinized to find the best possible resolution for every frame of all three films.
Over 4,000 hours were spent repairing film stains, tears, and other anomalies in the negatives.
Over 1,000 hours were spent on rigorous color correction to ensure the high dynamic range tools were respectful of the original vision of Coppola and cinematographer Gordon Willis.
In addition to the 5.1 audio approved by Walter Murch in 2007, the original mono tracks on he Godfather and The Godfather: Part II have been restored.
All work was overseen by Coppola.
"I am very proud of The Godfather, which certainly defined the first third of my creative life," said Francis Ford Coppola. "With this 50th anniversary tribute, I'm especially proud Mario Puzo's THE GODFATHER, Coda: The Death of Michael Corleone is included, as it captures Mario and my original vision in definitively concluding our epic trilogy. It's also gratifying to celebrate this milestone with Paramount alongside the wonderful fans who've loved it for decades, younger generations who still find it relevant today, and those who will discover it for the first time."