Rick and Morty Season 7 Teases Jerry Going Full Bloodsport
Rick and Morty Season 7 teases some big changes for Jerry Smith with a Bloodsport reference.
Rick and Morty is gearing up to return to Adult Swim with Season 7 later this Fall, and the opening sequence for the new season teases some big changes for Jerry Smith as he goes full Bloodsport! Rick and Morty Season 7 will be premiering this October, and will be kicking off a new phase of the story between Rick C-137 and Rick Prime. But while that's the main overarching draw for the story moving forward, there are still many questions about what the rest of the Smith Family members will be up to in the coming episodes this season.
Rick and Morty Season 7 is getting ready for its premiere with Adult Swim next month, and Adult Swim is teasing what's to come with the new opening theme sequence for the coming episodes. Showcasing a few wild clips that could potentially be seen in the new episodes, one of the glances shows a much different kind of Jerry as he does a split between two chairs as once famously seen by Jean-Claude Van Damme's Frank Dux in Bloodsport. Check it out: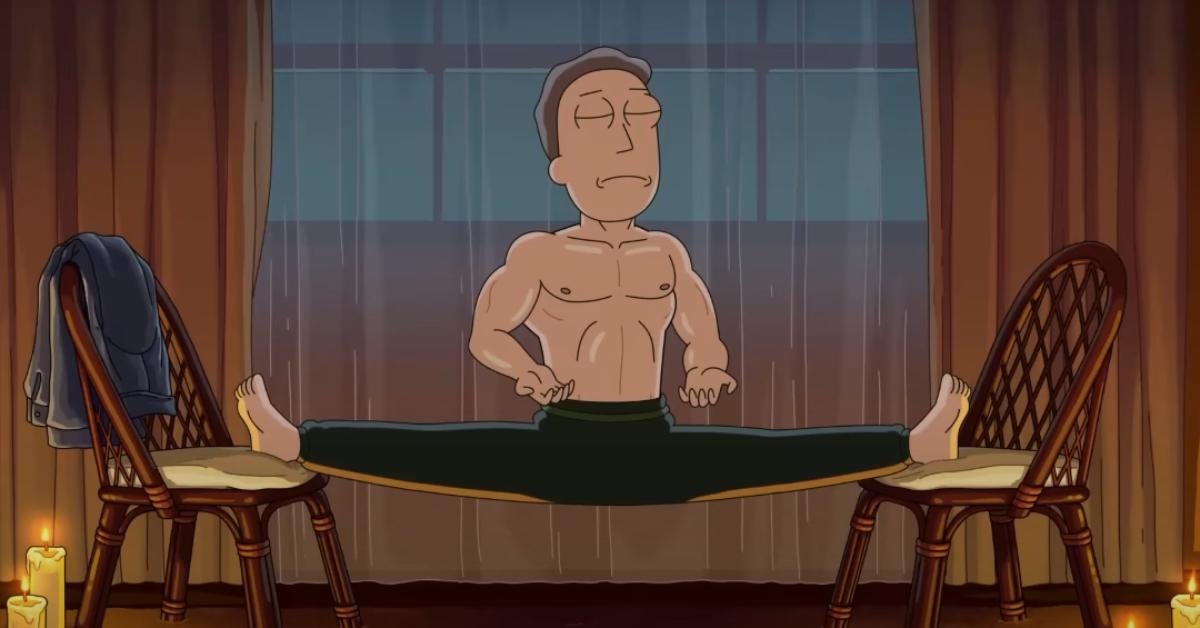 What Happens to Jerry in Rick and Morty Season 7?
Rick and Morty fans know well enough by now that just because something is seen in the opening sequence, it doesn't mean it will be seen in the actual new season itself. Jerry's Bloodsport homage gets quite a lot of time in the opening, however, so it could really go either way. It's also hard to gauge what episode this could even be a part of with the only Jerry focused episode of the season seemingly being the upcoming, "The Jerrick Trap," but could also easily be slotted into any episode's B story.
Thankfully it won't be too much longer before we see whether or not this clip ends up in an episode as Rick and Morty Season 7 premieres on Adult Swim on Sunday, October 15th at 11:00PM ET/PT. Adult Swim teases the new Rick and Morty season as such, "Rick and Morty are back and sounding more like themselves than ever! It's season seven, and the possibilities are endless: what's up with Jerry? EVIL Summer?! And will they ever go back to the high school?! Maybe not! But let's find out! There's probably less piss than last season. 'Rick and Morty,' 100 years! Or at least until season 10!"
What do you think Jerry's going to be up to in Rick and Morty Season 7? Let us know all of your thoughts about it in the comments! You can even reach out to me directly about all things animation and other cool stuff @Valdezology on Twitter!
0
comments