Doctor Who: Ncuti Gatwa's Fifteenth Doctor Comes to Comics in 2024
Writer Dan Watters will introduce the new Doctor to comics.
Doctor Who is bringing Ncuti Gatwa's Fifteenth Doctor to comics in 2024. Titan Comics has announced it will release Doctor Who: The Fifteenth Doctor: Free Comic Book Day Edition on Free Comic Book Day, May 4th. Dan Watters (Loki, Home Sick Pilots, The Sandman Universe: Lucifer) writes the issue, which will be the comic book debut of Gatwa's Fifteenth Doctor and his companion, Ruby Sunday, played on television by Millie Gibson. The Free Comic Book Day issue commemorates Titan's 10th year of publishing Doctor Who comics, with plans for a Doctor Who: The Fifteenth Doctor series to follow the Free Comic Book Day Edition.
"Doctor Who Free Comic Book Day marks the first appearance of the Fifteenth Doctor in Titan Comics and I'm so excited – it feels like we've been waiting for this new era forever!" series editor Jake Devine says in a press release. "We've got an incredible story to tell from a fresh creative team with a spectacular vision. I can't wait for fans to get stuck in!"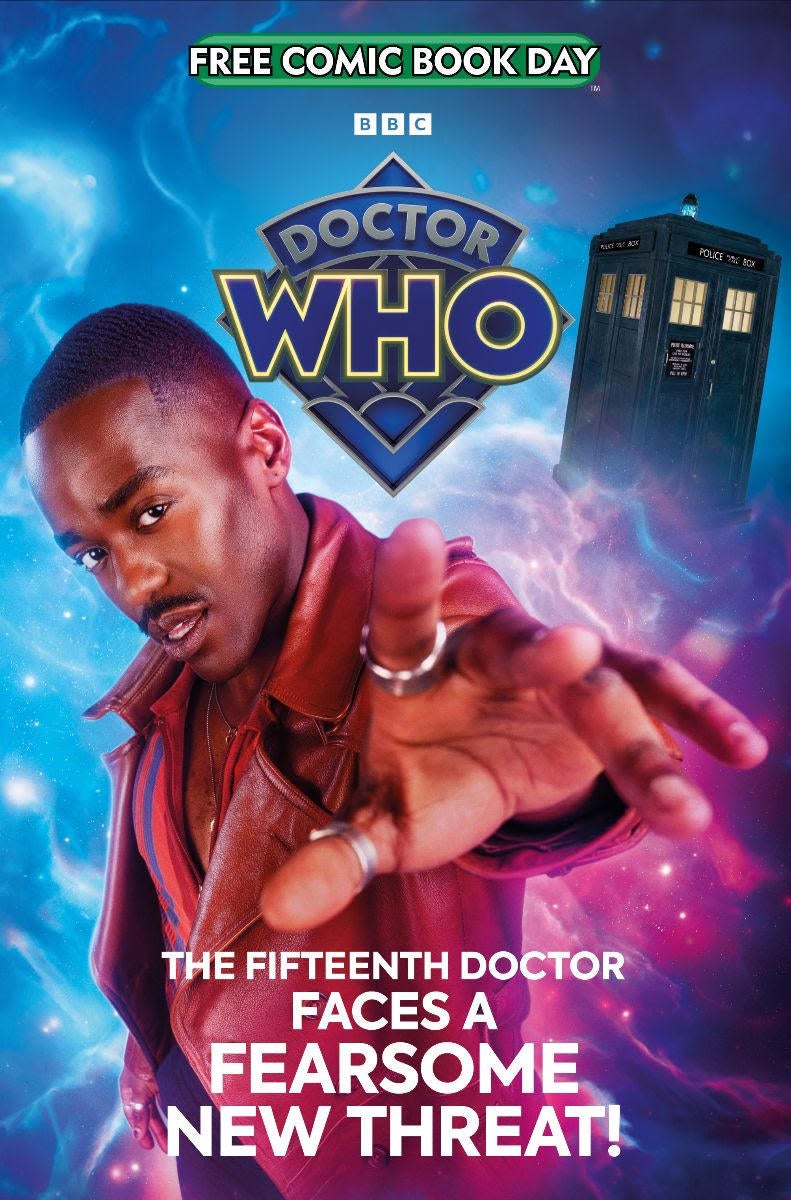 What is Free Comic Book Day?
Free Comic Book Day takes place yearly on the first Saturday in May. More than 2,000 comic book stores and many comic book publishers participate in the annual celebration of the comics industry. On Free Comic Book Day, readers can take home free comics simply by visiting a comic book shop. Readers can find participating stores via the Comic Shop Locator Service.
Many Free Comic Book Day offerings from publishers provide insights into their plans for the rest of the year. Marvel's Free Comic Book Day 2024 offerings include glimpses of the next era of X-Men comics, the upcoming Blood Hunt event, the next big Spider-Man story, the future of the Ultimate Universe, and what's next for its Star Wars line.
When is Doctor Who's Disney+ release date?
Doctor Who returns to television next week. After debuting as the Fourteenth Doctor in a scene made for BBC Children in Need, David Tennant will be the Doctor again for three 60th-anniversary Doctor Who specials. The first of those specials, "The Star Beast," airs on the BBC on Saturday, November 25th. The special will stream on the same day on Disney+ outside the United Kingdom.
The Doctor Who 2023 specials begin the BBC and Disney+'s partnership to turn Doctor Who into an international franchise worthy of its 60-year history. That relationship continues into "The Church on Ruby Road," the 2023 Doctor Who Christmas Special airing on Christmas Day. The episode will be Gatwa's first leading the series as the Doctor and Gibson's debut as Ruby Sunday.
In 2024, Disney+ will host its first season of Doctor Who, starring Gatwa and Gibson, which wrapped filming in July. Doctor Who Season 14 will consist of only eight episodes, a shorter episode count than previous, recent Doctor Who seasons, but one that returning showrunner Russell T Davies has promised will deliver great episodes, set up things to come, and ensure there are no more years without Doctor Who, as has been the case recently (Gatwa's second season of Doctor Who is already filming).
"Okay, that's fewer episodes than the last full season," Davies conceded to Doctor Who Magazine. "But give us time. We have plans, and that's a promise! It takes a while to get the empire in shape, but that's a serious plan: annual Doctor Who, no gap years, lots of content, on and on."
Doctor Who MegaBundle 2023 at Humble Bundle
Many Doctor Who comics Titan has published over the past decade are available as of the Humble Bundle's Doctor Who MegaBundle 2023, which helps support BBC Children in Need. That includes all seven volumes of the stellar Doctor Who: The Tenth Doctor series for those looking for even more David Tennant Doctor Who. There are also various Doctor Who audio dramas from Big Finish Productions (including The Tenth Doctor Chronicles) and resources for the Doctor Who Roleplaying Game (including The Tenth Doctor Sourcebook and Tenth Doctor Adventures Book).
Doctor Who MegaBundle 2023 is available on Humble Bundle for another 19 days at the time of writing. Free Comic Book Day is May 4th. Doctor Who returns to television and Disney+ on November 25th. The modern Doctor Who series' previous seasons are still streaming on Max. You can make your way through using ComicBook.com's Doctor Who streaming binge guide.
0
comments